When my daughters visit, they deposit little pieces of themselves all over our apartment: bras on the back of the bathroom door, empty glasses in the sink, and pretzels on the floor. When they leave, things go missing, like my heart.
After my 20-year marriage unraveled, my ex-wife moved back to Virginia with our two teenage daughters in tow. I helped them settle into their new home. I moved furniture, mowed the yard, replaced the mailbox, hung curtains in their rooms, and introduced myself to the neighbors. To the world we appeared to be the same family we had always been, so much so that one of the movers who understood the situation remarked, "You sure don't act like you're getting divorced!" When my ex-wife angrily told him just why we were splitting up, his wide-eyed reply was, "He sure don't act like he's gay!"
After a lifetime of pretending, I was a professional at hiding my feelings. But then, one early morning after the move, I stood in my daughters' bedroom in the grainy sunlight, kissed them softly on their heads, and carefully tip-toed out the door. "I'm just going to work, and I'll be back at the end of the day," I tried to convince myself, but my heart knew better. I cried the entire time while driving back to Boston.
There were times when the silence in my basement apartment was deafening. I missed the laughter, tears, and chaos that two hormonal teenagers could produce. Sunday nights, the "back-to-school" nights, were the most difficult. I questioned myself repeatedly: "Why couldn't I have kept on pretending? What kind of father am I?"
Eventually, I worked up enough nerve to create a profile on a dating website. I had been out of the game for ages, and all the rules had changed. When I specified that I was a "dad," most men did not understand that I meant it quite literally, and I didn't realize that "water sports" did not refer to swimming. I learned that if there was one thing I wanted in a future partner, it was the ability to understand what it's like to take care of someone other than oneself, so I became a father seeking a fellow father.
After a few dating missteps, I met my future husband Paul, and, soon after, his three children. We moved in together, and on weekends the house would suddenly fill up again with the laughter and drama of his children. They helped to fill the hole in my heart, and I came to love them like my own, but on Sunday nights, when the children returned to their mother's house, it would go silent, and I would begin to miss the unique scent of my daughter's foreheads, the sound of their voices, and the outlines of their faces.
I wish I could say that I was always physically there for my daughters, but with 700 miles between us, I missed important milestones: school concerts, high school proms, and the hundreds of tiny sadnesses that teenage life produces. Hurt and angered, my oldest daughter stopped talking to me, and the youngest rebelled.
It took time and patience for my daughters to understand that my love for them would never waiver, even when I did not love myself. It also took the love of one father for another father to make the family whole again. I learned something then that I had not known before: While I had pretended to be straight, I had never pretended to be a father. I truly was one.
Over the summer, all five of our children will happily spend time with us, and my youngest daughter will continue living with us full-time for the next year. There will be laughter. There will be tears. There will be loads of laundry and unrecognizable stains on the sofa. When they leave, things will go missing, but I'll concentrate on what was found, and the fact that their hearts have always belonged to Daddy.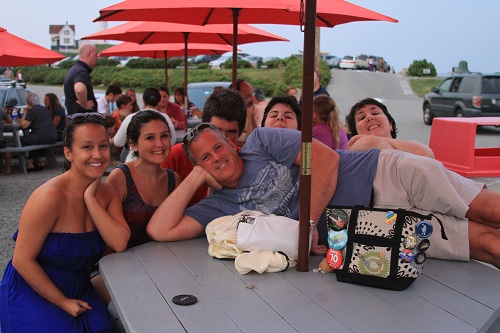 Calling all HuffPost superfans!
Sign up for membership to become a founding member and help shape HuffPost's next chapter