In 1962, Dick and Judy Hoyt welcomed their son, Rick, into an unsuspecting world -- a world that would forever be changed by their presence and sacrifice. Because of complications with his birth, Rick was diagnosed as a spastic quadriplegic with cerebral palsy. According to a CBS interview, Dick remembers the advice of the doctors who suggested that his son would essentially be non-functioning, and that he should place him in an institution.
Instead, he brought Rick home with the intention of giving him a full and rich life. Swimming, sledding, street hockey and just about any other activity the Hoyt family could engage in, were all-inclusive family activities. Dick noticed that his son lit up whenever the two of them were active together. When Rick turned 12, thanks to a custom speech device, he began communicating with his father, finally able to tell his father what he suspected all along.
Rick loved being with his dad.
In 1977, Rick heard about a five-mile road race to benefit a recently paralyzed lacrosse player. He told his father he wanted to participate. It was not the race, nor was it the running he would never be able to do that inspired this desire. It was Rick's compassionate nature and desire to help others that motivated him.
One problem: Dick was not a runner.
Great fathers, however, make sacrifices. Great fathers give up their time, money and physical energy for the sake of giving their children a better life, or sometimes, merely a smile. Dick may not have been a runner, but as a great father, his son's request was all the motivation he needed. He agreed and pushed his son's wheelchair the full five miles.
What happened next changed the course of the Hoyts' lives, as well as countless others, for the next 37 years. After returning home, Rick typed out on his computer, "Dad, when I'm running it feels like my disability disappears."
Dick immediately took to sacrificing his time and energy, selflessly giving that able-bodied feeling to his son. Over the next three and a half decades, the pair set, achieved and surpassed not only their own goals, but also everyone's expectations of a father carrying, towing and pushing his wheelchair-bound adult son. Their accomplishments include:
Over 1,000 races completed, including marathons, duathlons and triathlons (6 of them being Ironman competitions). Also adding to their list of achievements, Dick and Rick biked and ran across the U.S. in 1992, completing a full 3,735 miles in 45 days.
In 2013, after decades of competition, the sport had physically taken its toll on "Team Hoyt." Dick, 73, and Rick, 52, decided to make the 2013 Boston Marathon, long the pair's favorite race, their swan song. However, the terrorist bombing at the finish line cut that race short for far too many, including Team Hoyt. After being stopped at the 23-mile mark, the dynamic duo could not finish.
A story like this cannot end there.
Team Hoyt has instead opted for the 2014 Boston Marathon to be their grand finale, and in a fitting finish to a story that has inspired millions, it is ending the same way it began.
In an interview with WBUR in Boston, Dick said of the race:
Well, we didn't finish [the 2013 Marathon]. But the big thing, our concern, was the people who got killed and wounded, you know? And so that's why we're running this year, is for the people who got killed and wounded.
A father-son team that began racing in support of others less fortunate, sacrificing their time and energy to benefit others, Team Hoyt continued in that same spirit for 37 years. They proved to everyone that anything can be done with enough stubborn persistence, dedication, and ultimately, the bottomless depths of love that can be found only in the unique bond between a father and his son; love found only if sought out and fully realized.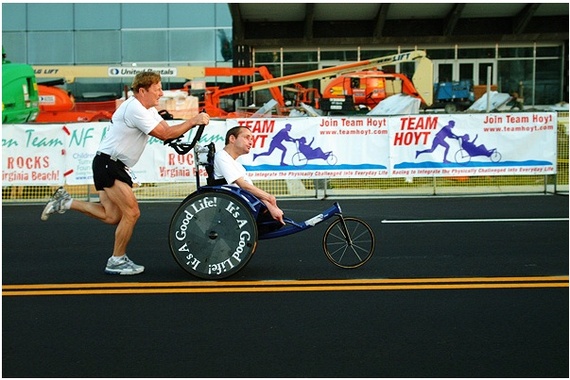 I remember first reading about Dick and Rick Hoyt back in 2003, shortly after my youngest daughter was born. From that day forward, my attitude toward parenting changed significantly. Here, I saw a man pushing himself to the brink of what is possible with the human body, and for what? Not for fame, not for glory and not for riches, but simply for the opportunity to help his son feel free, if only for a few hours at a time.
I knew then that sacrifices could -- and would -- become a mainstay of my relationship with all of my children. When a father demonstrates his love through even the tiniest sacrifice, it is perceived in the eyes of a child as irrefutable evidence that nothing could ever come between them.
According to the Team Hoyt website, their motto is, "You Can." As I wipe tears from my face for the umpteenth time since I began writing this article, I want to offer my gratitude for their inspiration and say with great sincerity, "You Did."
Dick and Rick Hoyt, you have inspired a new generation of fatherhood. Let us never forget your example, and let us always watch for ways where we, too, can make sacrifices for our children; to show our love for our families by example, in at least a fraction of the magnificence you have shown us over the years.
Related