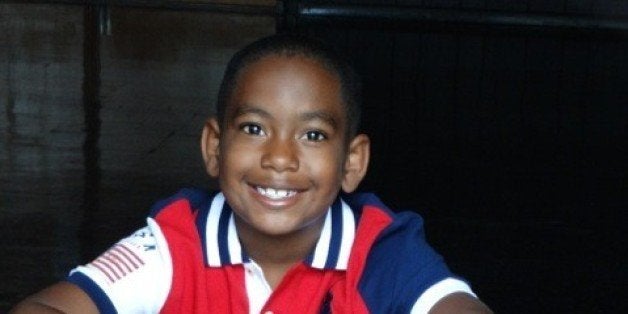 Whether you are a single parent, co-parent or a happily married couple or in a committed union, raising children comes with many challenges. As a co-parent living over 3,000 miles away from my son, it's never easy. My son, Isaiah, lives in Washington, DC, and I live in Los Angeles. From the time Isaiah was 1 month old, he was bicoastal. During the early months and up until the time he started school, I would travel to and from Washington to bring Isaiah to Los Angeles. It was the most incredible bonding time during the early days of his life.
Now, at 9 years old and attending school, Isaiah still travels back and forth and we spend time together during his days off from school. He often travels to Los Angeles on a Thursday or Friday and he returns on a red eye flight on Sunday, just in time for school on Monday morning. I frequently fly to Washington on my days off. I also have him during the summer months and most holidays. Although I make every effort to spend as much time with Isaiah as possible, at times, it's still not enough. I miss being a part of his day-to-day routine, helping with his school work and participating in various extra curriculum activities. It's a sacrifice, and it's well worth it because you will never get that time back.
I am extremely grateful for the relationship that I have with Isaiah's mother. She is beyond incredible. I have learned and discovered a great deal about co-parenting. It's been a growing process for us, with many teachable moments. The most important lesson is that both parents must work together to make sure that they continue to bring balance in a child's life. It's about both parents having respect for each other. And it's so important at this junction in Isaiah's life for him to see that his parents have a healthy, communicative and friendly relationship.
I admit that I am a bit old-fashioned. For me, I believe a child needs a mother and a father under the same roof. A man cannot teach a girl how to become a woman and a woman cannot teach a boy how to become a man. I realize how important that is, and though it can be tough without both parents, it can be done.
My father, the late Johnny Gill, Sr., instilled in me a great work ethic and I hope to impart that same quality in Isaiah by example. When he asks, "Daddy, where are you going this weekend?" I let him know that I'm going to work. I always remind him that the clothes and the toys that he enjoys and loves that Daddy works very hard to provide those gifts to him. He also gets to travel with me during my concerts. I want him to see firsthand what Daddy does for a living and all the things involved in my work. I want him to see that it's hard work and that I'm committed to it because I chose something that I love and feel passionate about. When I have to get up early for promotional appearances and interviews, he's got to get up too. I want him to experience all of it so that he understands, appreciates and knows the value of hard work and commitment.
I'm very fortunate to have a career that affords me the opportunity to spend time with my son. I know that parenting is difficult for lots of young men -- especially young black men. But I am concerned with the number of black males growing up without fathers. I think men must understand that it doesn't take someone being a biological father to get involved in a young man's life. I think we all need to do more and help steer some of these young men in the right direction. They need leadership and people who are willing to lead by example. Every young man needs a male figure in their lives -- we just do. As I always say, when you're young, you're still being programmed; you're still going through the process. So many young men are still trying to figure it out by themselves. They don't know it all, but it's our responsibility to teach them. It's so important and necessary.
PHOTO GALLERY
Black Fathers Daring To Be Extraordinary
Calling all HuffPost superfans!
Sign up for membership to become a founding member and help shape HuffPost's next chapter