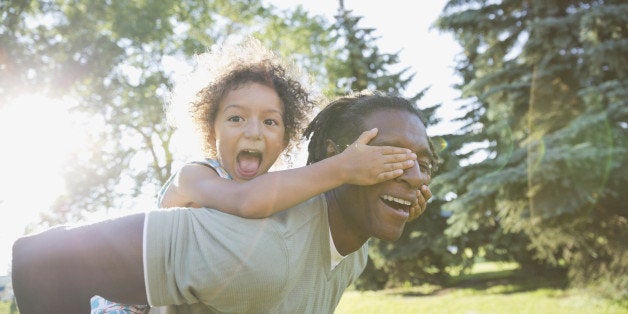 I am and will always be a daddy's girl. I'm the middle child of three girls born to a man's man! My dad was not perfect. He was sexist and chauvinistic. However, when it came to his girls, he was fierce in his love and protection. My mother was a dutiful and loyal wife. She cooked, cleaned and had us reading and writing before kindergarten. My mom is a nurturer. She sees a need and goes to work trying to fix the situation. Her kindness and meekness, although admirable, were also weaknesses, because she never knew when someone wore out their welcome until it was too late.

My father loved, but he did not wear it on his sleeve. I determined at an early age that I would be a career woman. Motherhood and marriage never appealed to me. If it happened, OK. If not, I could be Auntie Mame to my nieces and nephews -- a role that I cherish and take tremendous pride in. I spent my childhood summers being my dad's carpenter assistant. When I told him that I wanted to be a career woman, he looked at me. "You have two strikes against you. You're black and you're a woman. You have to be smarter and better because everyone will always assume otherwise." Whether we played pool, chess, checkers or any other game, my dad never let me win. He said that was not the real world. When I finally beat him, I knew it was because I mastered the game, not because he pitied me.
My father was strict about boys and dating. He said, "Men are pigs, trust me, I know." He and my mother exposed us to nice things, museums and fine dining. One Christmas, during junior year in high school, my parents mentioned money was tight because they were saving for a home. I knew how hard my parents worked and the importance of owning a home. We never went without. So, if they said this sacrifice was necessary, it was. However, that Christmas morning my sisters and I came downstairs for breakfast and at each of our seats was a small jewelry box. It contained a gold ring with our birthstones. My father said that he did not want the first time we received jewelry to be from some man with ulterior motives.
Much attention has been given to the importance of fathers for sons, especially black boys. However, the lack of a father's presence is just as detrimental to a daughter, especially black girls. The media has objectified black women. We've been called less classically beautiful. Yet, when white women co-opt black women's full lips, big butts and hair styles, the fashion industry and media go wild over this "new" trend. People get riled at the cultural appropriation of black music via white artists like Iggy Azalea, but seem to give a pass to the Kardashians when it comes to culturally appropriating black women. The very thing that black women are vilified for all of a sudden is beautiful on a Kim, Khloe or Kylie.
Thank God I had a father who expressed to me that my worth was more than public opinion, a free drink or admission in a club. My father threatened to harm any man or boy who tried to take advantage of me. I grew up knowing that I was worth more than what most men purported to offer for my love or body. I would not lower my standards just to have a man.
Fathers, understand that your daughters will model future relationships with men, good or bad, based on how you treat her and her mother. Dads, you are the standard bearers for your daughters. When my first relationship broke my heart, my father came to avenge me. Seriously, he wanted to inflict bodily harm. Because of the values my father instilled in me, I survived the break-up and learned never again to give my heart to someone who does not know, understand or appreciate the value of the gift offered. As a girl, I adored my father. As I woman, a problem arose when I noticed he did not always treat my mom with the same care and respect he told me to demand from men. I told him, "Dad, dealing with you is like a bush of roses with thorns. You get pricked every time you get close." He replied, "Don't worry, I come with plenty of Band-Aids." He was not perfect, but I appreciated his bluntness.
Father's Day is upon us. My father died in 2004. My heart never felt so much pain and loss. My father was my protector, my rock, and always encouraged me to follow my dreams and face my fears. He said, "The only thing that beats a failure is a try, so keep trying. You don't want to get to the end of your life and wonder what would have happened if you only tried." So I am here in NYC chasing my dream of becoming a published author.
For the fathers who are setting the standard for your daughters, I salute you. Know that even though your daughters might be defiant during their teens, they will grow to appreciate and admire your stance. Of all the things that I miss, I miss walking down the street and hearing men whisper, "That's one of Lee's girls, leave them alone." That's right. I'm one of those Lee girls -- daddy's girl.
Related
Popular in the Community