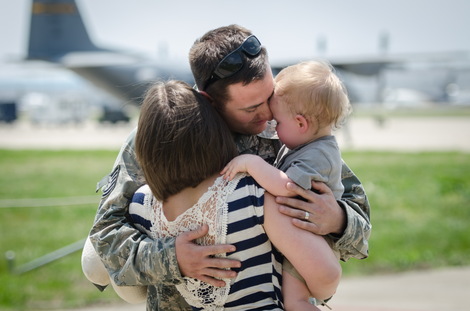 I have two children now and no longer feel a sense of surprise when Father's Day rolls around each year and includes me in its celebrations. I look forward to the glitter and macaroni covered cards and the time spent together as a family. But like most fathers, I worry. I worry about the world my children grow up in and the challenges they will face.
This year, I'm thinking of all the veterans out there who are fathers, particularly those who came back injured from the wars in Iraq and Afghanistan. We can't always see their scars. It is estimated that about 30 percent have diagnosable PTSD. More young veterans have died by their own hand than were killed in combat in Iraq and Afghanistan. At present, 22 American veterans kill themselves every day. A lot of these men and women are parents. All of them are someone's child.
How do we help keep families together against such heart-wrenching statistics? As an addiction treatment professional, the one thing I can say for certain is that if you do not get care commensurate with the depth of your suffering, you will likely have to self-medicate. That's just how it works. PTSD and substance abuse very often go hand in hand. Try to stick it out without self-medicating and you may end up with suicide."
I also know from working day in and day out with addicts and those suffering from psychological disorders along with their substance abuse that if you don't seek help, your whole family suffers. It is not true that you can only get help for yourself. I have seen hundreds of men and women turn their lives around out of love for their families, particularly their children. You deserve the best treatment you can afford. Your family deserves it too. And believe it or not, there is quality care available at all price points. You may have to work to find it, but it is there.
This Father's Day, if you need substance abuse or mental health assistance, ask for it, especially if you are a veteran. Your family needs you and most likely, they love you. There is nothing in your past that should prevent you from having a full and beautiful life with the people you love. This Father's Day - whether you are a father or a mother - think of your children and give them the parent they need and want you to be.