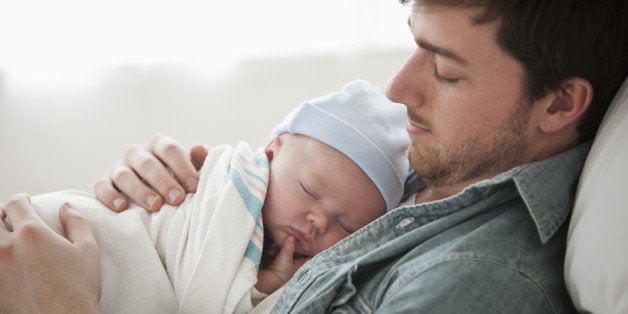 I will admit right up front that I'm a bit sensitive about this topic, but I have noticed a shift in the marketing of Father's Day that I just have to discuss.
This past Father's Day, I noticed a considerable rise in the number of brands saluting Dads. A lot of it was on social media and a lot of it encouraged interactions from other Dads and their kids, which is awesome. I also noticed a considerable rise in the number of social media postings from kids saluting their Dads too... multi-generational pictures and homages to all things Dad.
It was wonderful; the best year ever.
Among the best of the best was an online campaign from Dove Men+Care that showed a series of #RealDadMoments, proving the power of not only having a great Dad, but being one as well.
I think that's the point.
While some brands talk about Dads "being there," or talk about the importance of "playtime with Dad," for me it's just about being Dad. There's no way to describe it other than that. I take care of every single aspect of my children, all of the time. The dads I know are exactly the same.
A recent survey stated that 75% of dads say that they are responsible for the emotional well-being of their children.
Well of course; that's no different than for a mom either, by the way. It's parenting, regardless of the gender, and it's time that all brands recognize it as such. None of us are perfect by any means, but most of us get an A for effort.
I think that's why, although I loved all the attention given to Dads for Father's Day, I found the whole thing a tad bit annoying as the week progressed towards the holiday. It started to feel like a lot of brands were just jumping on the Dad bandwagon to get a little attention. A lot of the brands were also still pushing their products, ironically, rather than just acknowledging the hard work that comes from being a Dad.
So I have to ask the question: "Why are brands only taking this one day to celebrate Dads?"
We've got brands all year long singing the praises of Moms, as well they should But we seem to forget about the Dads the other 364 days of the year. We don't give him enough continual credit IMHO.
Now granted, we've come a long way. Not too long ago it was completely normal to show a bumbly fumbly Dad who can't cook, change a diaper, clean a house or watch his kids to save his life. Thankfully, we've moved passed that, for the most part, and now reflect a much more accurate portrayal of today's Dad who is every bit a caretaker as his female counterpart (if there is a female counterpart in the household).
Brands are recognizing an evolved role of men in the family, many of whom are the head of the household, responsible for taking care of the home and the family... including everyone's emotional well-being.
So it's time we take the glory of celebrating Dad on Father's Day and give him equal credit all year long, just like we do moms. It'll make the brands that do so much more contemporary and honest, with legions of support from the men and women who appreciate the recognition.