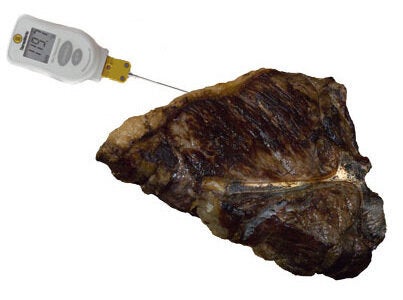 - Click here for a
.
If you click a link to Amazon in this article and make a purchase, I get a small referral fee. It has zero impact on the price you pay or on my product recommendations.
I don't care what the TV chef said, you absolutely positively
. Each of us reacts differently to heat, and the heat 1" above the grate can be significantly different than 6" above. Maybe an old pro who cooks 100 steaks a night can do this, but most backyard cooks cannot.
Can you imagine cooking in your kitchen if your oven did not have a thermometer? Then why do you try to cook outdoors without a good oven thermometer? If you hope to be king of the grill, you've got to got to got to know what the oven temp really is.
The difference between a medium rare and well-done steak is only a few degrees. The diff between moist tender fish and dry is even less. The best way to deliver to the table properly cooked meat and protect against food poisoning is to take its temp. Some cooks can tell by look and feel. But that comes with years of experience and even then it is just not as reliable as a good thermometer. If you hate apologizing for overcooked meat or having to take bloody chicken off your guests' plates and sticking it in the microwave, then you've got to have a good meat thermometer.
Here's a checklist of things to look for when you go shopping for a good thermometer:
Thermocouples are the best food thermometers because they're fast. Some thermocouples can read accurately in fewer than two seconds, faster than any other sensor. They're thin: They have two thin wires in the probe, so the tip can be very small and thin. The sensitive area is very close to the tip so you know just what you're reading and they can be used to check the temp in several locations easily. They're accurate: They're margin of error is less than 1%. Some can be calibrated. You can get thermocouples that are great for instant metering, or others that can be left deep inside a roast like a pork shoulder or a ham for hours.
Thermistors are digital thermometers with a small resistor in the tip. They are not as quick as thermocouples and they tend to be thicker. Some have a probe on a wire that allows you to insert it into the meat and get the readout from outside the oven so you can monitor the meat temp continuously. Before you buy, make sure it can go higher than 350F so you can use it for reading the oven. The very popular Weber digital thermometer is meant for inserting into meat only and barely goes above 200F. Not good for reading the oven temp.
is incredible hi-tech solution. It has a thermostatically controlled blower that regulates the airflow to the charcoal combustion chamber and thus controls the temp extremely accurately. It can be connected to a wireless router and you can even control it with your web browser. You still have to make sure your grill doesn't run out of fuel, but thermostats are where it's at, Jack. Watch for more of them on charcoal and gas grills in the future.