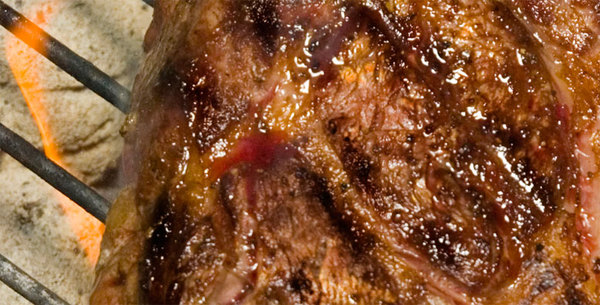 It's the time of the year for Dad to go out and immolate his paycheck, turning succulent pieces of meat and crunchy fresh veggies into hockey pucks and piles of ash. With Father's Day coming up on June 21, it's also time for you to up his game. Buy him a good book on grilling and barbecue. Here are some of my faves, all by real pros who test their recipes:
Weber's Real Grilling by Jamie Purviance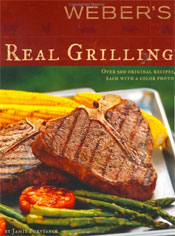 This beautiful book has 305 large pages with more than 200 recipes and perhaps 300 superb color photos. Purviance begins with managing the grill, and although Weber's grills are featured, the advice is broad enough to cover most charcoal and gas grills. Shockingly, there is nary a mention of the
Weber Smokey Mountain
, considered by many to be the best bullet smoker on the market, and winner of a Meathead's Gold Award. So, although there are several smoked meat recipes, they are all cooked on the Weber Kettle or a gas grill. You can cook barbecue on grills and braziers, but a specialty smoker is a better tool for the job.
Then it's off to describing tools and accessories, ingredients, and a chapter on rubs, marinades, and sauces. Despite the omission of a real smoker in the book, if you want some superb, contemporary as well as traditional outdoor meal recipes, this is the book to buy. Purviance is a witty fellow, and his text is fun reading. Not surprising, his cooking instructions are precise and easy to follow. He knows his food.
As good as the text is, I must spend a minute praising the photographer, Tim Turner. His work has made this the most beautiful book on barbecue and grilling on the market. The lighting, the composition, color, are all superb. You really get a sense of what the dish could look like (but of course we both know it never looks as good as the photos).
Click here for pricing on Amazon.com
Weber's Time to Grill by Jamie Purviance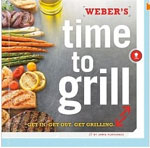 This one has the 200 plus recipes divided into two categories, "Easy" and "Adventurous", pretty much 50/50. They are all spectacularly photographed by Tim Turner.
Everything is neatly organized from rubs to marinades to appetizers to desserts (yes grilled desserts) with color coded sections, icons of fish and pigs, etc., and flaps on both front and back covers to bookmark pages. In addition, there are several useful references to cooking temps and times, and a great section called "prep school" with step by step photos of how to cut up onions and peppers, devein shrimp, butterflying a chicken, and more.
Click here for pricing on Amazon.com
Another Great Gift For Dad
Nothing can improve the outcome of an outdoor cooking session like a good digital thermometer. The dial thermometers on grills are notoriously inaccurate, often off by 50°F or more. It is almost impossible to cook well if you don't know the temp of your oven, so a good digital grill thermometer can really up Dad's game. Likewise, the best way to guarantee properly cooked food, to make sure it is never overcooked, or worse, undercooked and unsafe, is a good digital food thermometer.
Click here to read my buying guide to thermometers.
Get More BBQ Expertise For Free
Read more recipes, techniques, tips, product reviews, and reports from Meathead's kitchen and barbecue grill deck at AmazingRibs.com. It's not a book, but it's free.
Full Disclosure
Amazon.com pays me a small referral fee when you purchase a book from them after clicking on a link on this page.
Big Bob Gibson's BBQ Book: Recipes and Secrets from a Legendary Barbecue Joint by Chris Lilly
Chris Lilly is the Executive Chef of one of the nation's classic old joints, Big Bob Gibson Bar-B-Q, in Decatur, AL. He is also the head of the restaurant's much decorated competition team, winner of more championships than he can count. Surprisingly thin with a pointy chin and piercing eyes, his angularity is significantly softened by his drawl.
Most barbecue chefs have a pretty small repertoire, limited to the classic Southern barbecue canon, ribs, pulled pork, brisket, chicken, sausage, and sides like beans, cornbread, and slaw. Yes, they're all there in this superb book, but Lilly also includes fun riffs on Caribbean Jerk Pork, Bacon Wrapped Shrimp, and beyond. There is also a version of Big Bob's famous white chicken sauce, but I he clearly felt restrained from giving away the restaurant's secret recipe, and frankly, I think my reverse engineering of the ingredients comes closer to the real deal.
Lilly is a fine story teller, and he shares with us what it is like to work at a small town barbecue joint, as well as the fascinating legend of Big Bob and his family all the way back to 1925.
The photos by Ben Fink are rich and rustic, and it's a shame he is only mentioned in small type in the back of the book. He deserves cover credit. The images really make the recipes look worth cooking and make Big Bob's look like a destination. Likewise the historic images give the reader a real sense of the heritage of the recipes.
I have one other nit to pick, and that's the table of contents, which contains only chapter titles and not a listing of the stories and recipes. If classic Southern Barbecue is your goal, this is the one book you need.
Click here for pricing on Amazon.com
The Cook's Illustrated Guide to Grilling and Barbecue, A Practical Guide For the Outdoor Cook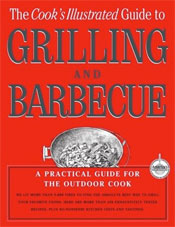 A superb hardbound, 420 page book with more than 450 recipes. The limited illustrations are mostly high quality black and white pen drawings with a handful of beautiful large color plates scattered throughout. As I have exclaimed perhaps too often and too breathlessly elsewhere in the past,
Cook's Illustrated
, the magazine, the website, the book publisher, and producer of America's Test Kitchen on PBS, is my favorite source for no-nonsense, thoroughly tested info. The editors take little for granted and they are constantly questioning and testing accepted wisdom and wives' tales. And these folks really understand barbecue.
Here's a sampling: "Ounce for ounce, hardwood lump charcoal burns much hotter than briquets. However, the differences are less dramatic when the coals are measured by volume. (Because of their shape, briquets compact more easily so you can fit more coals into the same amount of space.) For all practical purposes, a heaping chimney of charcoal briquets will make a fire that is as hot as a level chimney of hardwood lump charcoal. So if you need to substitute briquets for hardwood, use slightly more briquets to achieve the same heat level." They then show a chart of equivalent volumes.
Click here for pricing on Amazon.com
The Barbecue! Bible by Steven Raichlen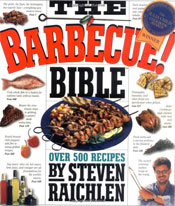 Nobody knows more about barbecue than Steven Raichlen. This book and this author have had a greater influence on the meteoric growth in popularity of barbecue in the US than anything since the Weber kettle grill was invented in 1951 by George Stephen. With several other books on barbecue and grilling, Raichlen has had the kind of influence on men who cook, that Julia Child had on women who cook and has probably vastly improved the way we eat in the summer. In fact, this book has been given a Julia Child Cookbook Award.
Raichlen has since gone on to launch a cooking school called BBQ-U, a television show, a lecture tour, and a line of outdoor cooking tools.
The Barbecue! Bible was his first book on the subject. Published in 1998, this 556 page tome with 500 recipes covers everything from hamburgers to bread. The illustrations are little more than black and white clip art. Cute, but not very educational, and there is no depiction of what the finished product looks like.
Click here for pricing on Amazon.com
BBQ USA by Steven Raichlen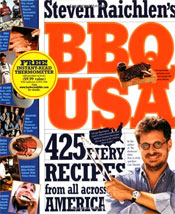 This is my favorite of Raichlen's books. Published in 2003, it is a whopping 774 pages with 425 recipes. He begins with a history of barbecue that is fun and enlightening. Then there is a primer on grilling and barbecue with lots of great tips. Most of the recipes come from restaurants, from joints to white tablecloth temples of food. There are more useful tips and fun facts in the sidebars. I love the sepia toned photos of pitmasters and plain folk cooking, but I'd love to see some color photos of the finished products.
Here's a typical passage: "A great deal of ink, beer, and maybe even blood have been spilled over the great debate: charcoal or gas," he starts. He praises the convenience of gas grills, and then tells us "If I could use only one grill for the rest of my life (or take it to a deserted island), it would be my trusty charcoal kettle. Why? For starters, charcoal burns hotter than gas, so it sears better (better searing makes for bolder flavors). It's also easier to smoke on a charcoal grill. Charcoal imparts a distinct flavor all its own, one that's less pronounced that that from grilling over a wood fire (which, by the way, is easy to build on a charcoal grill), but definitely more discernible than what you get from gas. And, of course, charcoal gives you the thrill of playing with fire."
Raichlen sums this book's concept up with this quote: "When I grew up, barbecue meant the main course. Today, we grill everything, and I mean everything from appetizers to desserts."
Click here for pricing on Amazon.com
Peace, Love, and Barbecue: Recipes, Secrets, Tall Tales, and Outright Lies from the Legends of Barbecue by Mike Mills and Amy Mills Tunnicliffe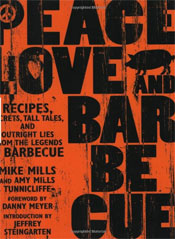 Mike "The Legend" Mills has earned his nickname with achievements as a restaurateur (17th Street Bar and Grill in Southern Illinois and four Memphis Championship Barbecue restaurants in Las Vegas), an award-winning chef (three-rime Grand World Champion at Memphis in May), president of the National Barbecue Association (2004-2005), and now, with the help of his daughter (herself an accomplished chef, writer, and photographer), he has created a classic in the pantheon of barbecue literature. Peace, Love, and Barbecue, published in 2005, not only contains the expected count of excellent recipes and cooking tips, but includes interviews with the legends of barbecue, and visits to the "shrines, shacks, joints, and right respectable restaurants." This is a first rate reference and a fun read.
Here's a quote: "I never told either of my wives the recipe [for our secret family barbecue sauce]. Let me tell you, this didn't set well with either one of them. I have had it in my head, so it isn't written down anywhere. It's not as thou they could've found it in the recipe box.
"My first marriage lasted only seven years, so keeping a secret wasn't too much of a problem, although Wife #1 wasn't amused. Marriage to Wife #2 lasted for only 27 years, so she didn't make the cut either. Now if we'd made it to 30 years, I might've broken down and spilled my guts. But she would've had to change her ways."
Click here for pricing on Amazon.com
Low & Slow: Mastering the Art of Barbecue in Five Easy Lessons by Gary Wiviott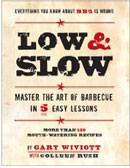 If you have a new Weber Smoky Mountain smoker you absolutely positively must buy Gary Wiviott's book. Although not specific to this cooker, nobody knows more about it than Wiv, and his step by step guides can be applied to a wide range of low and slow devices.
He is a purist, and Chapter 8, titled "Master the Art of Barbecue on a Gas or Electric Grill" has just one page that says "Gotcha! Shame on you for even thinking it. You cannot make low and slow barbecue on a gas or electric grill." And that's all he wrote. Well, he's right about electrics, but if you follow my tips on how to set up your gas grill, you can make darn fine low and slow barbecue on it. Wiviott, who is extremely knowledgeable about all matters food, may seem dogmatic in his tutorial, but if you follow his procedures you will be richly rewarded. Even on a gas grill.
Click here for pricing on Amazon.com
Paul Kirk's Championship Barbecue Sauces: 175 Make-Your-Own Sauces, Marinades, Dry Rubs, Wet Rubs, Mops, and Salsas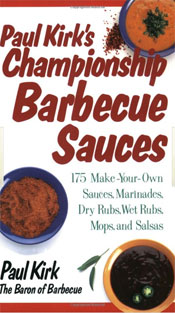 Paul Kirk is known as the Baron of Barbecue. He teaches classes in barbecue and, as a competition cook, has won more awards than can be counted. This book has 175 sauces, marinades, dry rubs, wet rubs, mops, and salsas. Nothing fancy, no long-winded tales and stories, just tried and true recipes, mostly from his buddies on the competition circuit. He's not the best writer, but he has a lot to teach.
Here's a quote: "People ask me what is the most important aspect of barbecue: the rub, cooker, smoker, fire, wood, charcoal, meat, what? All things being equal, my answer is without a doubt the rub or barbecue seasoning! If you have good rub, your chances of being the neighborhood Barbecue King, or this year's big winner in barbecue competitions, are very good. The next thing people usually want to know is what's in my rub and whether I'll give out my recipe. My answer is, sure, you can have what's in my rub, but I won't give you the proportions. My rub consists of sugar, salt, paprika, chili powder, pepper, and other spices."
Click here for pricing on Amazon.com
America's Best BBQ by Ardie A. Davis and Chef Paul Kirk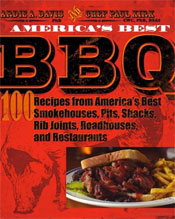 This wholly wonderful book is meant as a cookbook, as described in the subtitle "100 Recipes from America's Best Smokehouses, Pits, Shacks, Rib Joints, Roadhouses, and Restaurants". But it is much more. Davis and Kirk probably have visited more barbecue joints than anyone I know, and they know the good stuff from the bad. For this book they have picked some of the best barbecue restaurants, describe them, and share a recipe. Davis and Kirk are not professional photographers, but their snapshots do a fine job of conveying the ambiance of the restaurants, the personalities of the people, and the taste of the food. I have used it more than once as a reference when I hit the road, and they have never steered me wrong.
The narrative is folksy and personal. Here they are discussing pig snoot sandwiches: "Ardie hasn't made it through a whole snoot sandwich yet, even after downing a shot of Pig's Nose Scotch first. Paul downs them with gusto reminiscent of a New Yorker eating clams or oysters on the half shellArdie says they taste like bacon fat with barnyard rub. When he gets to the whiskers, he stops and orders a tenderloin sandwich or a cheeseburger." Yes, they offer a recipe that even Ardie will eat.
Click here for pricing on Amazon.com
Legends of Texas Barbecue Cookbook: Recipes and Recollections from the Pit Bosses by Robb Walsh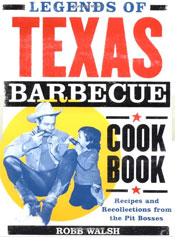 This book is a wonderful piece of scholarly research that is also a great read. Walsh has delved into the history and lore of Texas barbecue, it origins, its ingredients, its personalities, and its tall tales. He recommends the best places to eat when in the Lone Star State, what to eat, and provides recipes from pitmasters to help you replicate the real thing at home. Even the photos are fascinating.
A quote: "The majority of Texas barbecue joints now serve a little bit of everything. You'll always find some kind of beef offered, and usually German-style sausage along with Southern-style pork with barbecue sauce, Mexican tortillas, West Texas beans, and sides from all over the place. Not to mention banana pudding, coconut cake, and sweet potato pie. Some places try to maintain a degree of stylistic purity, but few succeed. That's why when you say "Texas barbecue," no one can ever be sure about what you are talking about... The best way to preserve our tradition is to constantly disagree about what Texas barbecue really is."
Click here for pricing on Amazon.com
On Food and Cooking: The Science and Lore of the Kitchen by Harold McGee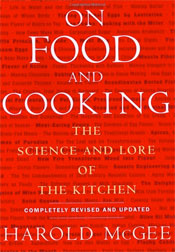 This is not a cookbook with recipes, but if you want to know why we do what we do in the kitchen, not just what to do or how to do it, this fat tome is a must have. It is a fascinating and easy to read textbook that explains what food is made of, and how it reacts with heat and other foods. McGee describes scores of different kinds of foods and their characteristics as well as every cooking method and how it changes the food. The meticulous black and white pen and ink illustrations are illuminating, and if you have the technical bent, the molecular drawings will give you the real nitty gritty. This book belongs in every kitchen.
Here's a typical passage: "Get down on all fours and 'graze,' and you'll notice that the neck, shoulders, chest, and front limbs all work hard while the back is more relaxed... Tenderloin is appropriately named because it is a single muscle with little connective tissue that runs along the back and gets little action; it's tender."Here's something more technical: "The basic texture of meat, dense and firm, comes from the mass of muscle fibers, which cooking makes denser, dryer, and tougher. And the elongated arrangement accounts for the 'grain' of the meat. Cut parallel to the bundles and you see them from the side, lined up like logs of a cabin wall; cut across the bundles and you see just the ends. It's easier to push fiber bundles apart from each other than to break the bundles themselves, so it's easier to chew along the direction of the fibers than across them. We usually carve across the grain, so that we can chew with the grain." And here's my favorite tip. He tells us how to have a safe rare hamburger! He explains that rare hamburger is dangerous because fecal contamination can get on the surface of the meat, and it then gets mixed in as the meat is ground. When you cook a rare steak the surface is sterilized, but when you grind meat, the interior can be contaminated because the surface is mixed into the interior. So here's his solution: "Bring a large pot of water to a rolling boil, immerse [unground pieces of meat] in the water for 30-60 seconds, then remove, drain and pat dry, and grind in a scrupulously clean meat grinder."
Click here for pricing on Amazon.com
The Meat Buyers Guide: Meat, Lamb, Veal, Pork and Poultry by NAMP (North American Meat Processors Association)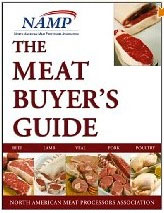 This is the definitive reference on all the different cuts of meat, with charts, excellent photos, a glossary, and nutritional info. It is aimed at butchers, chefs, and ranchers, and although it is not a cookbook, with not a single recipe within, a home chef can learn a lot.
A quote: "Spareribs shall consist of at least 11 ribs and associated coastal cartilages and may include portions of the sternum and diaphragm. The membranous portion of the diaphragm, close to the lean, and any portion of the diaphragm not firmly attached close to the inside surface of the ribs, shall be excluded. The lean shall not extend more than 2.0 inches (5.0 cm) past the curvature of the last rib and coastal cartilage. Heart fat on the inside surface of the ribs shall not exceed 0.25 inch (6 mm) average depth. Leaf fat shall be trimmed practically free from the diaphragm and transverse abdominis." OK. So it's a bit technical. But don't let this deter you if you really want to learn about meat. The charts and pictures are worth the price alone.
Click here for pricing on Amazon.com
What are Your Favorite Food Books and Cookbooks?
Tell us about your favorite books about food and cookbooks below. Click here for more of
my faves
.
All text is Copyright (c) 2011 By Meathead, and all rights are reserved
For more of Meathead's writing, photos, recipes, and barbecue info please visit his website AmazingRibs.com and subscribe to his email newsletter, Smoke Signals.
REAL LIFE. REAL NEWS. REAL VOICES.
Help us tell more of the stories that matter from voices that too often remain unheard.