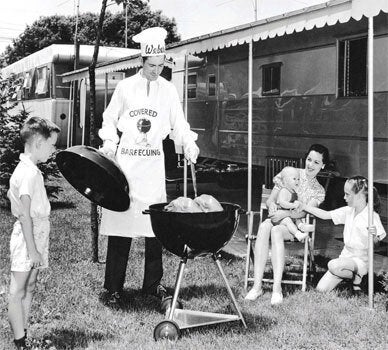 This beautiful book has 305 large pages with more than 200 recipes and perhaps 300 superb color photos. Purviance begins with managing the grill, and although Weber's grills are featured, the advice is broad enough to cover most charcoal and gas grills. Shockingly, there is nary a mention of the
, considered by many to be the best bullet smoker on the market, and winner of a Meathead's Gold Award. So, although there are several smoked meat recipes, they are all cooked on the Weber Kettle or a gas grill. You can cook barbecue on grills and braziers, but a specialty smoker is a better tool for the job.
This one has the 200 plus recipes divided into two categories, "Easy" and "Adventurous", pretty much 50/50. They are all spectacularly photographed by Tim Turner.
Amazon.com pays me a small referral fee when you purchase a book from them after clicking on a link on this page.
Chris Lilly is the Executive Chef of one of the nation's classic old joints, Big Bob Gibson Bar-B-Q, in Decatur, AL. He is also the head of the restaurant's much decorated competition team, winner of more championships than he can count. Surprisingly thin with a pointy chin and piercing eyes, his angularity is significantly softened by his drawl.
A superb hardbound, 420 page book with more than 450 recipes. The limited illustrations are mostly high quality black and white pen drawings with a handful of beautiful large color plates scattered throughout. As I have exclaimed perhaps too often and too breathlessly elsewhere in the past,
, the magazine, the website, the book publisher, and producer of America's Test Kitchen on PBS, is my favorite source for no-nonsense, thoroughly tested info. The editors take little for granted and they are constantly questioning and testing accepted wisdom and wives' tales. And these folks really understand barbecue.
Nobody knows more about barbecue than Steven Raichlen. This book and this author have had a greater influence on the meteoric growth in popularity of barbecue in the US than anything since the Weber kettle grill was invented in 1951 by George Stephen. With several other books on barbecue and grilling, Raichlen has had the kind of influence on men who cook, that Julia Child had on women who cook and has probably vastly improved the way we eat in the summer. In fact, this book has been given a Julia Child Cookbook Award.
This is my favorite of Raichlen's books. Published in 2003, it is a whopping 774 pages with 425 recipes. He begins with a history of barbecue that is fun and enlightening. Then there is a primer on grilling and barbecue with lots of great tips. Most of the recipes come from restaurants, from joints to white tablecloth temples of food. There are more useful tips and fun facts in the sidebars. I love the sepia toned photos of pitmasters and plain folk cooking, but I'd love to see some color photos of the finished products.
Mike "The Legend" Mills has earned his nickname with achievements as a restaurateur (17th Street Bar and Grill in Southern Illinois and four Memphis Championship Barbecue restaurants in Las Vegas), an award-winning chef (three-rime Grand World Champion at Memphis in May), president of the National Barbecue Association (2004-2005), and now, with the help of his daughter (herself an accomplished chef, writer, and photographer), he has created a classic in the pantheon of barbecue literature. Peace, Love, and Barbecue, published in 2005, not only contains the expected count of excellent recipes and cooking tips, but includes interviews with the legends of barbecue, and visits to the "shrines, shacks, joints, and right respectable restaurants." This is a first rate reference and a fun read.
If you have a new Weber Smoky Mountain smoker you absolutely positively must buy Gary Wiviott's book. Although not specific to this cooker, nobody knows more about it than Wiv, and his step by step guides can be applied to a wide range of low and slow devices.
Paul Kirk is known as the Baron of Barbecue. He teaches classes in barbecue and, as a competition cook, has won more awards than can be counted. This book has 175 sauces, marinades, dry rubs, wet rubs, mops, and salsas. Nothing fancy, no long-winded tales and stories, just tried and true recipes, mostly from his buddies on the competition circuit. He's not the best writer, but he has a lot to teach.
This wholly wonderful book is meant as a cookbook, as described in the subtitle "100 Recipes from America's Best Smokehouses, Pits, Shacks, Rib Joints, Roadhouses, and Restaurants". But it is much more. Davis and Kirk probably have visited more barbecue joints than anyone I know, and they know the good stuff from the bad. For this book they have picked some of the best barbecue restaurants, describe them, and share a recipe. Davis and Kirk are not professional photographers, but their snapshots do a fine job of conveying the ambiance of the restaurants, the personalities of the people, and the taste of the food. I have used it more than once as a reference when I hit the road, and they have never steered me wrong.
This book is a wonderful piece of scholarly research that is also a great read. Walsh has delved into the history and lore of Texas barbecue, it origins, its ingredients, its personalities, and its tall tales. He recommends the best places to eat when in the Lone Star State, what to eat, and provides recipes from pitmasters to help you replicate the real thing at home. Even the photos are fascinating.
This is not a cookbook with recipes, but if you want to know why we do what we do in the kitchen, not just what to do or how to do it, this fat tome is a must have. It is a fascinating and easy to read textbook that explains what food is made of, and how it reacts with heat and other foods. McGee describes scores of different kinds of foods and their characteristics as well as every cooking method and how it changes the food. The meticulous black and white pen and ink illustrations are illuminating, and if you have the technical bent, the molecular drawings will give you the real nitty gritty. This book belongs in every kitchen.
This is the definitive reference on all the different cuts of meat, with charts, excellent photos, a glossary, and nutritional info. It is aimed at butchers, chefs, and ranchers, and although it is not a cookbook, with not a single recipe within, a home chef can learn a lot.
Tell us about your favorite books about food and cookbooks below. Click here for more of
.
Related