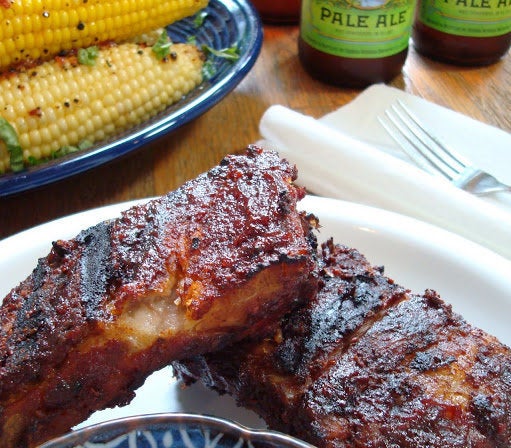 Father's Day is right around the corner and we like to celebrate this holiday by honoring our dads with food, naturally. Some of the father figures in our lives are inextricably tied to our food memories, so what better way is there? HuffPost Taste put out a call for stories, and we were rewarded with some heartwarming (and sometimes tear-jerking) tales. The second in our series is written by Sommer Collier of the food blog A Spicy Perspective. Read her sweet tale below — and then be sure to head on over to her site for the Coffee-Brushed BBQ Ribs recipe.
Looking back on my childhood, there are certain things about my dad that stand in the forefront of my mind. Good things.
The funny little nicknames he would call us. The father-daughter camp-outs. Sitting with him in a velvet chair, reading bedtime stories. Dad's ability to weave a memory into a colorful tale of years past. He could make some of the horrors of his own childhood sound like classic fairytales! His "workshop," which was the corner of our garage, where he made wooden things. Mostly little cars, name plates and Christmas ornaments.
Dad's love of history and antiques. Dad's obsession for coffee, at least two pots a day. And of course, his extensive coffee cup collection to keep up with the addiction. Dad's love for grilling and smoking meat. He had an enormous smoking cabinet that was the envy of every man in our suburban neighborhood.
Along with fond memories and associations, my dad has taught me many important lessons over the years, both directly and indirectly. He taught me to say what I mean, and mean what I say. He taught me to work hard … without whining about it. He taught me that respect must be earned, not demanded. He taught me that life doesn't always dish out what you want, but you can still move forward with a positive attitude. He taught me that faith, integrity and extending grace to others, are the highest virtues one can hold. Thankful doesn't quite cover how I feel about him.
The three aromas I always identify with my father are sawdust, coffee and hickory-smoke. Every time I smell one of these, I draw in a deep, placid breath and I'm immediately overcome with warm thoughts of him. It's no wonder that when I think of making a meal for dad, I feel the urge to combine large slabs of meat and coffee!
That's why I came up with coffee-infused barbecue sauce. A sauce with all that's pure and holy about traditional (Midwestern) barbecue sauces, plus a dark, bitter undertone. The coffee, molasses and whiskey add depth of flavor that is strikingly distinct. Slather this on tender, juicy baby back ribs and grill to produce a crusty bark like no other. The succulent shreds of pork and smoky, caramelized crust are a carnivorous monument, able to birth a sense of one's proper place in the food chain. I dare say, it's enough to make a vegetarian stray. (Maybe I'm getting carried away, but these are awfully good ribs.)
Love you dad!