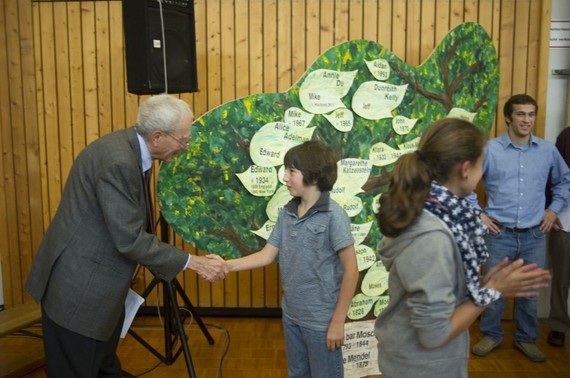 Three years ago this week our family returned to Germany with my father Edward Lowenstein to his hometown in the Essen-Steele area.
It was the first time he had set foot there in 73 years.
In early 1939, Dad had been placed by his parents on the Kindertransport, a British government-sponsored program that gave sanctuary to about 10,000 Jewish children from Central Europe.
He was nearly 5 years old.
Grandma Hilde and Grandpa Max sent Dad and our Uncle Ralph away to save them, not knowing if they would ever see them again.
Dad left several weeks after Uncle Ralph because he needed an emergency appendectomy.
A World War I veteran, my grandfather had taken his ailing son throughout the town where our family had lived for more than a century.
All refused to operate on a Jewish child.
Eventually, my great-grandfather and namesake Joseph Lowenstein found a non-Jewish colleague to perform the surgery.
He did so on the kitchen table on the first floor.
After a brief recovery, Dad went to England. He lived there with Uncle Ralph for about 18 months before being reunited with my grandparents, who had escaped through Genoa, Italy.
From there the family moved to Cincinnati, where Dad grew up and Uncle Ralph has remained since.
We had talked for years, decades really, about taking a trip back to the country.
We had even started to set dates for the trip.
But somehow Dad felt it had nothing to do with his life.
That changed close to four years ago.
Gabriele Thimm, a remarkable German teacher, contacted us and invited us to attend a memorial observation she was having for the town's Jewish community.
One of the stops would be at my great-grandfather Joseph's house, the home where Dad had had his appendix removed.
When we received the invitation to go to Essen from Gabriele in the fall of 2011, we could not go.
But we sent a statement lauding the community for their actions and courage and expressed our desire that we would meet them in person soon.
In May, during the course of a near magical week, we did just that.
During the trip we met the non-Jewish family that had held our family bible for years, visited Dad's old apartments, and went to a surprise birthday party held in his honor.
Gabriele and the students also organized ceremonies at the former Great Synagogue and the school where she teachers. Full of songs, readings, photos and documents, the ceremonies talked about the history of the Jewish people, the Jews in Essen and our family before explaining what happened when Hitler came to power in 1933.
At the end of the ceremony, Dad stood and answered children's questions.
Why did he return to Germany? What did he think about the country?
Germany is one of the countries in the world that has seen some of the worst atrocities in human history, he said in slow, clear tones.
But it's also a nation that has done more to atone for those actions than nearly any other country on the planet.
Dad also announced that rather than accept the honorarium he had been offered by the community, we had spoken as a family and decided to create the Lowenstein Family Award for Tolerance and Justice.
This award would honor young people whose actions and writing revealed a belief in those ideals.
In 2013 we went back for the first granting of the prizes.
This week will mark the third time.
Gabriele and I continue to speak monthly.
Over the past year she has described the rise in antisemtism, a toxic brew that exists throughout Europe made up of right wing extremism and Muslim fundamentalism.
Many of the Jewish students are the school are afraid to openly identify themselves as belonging to the religion, she said.
Gabriele and I have agreed that this moment makes our project mehr wichtig wie immer.
More important than ever.
We are seeking an external partner to expand the range and scope of the prize. Although have had some nibbles, no one has bitten yet.
This week we will celebrate Dad's 81st birthday. His continued survival is a source of joy for those of us in the family and all whose lives he has touched as well as a reminder of the ultimate failure of Hitler's genocidal regime.
We will also feel gratitude for a remarkable and brave teacher with a clear-eyed view of the challenges we confront and the need for continuous and sustained action to meet them.
Calling all HuffPost superfans!
Sign up for membership to become a founding member and help shape HuffPost's next chapter