A fatwa is a ruling issued by Islamic scholars, and a recent ruling says participating in one-way trips to Mars is as bad as committing suicide.
According to the Khaleej Times, the fatwa committee of the General Authority of Islamic Affairs and Endowment in the United Arab Emirates issued the fatwa after determining that "such a one-way journey poses a real risk to life, and that can never be justified in Islam." They continued, "There is a possibility that an individual who travels to planet Mars may not be able to remain alive there, and is more vulnerable to death."
The committee says participating in the "hazardous trip" to Mars, will likely result in death for no "righteous reason." This means that the unfortunate Mars adventurer will face a "punishment similar to that of suicide in the Hereafter."
You may be wondering why anyone would want to take a one-way trip to Mars, and honestly I wonder that myself. However, Dutch company Mars One plans to do just that, and they received over 200,000 applicants vying to take the trip. In December of 2013 the group was paired down to 1058 candidates. If there are any Muslim candidates they may now want to reconsider.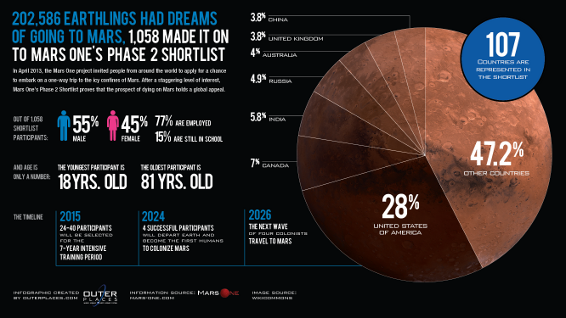 Reportedly, around 500 Saudis and other Arabs applied for the Mars One mission. The fatwa committee believes that some of them may be fleeing to Mars to escape punishment from Almighty Allah. However, the committee says not even traveling to Mars will allow one to escape Almighty Allah's judgment. They say, "This is an absolutely baseless and unacceptable belief because not even an atom falls outside the purview of Allah, the Creator of everything."
Mars One plans on releasing more information in early 2014 on further cuts as they continue their selection process for the final candidates. They say in the next stages, "We expect to begin understanding what is motivating our candidates to take this giant leap for humankind."
Professor Dr. Farooq Hamada, who presides over the fatwa committee, shared the motivation for issuing the fatwa: "Protecting life against all possible dangers and keeping it safe is an issue agreed upon by all religions and is clearly stipulated in verse 4/29 of the Holy Quran: Do not kill yourselves or one another. Indeed, Allah is to you ever merciful."
Mars One posted a response to the fatwa asking that it be canceled. They argue, "Any progress requires taking risks, but in this case the reward is 'the next giant leap for mankind.' That reward is certainly worth the risks involved in this mission."
Mars One says that they would like to keep their opportunity open to Muslims. Mars One writes, "They can be the first Muslims to witness the signs of God's creation in heaven, drawing upon the rich culture of travel and exploration of early Islam."
It is yet to be seen whether the fatwa committee's opinions have been swayed by the Mars One response.
Fatwa or not, I am a little too fond of good old mother earth for a one-way trip to a barren red planet. Sorry Mars One, but I will monitor your progress from the comfort and safety of my comfy earthbound couch.
Popular in the Community