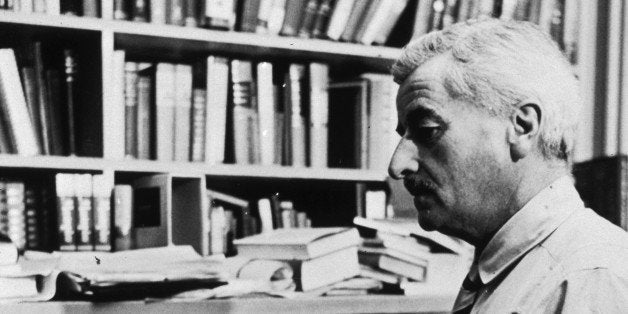 William Faulkner, the Nobel Prize-winning author of "The Sound and the Fury," "As I Lay Dying," and "Light in August," was thankfully outspoken regarding the do's and don'ts of his craft. Though noted for his heavily stylized prose, the writer championed plot over ornate syntax--a strange opinion for a man who once penned a five-word chapter ("My mother is a fish.") According to him, if the story is compelling enough, the style will follow.
In honor of Faulkner's 116th birthday, here are six of his best tips on writing:
1. Writing is not about the author, but the product.
If I had not existed, someone else would have written me, Hemingway, Dostoyevsky, all of us. Proof of that is that there are about three candidates for the authorship of Shakespeare's plays. But what is important is Hamlet and A Midsummer Night's Dream, not who wrote them, but that somebody did.
2. There's nothing wrong with borrowing.
I think the writer, as I've said before, is completely amoral. He takes whatever he needs, wherever he needs, and he does that openly and honestly because he himself hopes that what he does will be good enough so that after him people will take from him, and they are welcome to take from him, as he feels that he would be welcome by the best of his predecessors to take what they had done.
3. The best writers are insatiable.
Ninety-nine percent talent... ninety-nine percent discipline... ninety-nine percent work. He must never be satisfied with what he does. It never is as good as it can be done. Always dream and shoot higher than you know you can do. Don't bother just to be better than your contemporaries or predecessors. Try to be better than yourself.
4. The story itself is more important than the style.
I think the story compels its own style to a great extent, that the writer don't need to bother too much about style. If he's bothering about style, then he's going to write precious emptiness–-not necessarily nonsense... it'll be quite beautiful and quite pleasing to the ear, but there won't be much content in it.
5. A writer must be a reader.
Read, read, read. Read everything -- trash, classics, good and bad, and see how they do it. Just like a carpenter who works as an apprentice and studies the master. Read! You'll absorb it. Then write. If it's good, you'll find out. If it's not, throw it out of the window.
I've heard people say, "Well, if I were not married and had children, I would be a writer." I've heard people say, "If I could just stop doing this, I would be a writer." I don't believe that. I think if you're going to write you're going to write, and nothing will stop you.
Popular in the Community