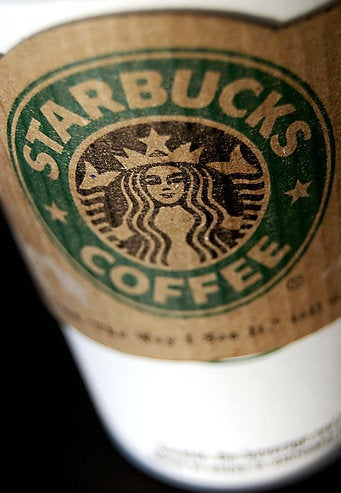 The big word these days in green and sustainability circles is "Relocalization."
Aware of the community and environmental destruction involved in importing everything from everywhere else, more and more towns are encouraging the return to supporting local businesses and farms.

So how are the big international conglomerates dealing with this challenge?
The trend toward local economies may be convincing the giant multinationals like Starbucks to start disguising the affiliations of their stores to convince unwary locals that they're sipping their latte in a locally-owned shop. A story in AlterNet reports that "Starbucks' new stealth strategy is de-branding: giving stores different names and more local 'community personality.'"
Perhaps the recession can be blamed. Locals in many places are turning to less expensive coffee haunts that tout their home-grown origins. But AlterNet, in a story called "Starbucks' Latest Evil Plan to Take Over (More) of the World" by Privamvada Gopal, reports that
"even before the downturn, [Starbucks'] legendary CEO, Howard Schultz, fretted about what he called the 'watering down of the Starbucks experience' and the loss of 'the soul of the past' in 'the warm feeling of the neighborhood store'...

[But] the transformation of the quirky, the unique and the countercultural into mainstream commodity culture is not new, and Starbucks is hardly alone in enacting this relentless corporate logic... global success is dependent on exploiting local knowledge and cultures. Coca-Cola came to India in the 90s waving the national flag and insisting, in local languages, on its indignity; McDonald's succeeds in Asian countries by serving variants of local cuisines. Don't be too surprised if fast-food joints begin to cater to the "slow food" movement, just as gigantic petroleum corporations now sport bright "green" logos.
So will Starbucks coffee under another name taste any better to the locals in your town?
In the era of global corporate hegemony, is true relocalization really possible?
Or will we see more McDonalds outlets morphing into Uncle Joe's Burgers and Victoria's Secret emporiums disguising themselves as Aunt Polly's Naughty Nighties?
Calling all HuffPost superfans!
Sign up for membership to become a founding member and help shape HuffPost's next chapter