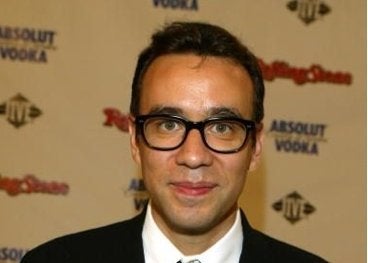 After nine weeks of strike darkness and a week of breathless rumors ETP can confirm: SNL regular Fred Armisen is Saturday Night Live's Barack Obama, adding the junior Senator from Illinois to the show's 33 years of political impressions.
The show had been in a bind since the beginning of the season, disadvantaged by having only one black male cast member, Kenan Thompson, whose fuller body type was inconsistent with the Senator's slim, lanky frame. Though Thompson had been rumored to be trying to lose weight for the gig - one which could well lead to a meaty recurring role playing the President of the United States - earlier this week founder/executive producer Lorne Michaels told several press outlets that the search for someone to play Obama was on, both inside and outside the current cast. The decision to cast Armisen was made on Thursday, and will be officially announced to the world tonight at 11:30 ET when the live broadcast kicks off.
Expect to see some controversy from this decision: Though Armisen has played an ethnically diverse range of characters before - including Iranian dictator Mahmoud Ahmadinejad and Prince - the minority of black faces on SNL has been noted in the past, and the chance to give this plum role to a non-black player will surly generate debate (never mind resuscitating the old "Is Obama black enough?" question). Still, there is precedent: Darrell Hammond's impression of Jesse Jackson, Horatio Sanz as Aaron Neville, Maya Rudolph as Liza Minelli — on SNL, if you can play the part and be funny doing it, that's enough. The verdict from the dress rehearsal audience was generally enthusiastic ("Very funny!" said one audience member who approved of the Armisen decision; "Hilarious!" agreed two other young men wearing Hillary stickers, both of whom felt SNL had been more than fair to their candidate). "Funny" should blunt controversy somewhat, since that is the raison d'etre of the show (agree/disagree in comments).

Steve Martin is also set to make a cameo, along with Mike Huckebee, who is set to do a campaign-appropriate bit for "Weekend Update." There's also a walk-on by Obama Girl - the actual Obama Girl, Amber Lee Ettinger. Also debuting tonight is new cast member Casey Wilson.
Popular in the Community