Dutch artists Dre Urhahn and Jeroen Koolhaas started working in Rio de Janeiro over 10 years ago ― long before the Olympics or the World Cup shed international light on economic inequality plaguing the major Brazilian city. Back then, they said, nobody ever wanted to talk about favelas or the people living in them, except sporadically on the news.
That has changed quite a bit.
Urhahn and Koolhaas, also known as Haas&Hahn, are the men behind Favela Painting Foundation, an organization devoted to using street art as a means of catalyzing change in some of Rio's most underserved neighborhoods. You might have come across photographic evidence of their endeavors on social media, images that capture the ways the duo transforms dilapidated buildings into beacons of vibrant color.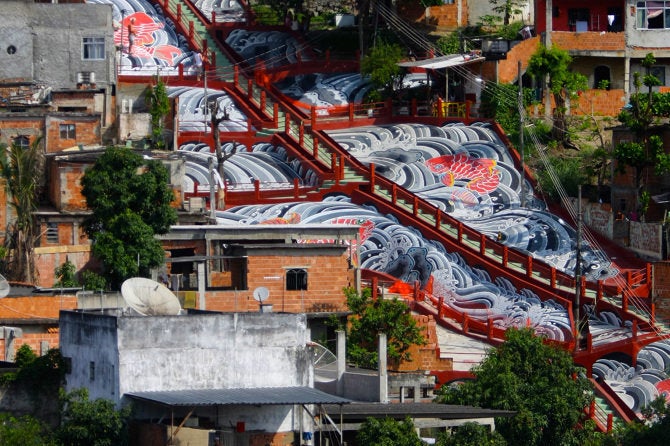 Urhahn and Koolhaas work directly with the people who populate Rio's slums, using collaboration and creativity to spark hope in places that are short on it. For example, in 2010, they worked in the Santa Marta favela, painting over 34 houses in a 7,000-square-meter area at the central square of Praça Cantão. To do so, they lived there and met with the locals. They trained some of the younger favela residents in painting workshops and ended up employing 25 locals to finish the project in just one month. The result was an explosion of rainbow hues that could be seen from afar, stretching from one dwelling to the next in a wave of unexpected energy.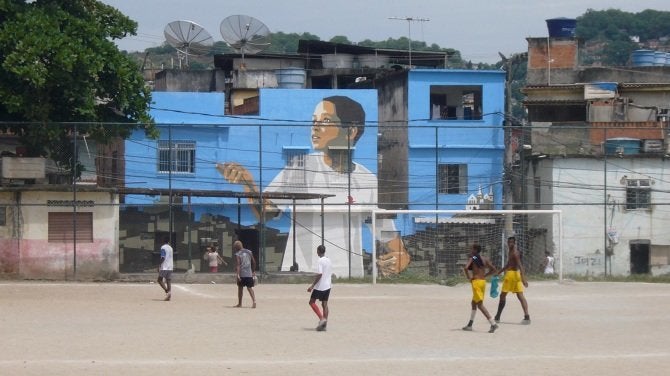 The Favela Painting founders say they choose street art as their vehicle for change for a variety of reasons. "It's obviously a quick way to create visual impact," they explained to The Huffington Post. "But our projects also employ people and give them a sense of ownership over the artworks they create in their own community, while improving the condition of their houses."
Street art, they added, opens a window for discussion and some positive news from places otherwise depicted in the media in a negative way.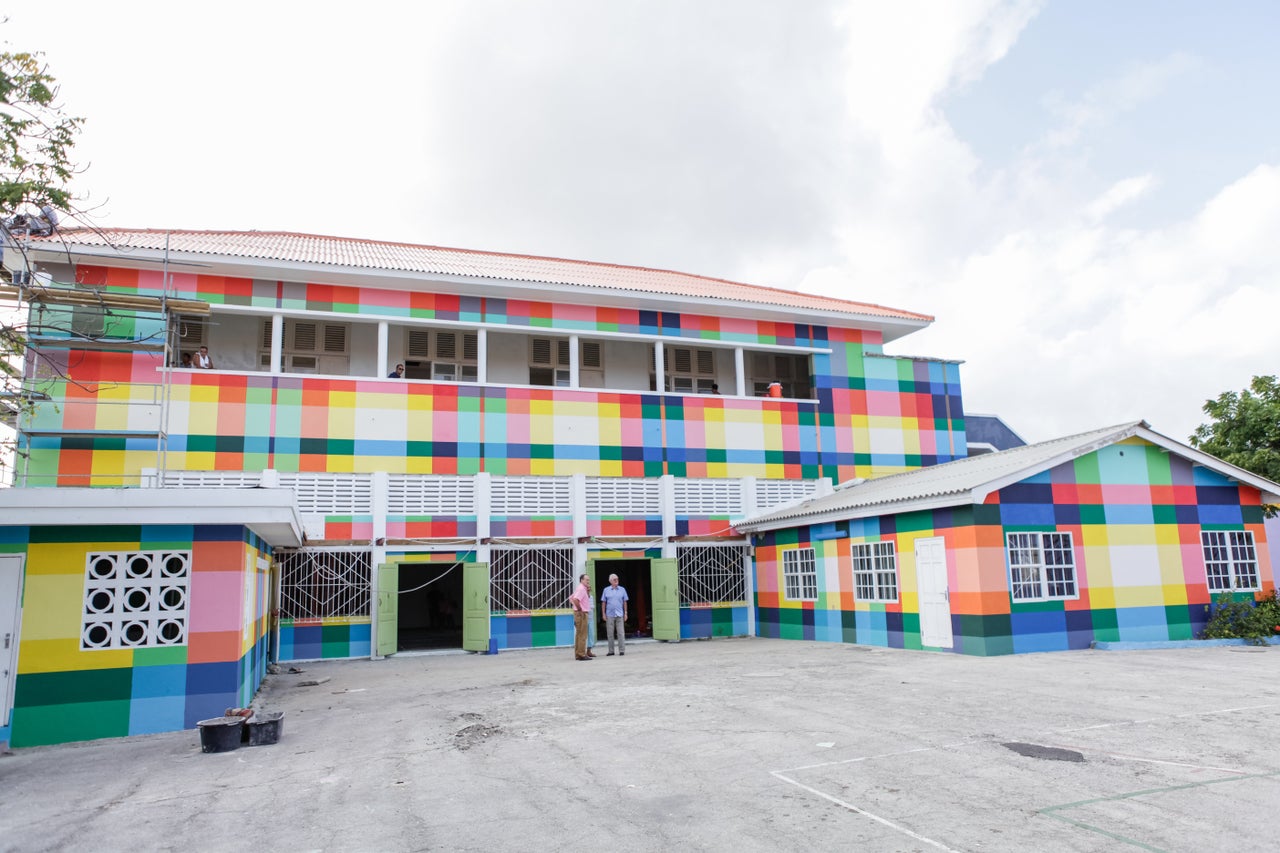 Back in 2005, Urhahn and Koolhaas originally traveled to Brazil to make a documentary on hip-hop, but ended up reinvigorating the architecture of favelas instead. "We found ourselves hugely inspired by the favela architecture, its people and the way the inhabitants built their own communities," they explained. "We based our process on the way that favelas evolve, without a fixed plan, always adapting to the situation."
Outside of several neighborhoods in Brazil, Urhahn and Koolhaas have also worked on the island of Curaçao, in Port-au-Prince, Haiti, in refugee camps in Greece, and in the American neighborhoods in Philadelphia, Pennsylvania. "But we always returned to Rio, to work on new projects and to restore old ones," they said.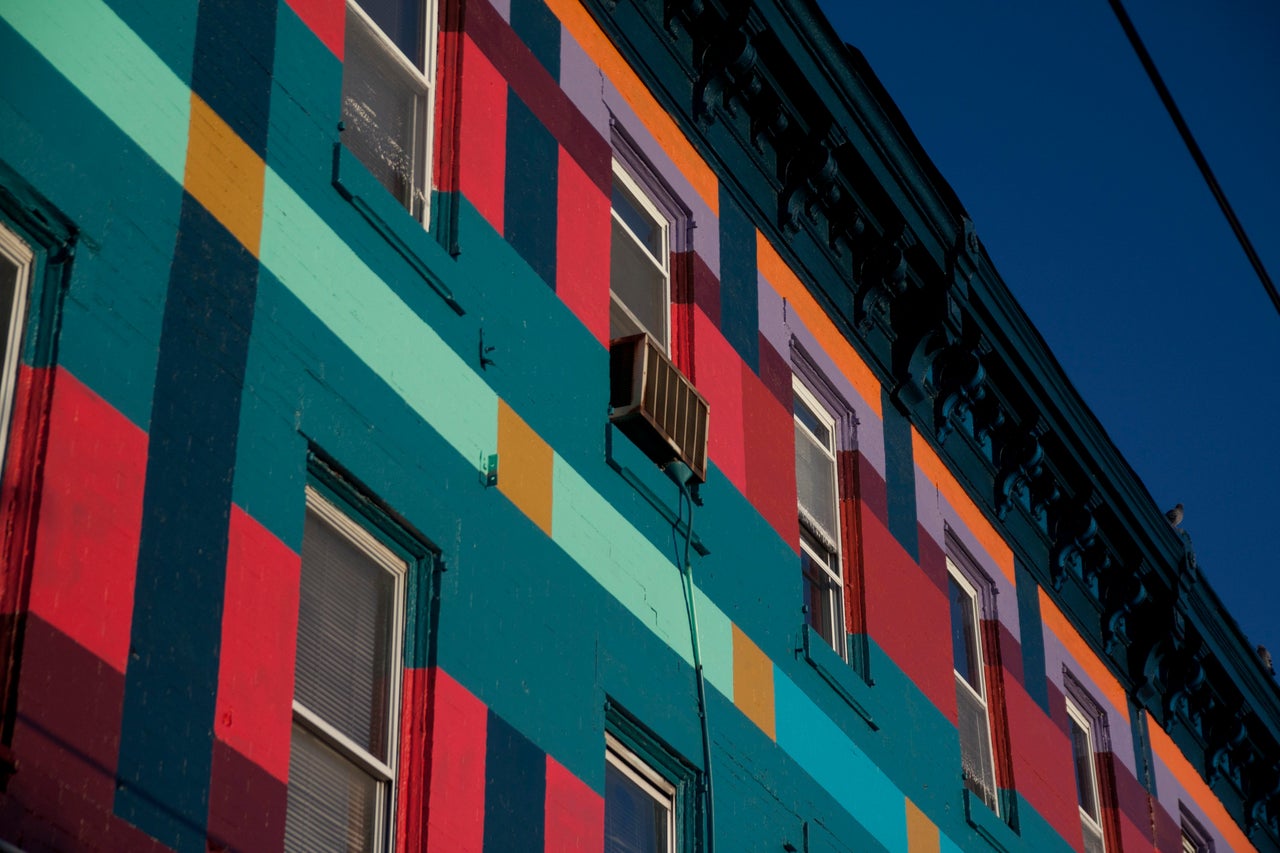 Urhahn and Koolhaas noted that while this year's Olympic opening ceremonies celebrated "favela culture," the favela communities themselves continue to experience mostly negative effects as a result of the games. "Centrally located favelas have gentrified extremely, while the violence and oppression has drastically increased in others," they said. "And with Rio's current economical situation, the future of these communities is completely unsure."
There were no Favela Painting projects in motion during the Olympics, but after the dust settles, Urhahn and Koolhaas said they'll be returning to Rio de Janeiro. In the meantime, they started a project in a former prison in Amsterdam. The six high-rise buildings are set to house refugees, so Urhahn and Koolhaas were tasked with giving the structure a new identity.
In the face of potential criticism ― in response to those who'd claim Favela Painting may be achieving physical change in the slums, but certainly not systemic ― Urhahn and Koolhaas are quick to point out that they don't claim to "change the world with paint."
"Whatever you do in life, there will always be a few comments from the sidelines. But the general reaction has always been overwhelmingly warm and positive," they said. "We merely create interventions, that hopefully ignite some other change ― and try to have fun while doing so."
In the end, they hope their projects will simply "help others to set up projects of their own, be it in favelas of Brazil or anywhere else in the world."
For more Olympics coverage:
Related
Before You Go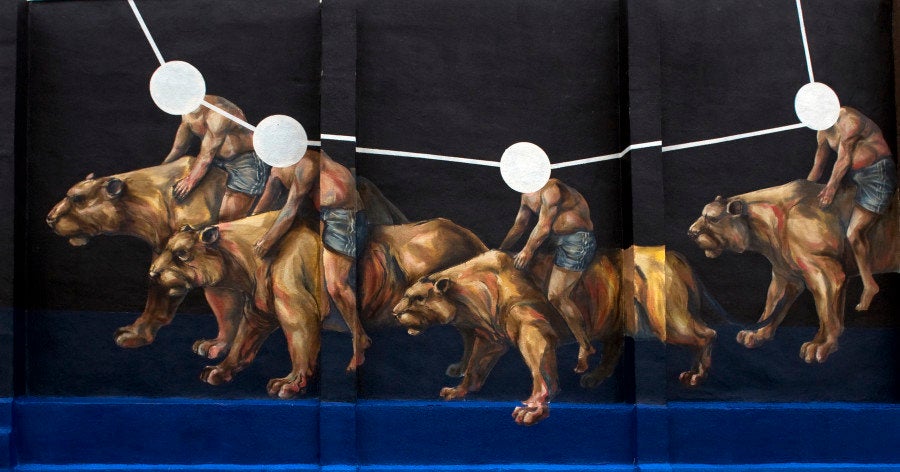 25 Street Artists' Works From Around The World