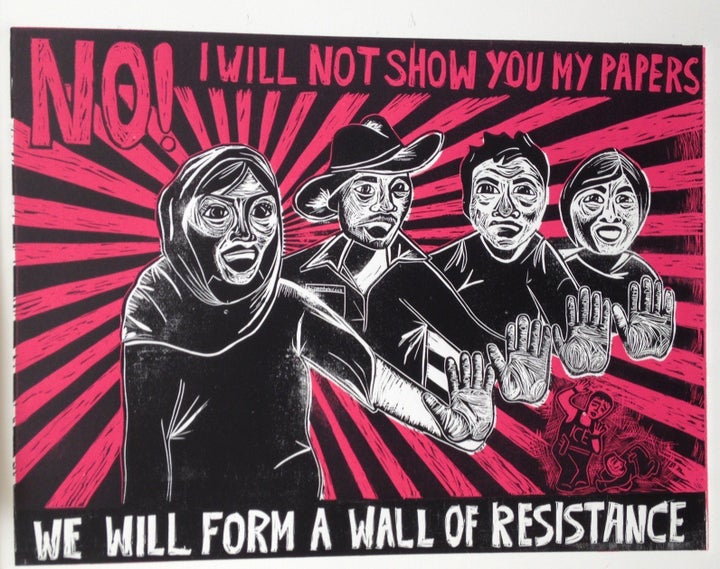 The Oakland, California-based artist, Favianna Rodriguez, firmly believes that printmaking is a natural partner to immigrant rights activism.
"Part of the great thing about printmaking is that you can produce an art piece that in turn can be reproduced, and shared, and distributed to many, many people," Rodriguez said in an interview with The Huffington Post.
In the same semester that John Morton, the Director of Immigration and Customs Enforcement (ICE), spoke on the campus, Rodriguez taught a class of 14 Stanford undergrads the art of printmaking in the name of a specific cause -- fighting the government policies on immigration. The class, entitled "Show Me Your Papers: Immigration, Youth, Printmaking & Storytelling For Social Justice", was comprised of a diverse collection of students, with majors ranging from Chemistry to Women's Studies. None were art students. All, she said, have emerged from the class as both artists and activists.
As a Stanford Visiting Artist in the Spring quarter, Rodriguez assigned students to read news stories about the immigration debate, and asked them to create works based on these topics.
"We explored subjects from the DREAM act, to deportations, to S-Comm [Secure Communities], to the rights of migrant parents who are losing their children as a result of deportations. I am a firm believer that in order to make an effective political poster, one must know the issues that they are trying to depict," Rodriguez wrote in her personal blog.
The topic of immigration is a personal one for Rodriguez, whose parents are from Peru. "My parents are immigrants," she said in an interview with The Huffington Post. "Immigration has defined my whole experience as an American," she added. Critics of "pro-migrant" activists like the California artist argue that their views condone law breakers and threaten the security of America's borders in their sympathetic stance towards undocumented immigrants. Rodriguez, on the other hand, argues that the government's abuses against undocumented immigrants have been egregious.
"To me, these immigration policies represent a real failure of the nation states to understand the consequence of globalization on actual human beings," she said in a phone interview. "It's not just about the laws themselves. It's about the racism, racial profiling, imprisonment, jailing, and profiteering off of migrants, that are a result of the system."
The student works will be distributed to advocacy groups around the country to be used in protests and rallies, according to Rodriguez.
"Art is still not a vital part of the immigrant rights movement like it is in the environmental movement or the Occupy movement. But we hope we can spark more people to make art about the issue," Rodriguez said. "Art speaks to people in a very unique way."
Check Out Some Pieces From Rodriguez's Class:
PHOTO GALLERY
Student Work From Rodriguez's Class
Calling all HuffPost superfans!
Sign up for membership to become a founding member and help shape HuffPost's next chapter
BEFORE YOU GO