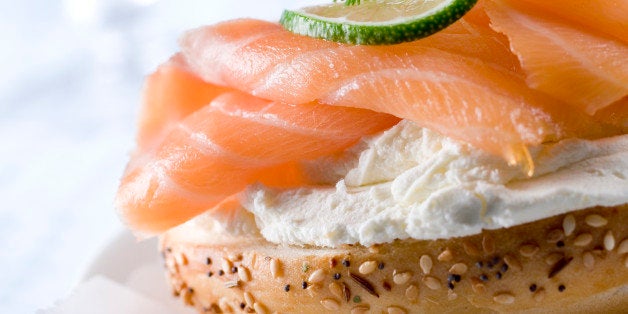 When you're going on a bagel run, eating a healthy breakfast isn't usually the priority. After all, it's a bagel, not an egg-white omelette, and bagels go well with nearly everything -- like coffee, cream cheese, or Nutella.
Unfortunately, that's part of their hidden danger, and the damage can add up fast. While a plain bagel remains constant at around 260 calories, it's what you put on the bagel that ends up making the biggest nutritional difference.
We've rounded up a list of the most popular toppings, listing their nutritional values using a realistic portion size for an entire bagel -- because let's be honest, we don't usually limit ourselves to two tablespoons of cream cheese. We've also added a ranking system to help you pick the ideal bagel pairings. The stars represent calories, fat, sodium and protein, in that order, with a star translating to a relatively healthy serving of each nutritional component.
JELLY


Strawberry jelly
Size: 4 tablespoons, or 2.8 ounces
Calories: 200
Fat: 0 grams
Sodium: 0 milligrams
Protein: 0 grams
LOX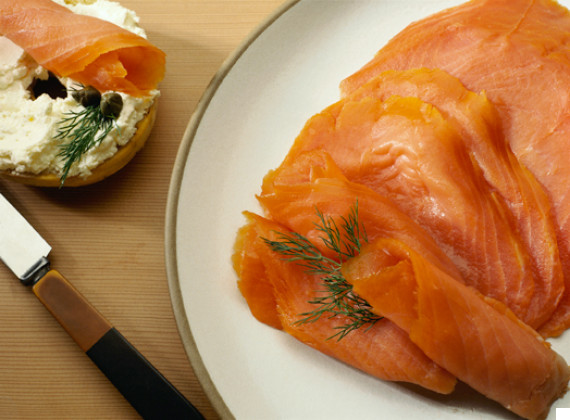 Traditional lox
Size: 4 ounces
Calories: 132
Fat: 4.9 grams
Sodium: 2,260 milligrams
Protein: 20 grams
PIZZA TOPPINGS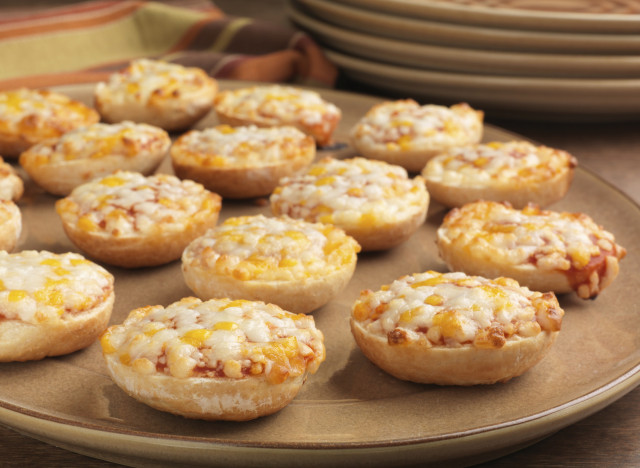 Tomato sauce
Size: 4 tablespoons
Calories: 18
Fat: 0 grams
Sodium: 1 milligram
Protein: 1.5 grams
Shredded mozzarella
Size: 1/2 cup
Calories: 160
Fat: 12 grams
Sodium: 350 milligrams
Protein: 13 grams
BUTTER


Unsalted butter
Size: 2 tablespoons, or 1 ounce
Calories: 200
Fat: 24 grams
Sodium: 4 milligrams
Protein: 0 grams
EGG SALAD


Traditional egg salad
Size: 1/2 cup
Calories: 360, depending on the preparation
Fat: 19 grams
Sodium: 330 milligrams
Protein: 10 grams
BACON, EGG AND CHEESE


Bacon
Size: 2 medium slices
Calories: 92
Fat: 7 grams
Sodium: 393 milligrams
Protein: 6 grams
Fried egg (without added fat)
Size: 1 egg
Calories: 78
Fat: 5.3 grams
Sodium: 62 milligrams
Protein: 6 grams
Cheese
Size: 1 slice of cheddar cheese
Calories: 113
Fat: 9 grams
Sodium: 174 milligrams
Protein: 7 grams
CHICKEN SALAD


Traditional chicken salad
Size: 1/2 cup
Calories: 209
Fat: 16 grams
Sodium: 288 milligrams
Protein: 3.5 grams
TUNA SALAD


Traditional tuna salad
Size: 1/2 cup
Calories: 192
Fat: 11.5 grams
Sodium: 807 milligrams
Protein: 16 grams
PEANUT BUTTER


Smooth, unsalted peanut butter
Size: 4 tablespoons, or 2.4 ounces
Calories: 380
Fat: 32.4 grams
Sodium: 5 milligrams
Protein: 16 grams
NUTELLA


Traditional Nutella
Size: 4 tablespoons, or 2.8 ounces
Calories: 400
Fat: 24 grams
Sodium: 51 milligrams
Protein: 4 grams
CREAM CHEESE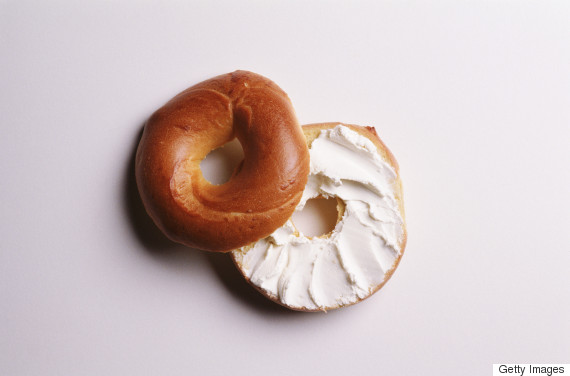 Original cream cheese
Size: 6 tablespoons or 3 ounces
Calories: 300
Fat: 30 grams
Sodium: 115 milligrams
Protein: 5 grams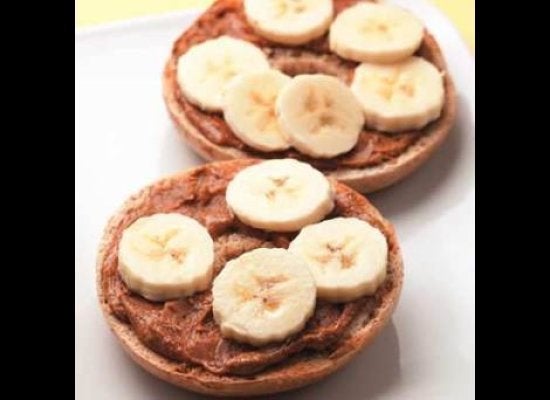 National Bagel Day Recipes