If you spent your childhood fighting off all kinds of looming dark forces -- like siblings, cousins, friends or neighborhood trees -- then you probably get a warm, sentimental feeling each time you think of your trusty Luke Skywalker–green lightsaber.
Chances are the saber you'll see on today's toy store shelves while shopping for your own kids looks a little different cooler than the one you know and love. That's why we've partnered with Duracell to look back at every die-hard "Star Wars" fan's classic toys, and what the cutting-edge versions are like today.
1. Lightsaber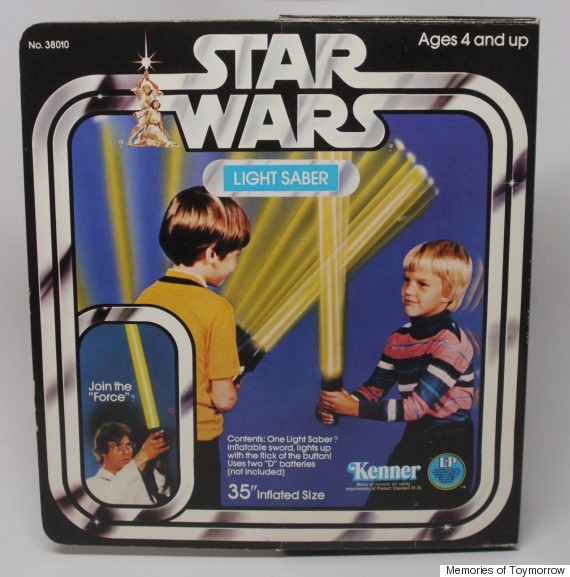 Memories of Toymorrow
Then: If you're a child of the original "Star Wars" trilogy, you definitely remember the giddy excitement you felt as you prepared to play with this inflatable lightsaber. (Or maybe it was lightheadedness from all the energy it took to blow up it up?) Either way, you spent countless hours in your family's dark, dusty basement relentlessly battling all kinds of imagination-fueled galactic battles.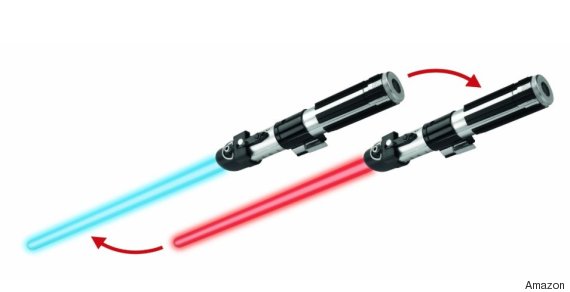 Amazon
Now: "Modern" lightsabers (they've come a long way!) are sturdier, more high-tech and less likely to make you dizzy and faint before battle. This color-changing saber goes from Anakin blue to Darth Vader red at the flip of a switch.
2. Darth Vader Voice Changer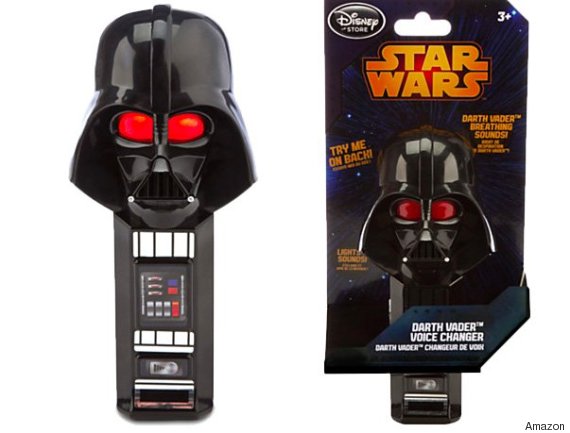 Amazon
Then: Whether you had the full-on helmet or a simple handheld device, there's no shame in how much time you spent as a child uttering, "Luke, I am your father," into these Darth Vader voice changers.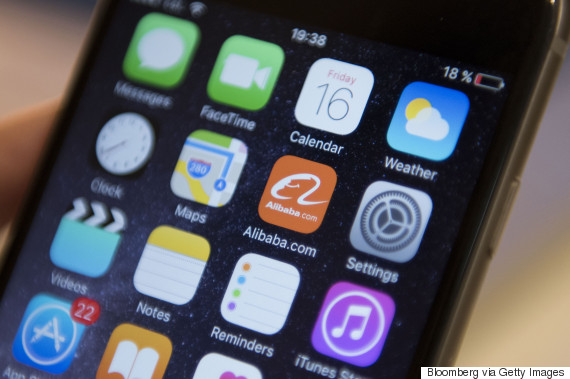 Now: Today kids need nothing more than an Internet connection and a smartphone to transform into the Galactic Empire's most loyal servant. There are countless iPhone and Android apps out there that will transform your voice at the push of a button, like this one available through Google Play.
3. Top-Of-The-Line Video Games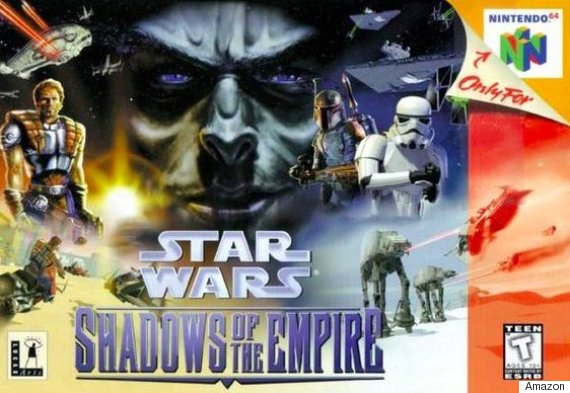 Amazon
Then: If you still think the Battle of Hoth in Star Wars: Shadows Of The Empire, released in 1996 for Nintendo 64, is the all-time best version, you're probably not alone. (Nor are you alone if you like to indulge in the occasional throwback game.) But whatever you do, don't blow on those old Nintendo 64 game cartridges to get them to work! It actually does more harm than good.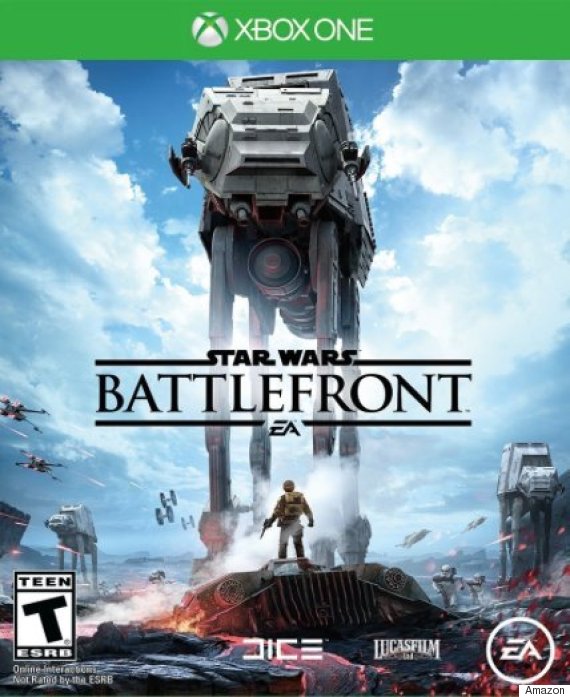 Amazon
Now: Your (video game) loyalties may be in for a test, though. Transport yourself to a galaxy far, far away in the new "Star Wars Battlefront," released Nov. 17 on several consoles, which puts you in the thick of the Rebel Alliance battle with more immersive gaming experiences and realistic visuals.
4. Interactive Money Banks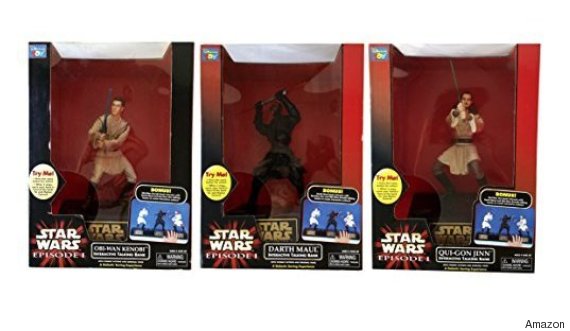 Amazon
Then: Even if you weren't a die-hard "Star Wars" fan, these interactive banks made you wish you were. If you were lucky enough to own all three -- Darth Maul, Qui-Gon Jinn and Obi-Wan Kenobi -- you know just how fascinating it was to watch them spring to life at the wave of your hand.

Amazon
Now: Today's "Star Wars"–themed interactive banks are light-years ahead in their technologies. While the original banks relied on coin operation and motion sensors, this R2-D2 interactive bank is smartphone compatible. It even includes an app that allows you to insert your smartphone into the top of the bank to enter a four-digit unlock code. Safe will your loose change be.
5. Remote-Controlled Droids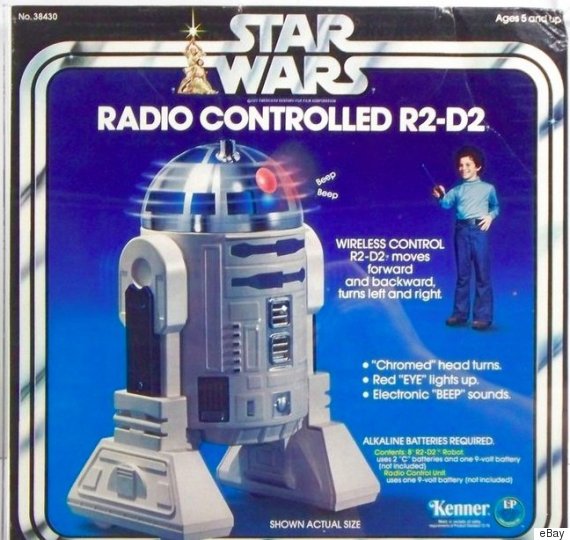 eBay
Then: This original remote-controlled droid, cool as it was, could only execute a handful of actions: moving forward and backward, turning side to side, flashing red and making robot sounds. If you owned one of these originals, you know you'll probably never forget that whirling, mechanical sound. Not ever.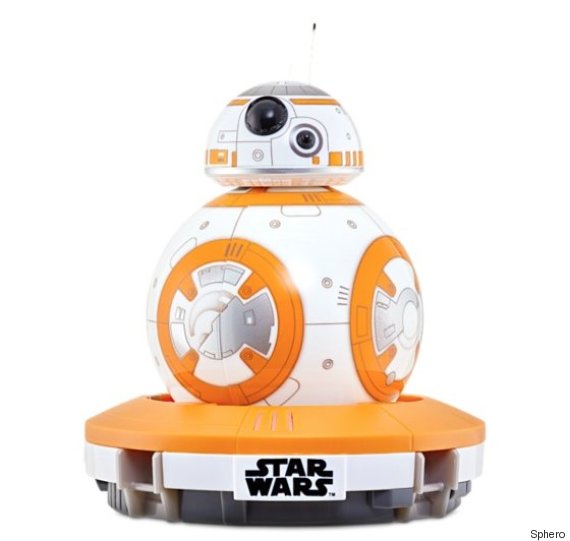 Sphero
Now: We've come a long way from those original droid toys -- Sphero's version of the newest member of the "Star Wars" family, BB-8, is both Android and iOS app-enabled. She can be controlled remotely, respond to voice recognition and adapt her personality as you both interact.
Calling all HuffPost superfans!
Sign up for membership to become a founding member and help shape HuffPost's next chapter