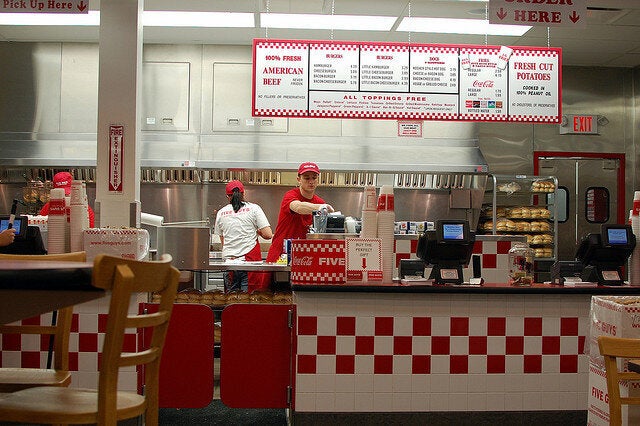 Yet another poll, this one from consumer market researcher Market Force, confirms what we all already suspected: everyone loves Five Guys. The burger chain, which has grown rapidly since its founding in 1986, was rated America's favorite fast food chain, after adjusting for the number of stores. By this measure, In-N-Out came in second and Chick fil-A came in third.
The poll asked 4500 Americans to pick their favorite chain from among the 55 highest-grossing quick-service eateries in the country. The raw data indicated that America's favorite chain was Chick fil-A, which garnered 10.4% of the total vote; Panera came in second. But Market Force then adjusted the vote to account for disparities in the total number of outposts for each brand. The relative scarcity of In-N-Out and Five Guys propelled them to the top of the list, while Panera fell to fourth.
Market Force also asked customers to rank chains on more specific factors. Chick fil-A, for example, dominated the ranking of chains by child-friendliness, and Panda Express won for taste of food. Chipotle was the highest-ranked in the sustainability/green metric, even without Willie Nelson's help.
The high scores for In-N-Out and Chick fil-A align nicely with similar results in a June ranking of fast food companies by Consumer Reports. The magazine had In-N-Out first, with Chipotle and Chick fil-A coming in first in the Mexican and Chicken categories. (Five Guys tied for second in the Burger category, but got the same overall score as Chick fil-A.) The results do not, however, coincide with the list of the biggest food chains in America by revenue. The top performers on that list, including McDonald's, Burger King and Subway, ended up near the bottom of the Market Force survey, especially after adjusting for the number of outlets.

Related