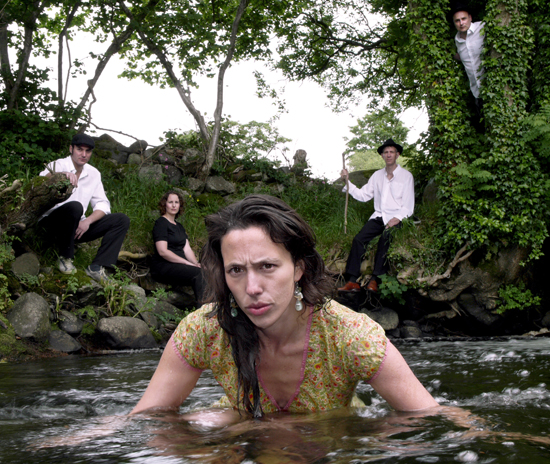 My second rundown of folk recordings I picked up at this year's Folk Alliance meeting focuses on musicians from Britain, who were there in force this year. I'll start with the only band here that's technically British, 9Bach, a quintet based around Welsh singer Lisa Jen and her English guitarist husband, Martin Hoyland. They're technically British, because "British" properly refers to speakers of Brythonic Celtic languages such as Cornish and Welsh, and the self-titled debut album 9Bach is all in Welsh. Throughout the disc, Jen's bell-clear voice is the star, and Essylt Jones's harmony singing and harp does some heavy lifting too. With a standard rock setup of guitar, bass, and drums, some folk instruments like Welsh harp and occasional melodeon, and classical and world music touches like cello, glockenspiel and harmonium, the album dresses its traditional Welsh folksongs in sparse, trancey arrangements with a melancholy and reflective feeling. Occasionally, as on "C'weiriwch Fy Ngwely," this sounds retro, like you're listening to something put out in the '70s, but at other times, as on "Mae Nhw'n Dwedyd," it resembles Portishead more than Fairport. A good frame of reference is psych-folk and acid-folk from Britain (Pererin, Vashti Bunyan), and the more recent American manifestation of the genre (Fern Knight, Espers), which references that '70s folk-rock vibe to create music for today. 9Bach sounds right at home among such company.
Next up is Joy Dunlop's third CD, Faileasan (Reflections). Dunlop is from Argyll, Scotland, which means "coast of the Gaels," and naturally enough sings in Scottish Gaelic. She made this CD a showcase of her home region, selecting songs, musicians, producers, and even a design team from the area. Luckily, there's plenty of homegrown talent, and the result shimmers with impeccable musicianship and clean modern production. Dunlop chooses a wide selection of songs, from eighteenth-century laments to modern love poetry. The best known genres of folksong from the region are represented, from waulking songs (work chants used by women in fulling cloth) to Puirt-a-beul (sung dance tunes). Dunlop's research at Edinburgh's famed School of Scottish Studies led her to several gems largely unknown on the folk revival scene. Even these old Gaelic folksongs often have known authors, and Dunlop provides a booklet of notes giving the provenance and lyrics of each song in both English and Gaelic. (You might need a magnifying glass to read it, though!) If you're not a folk nerd, you can just enjoy Dunlop's sweet voice supported by guitars, accordions, fiddles, whistles, bagpipes and the occasional piano, bass and drums. The arrangements go from uncluttered modern Celtic to piano ballad with tin whistle breaks. This is the rare disc that will fly with both the Gaelic scholar and the modern music fan -- give it a try!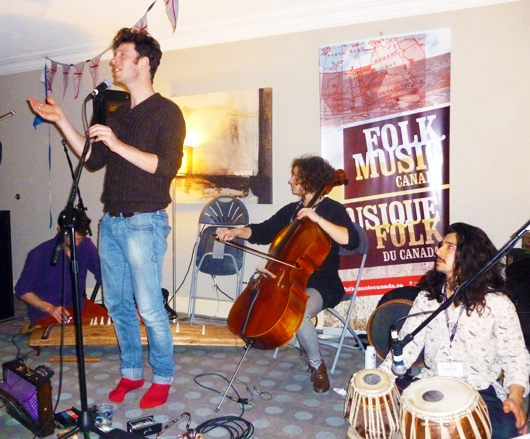 Sam Lee and Friends perform at Folk Alliance International. Photo by Jennifer Cutting.
If Dunlop made her booklet text too small, Sam Lee made his too faint, printing in beige ink on beige paper. It establishes a pattern for Lee's album, Ground of its Own: it's a challenge, but worth it. The most accessible thing about it is certainly Lee's singing, and more specifically its storytelling aspect. Because he has chosen songs that tell simple but interesting stories, and because his voice is both expressive and comprehensible, he is free to bend the tunes with melismatic and intervallic abandon, and to employ accompaniment on a wide range of jazz, world music and folk instruments, adding rich sonic atmosphere to his stories. Percussion and trumpet on a hare-hunting song evoke the hunt, while a song made up of fragments from different singers is dressed up with what sound like fragments of old classical and jazz recordings mixed up in someone's memory. If you approach this album as "folk music," and expect open-tuned guitars and foursquare fiddle and ballad tunes, it may not measure up. But approach it as an album of old ballad stories against an evocative sonic backdrop, and it's fascinating listening.
In a similar vein, Skulk is the fifth album by Jim Moray, who was singing ballads to ambient soundscapes before it was cool. On this outing, the discordant piano harmonies on "The Captain's Apprentice" and the brittle, alien sounds on the war song "The Eighteenth of June" are very good examples of this approach. However, the masterpieces are the more conventionally folky arrangements of two Child ballads, "Lord Douglas" and "Hind Etin." Moray gives the first one a guitar-centered arrangement that would sound at home on the records of his sources Nic Jones, Martin Carthy and Nick Dow and the second a classic folk-rock setting reminiscent of Steeleye Span. For ballad lovers, the album is worth getting just for these two outstanding tracks. "The Golden Glove" and "Courting is a Pleasure," both learned from Nic Jones records, are also very successful songs, the first with a folk-rock feeling, the second with the intensity of slow jazz. Some of Moray's pop flourishes aren't necessary: his auto-tuned voice on several tracks, especially the harmonies on "Horkstow Grange," feels like a shortcut rather than an artistic choice. But the big, wall-of-sound ending to "Seven Long Years" is a model of pop production applied to a folksong. Skulk has many more masterpieces than misses and deserves to be heard, studied and emulated by other artists.
My taste runs towards traditional and roots music, but many at Folk Alliance favor singer-songwriters. One artist both sides agree on is Karine Polwart. Known as a brilliant singer and arranger of folklore material, and also a leading Scottish songwriter. Her latest album, Traces, is made up entirely of her own songs. They're thoroughly modern, but nod toward tradition with sly quotations from folklore and from Robert Burns, and also from American movies, English art songs, Dexy's Midnight Runners, and other cultural influences on modern Scotland. Her poetry is smart, emotionally direct and affecting. Her warm voice and rich Scottish dialect are supported by her own guitars and harmonium and friends add trumpet, clarinet, flute and other acoustic instruments. If modern songs with Scottish flair appeal to you, look for Traces.
Related
Popular in the Community