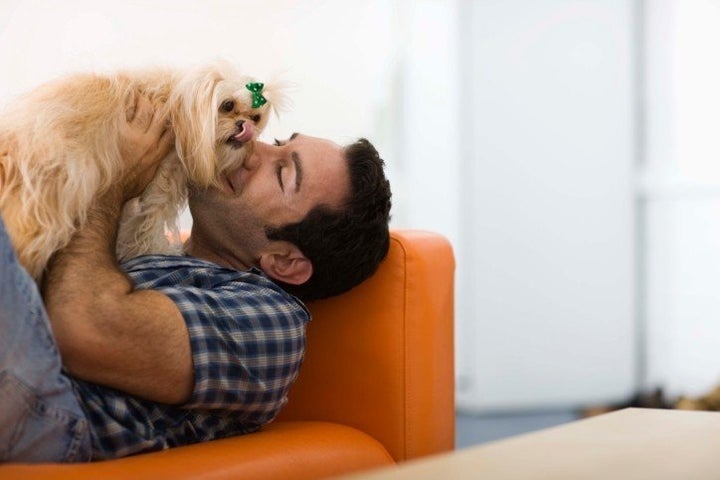 Tom Matlack likes to doze off while reading a hefty novel. What's your favorite moment of the day?
In all my spiritual wanderings, one of the principles that's sunk in is that the past is gone and the future is yet to be. I can only be where I am in this moment: this breath, this step, this instant. To worry about anything else is to waste energy.
Another thing I've realized is that humans -- men in particular -- are creatures of habit. To live in the present, it helps to have a ritual and some regular practice. I asked guys, "What is your favorite moment of the day? What is that moment that always makes you smile?" I also asked their wives. Then I had to think about it myself.
These days, I work in my home office more often than not. I drop off my daughter and son at school, make my way back to the house around 8:30, make a fresh cup of coffee, and lumber up two flights of stairs to my third-floor man cave. My wife Elena decorated my office in greens and browns, with comfort in mind. There's a mahogany day bed in the south-facing window. Surrounded by my favorite books, framed articles, a watercolor painted by my grandmother Grace, and the new bike trainer Elena bought me for my birthday, I sit down at my computer to check on the state of my world and my work, and make mental notes on what I'm eventually going to have to deal with.
After going through my e-mail, I pick up a big novel (preferably 500 pages or more) and grab a quilt. I lie down on the bed, placing my coffee cup and phone on the windowsill, prop my head up, pull the blanket around my shoulders and begin to read. A page (or, on a very good day, maybe two) later, the book drops heavily on my chest, a finger stuck between the pages to mark my place. I doze off in a luxurious bliss.
That is one of my favorite moments of the day. What's yours?
Fresh coffee and sitting down to write in the morning. -- Jonathan Danz, writer, Fayetteville, West Virginia
When my mind is at peace and harmonious. -- Zen Master Miao Tsan, Abbot of Vairocana Zen Monastery, Garden Grove, Calif.
My quiet time in the morning when the house is still not yet stirring ... coffee in hand, Bible in the other. -- Scott Spiewak, public relations professional, Seattle, Wash.
Every day at 5:30 a.m., I write a post for my blog. Writing in my blog gives me a voice. Sure, it's a blog about marketing, which is for work, but it's my blog. -- Jim Joseph, author of "The Experience Effect" and president of Lippe Taylor, New York, N.Y.
I get up very early in the morning to get myself to work and my kids off to school. This routine includes herding my two dogs into the car for the short drive to the dog beach. As I hear the sounds of the lake in the quiet or the noise of the morning and note the variability of how each morning is somehow different from every other one, it always brings me a smile. -- Bruce Blehart, Darien, Ill.
I notice that my fiancé always gets a big grin on his face when I leave for work in the morning looking very professional. I started my first full-time professional job at the same time his company allowed him to telecommute from home. Now he gets the biggest kick out of seeing me off to work. He walks me out the door and walks down a step or two on the stoop, so we are more eye level for our goodbye kiss. (He's nearly a foot taller than me.) It's a very simple moment, but that big goofy grin combined with what we call "googly eyes" (you know, that look of love) lets me know how proud he is of me. -- Jessica Nicholas, account executive, Monterey, Calif.
I look forward to getting on the subway in the morning so I can read. It's amazing how much persistent and ubiquitous media has eroded my reading time, so I really look forward to these moments to relax, read and learn. I think what it says about me is that I'm lonely and I wish I were in a great relationship, which would presumably supersede reading as my favorite moment of the day. -- Steve Silberberg, small-business owner, Boston, Mass.
Every morning my husband and I take a moment for what we call "Round One." We stop what we are doing, climb on the bed, and gratuitously love on our only dog, Calvin, for as long as our morning schedule will allow. We both cannot help smiling when petting that sweet, warm, puppy-dog belly. In those few minutes, we are connected as a family and all three of us are sincerely happy. It's a wonderful way to start our day, and my favorite morning ritual. Sometimes on the weekends we even get up to "Round Three." -- Holly and Adam Baird, Nashville, Tenn.
My favorite moment of the day is my morning journaling practice. Three or four days out of the week I'm able to get to it. I have coffee, read a couple of newspapers, then open my journal. My practice is to identify specific gratefulness, to remind myself of what I like most, and to commit to some specific way of being kind to myself and another person that day. And my favorite moment is usually five or 10 minutes into the practice when I feel a shift, like I'm settling down a bit more deeply into myself -- kind of an "Oh yeah, that's why I'm here!" This moment speaks, I think, to my ongoing challenge to maintain a spiritual life. I got an early start, growing up in a minister's family. But the "pull" or the gravity of my life is to the dry and dusty details of daily commitments and tasks. I want to feel the pulse of it all running just under the surface of the visible and quotidian. -- David Nowell, clinical neuropsychologist, Worchester, Mass.
I smile at a woman -- a total stranger -- and she smiles back. It could happen anywhere, but usually the best is when she's walking down the street in the opposite direction. Especially in Manhattan, getting a woman to smile back is by far the greatest turn-on for me. It gives me hope that there are women who still have a friendly girl-next-door appeal about them. I've done this with gorgeous women who seem unapproachable. This always is my daily occurrence and you better believe it makes me happy! -- Jim Dailakis, comedian and writer, New York, N.Y.
I have two older children (both girls, ages 31 and 28) whom I am very close to, but they live out of town. I'm usually very busy at work and I'll get a simple email from either of them and it brightens my day instantly. They may only send a note asking where their mom is, offer a link to a funny story on the Web, or send along a joke they've heard at work -- but it does make me smile, makes me realize how much I miss them and breaks up the day for me, especially on deadline. My oldest will sometimes send a photo of my (only) grandson doing something stupid -- petting a bird at the zoo or wearing a Cleveland Browns hat (we're huge Pittsburgh Steelers fans) -- and I cherish that effort, even though it's only a picture. -- Larry Claypool, publisher and editor, Liverpool, Ohio
My favorite time of day is when I can finally get out from behind my computer and leave my home office to either have coffee with a friend or explore art galleries around town. -- Paul Niemi, publicist, Albuquerque, N.M.
Seeing the Boston skyline rise over Route 2 as I drive home from work. -- Ryan Timpe, economic consultant, Boston, Mass.
When I come home from work and my three dogs greet me. It is never the same way twice. Each one insists on getting acknowledged as I walk through the door and before I kiss my wife. Some times are more amusing than others, but it is something I look forward to each day. --Jason Doyle Oden; Oklahoma City, Okla.
My favorite moment of the day is when I get home from work. My 2-year-old daughter screams, "Daddy! Daddy! Daddy!" and runs up to me knowing I'll pick her up, throw her into the air, catch her (usually) and give her a hug. It's a thrill for her as well -- I'm 6′7″ tall and she goes flying! -- Scott Hardy, company president, Phoenix, Ariz.
I lie down with my 6-year-old son every night when it's time for him to go to bed. We lie face to face, mirror-like, with our heads on the same pillow. He rambles on about whatever happens to be on his expansive mind. I force all the clutter out of my head and just listen to him for a while, reminding myself that he won't be this age forever. Eventually I capture his perpetually moving lips between my index finger and thumb, gently hold them together and say, "Time for sleep now, motor mouth." This always makes him laugh. As I watch him drift off to sleep, all the extraneous nonsense of my life slips away and I realize that at that moment I am just a dad, and that is the only identity I truly care about. -- Marc Munafo, airline pilot, Tavernier, Fla.
I get into bed and read until I fall asleep. Even if I'm reading something I'm reviewing, this ritual relaxes me; it gives me a sense of control -- it allows me to operate in my own space and at my own pace. I think that's why it's so meaningful to me -- at this point in my day, I've disengaged from the rest of the world and I can lose myself in the words of an author I want to read. And what I've noticed is that I absolutely can't get a good night's sleep without reading in bed. -- Gary Kramer, writer and film critic, Philadelphia, Pa.
When I spread my 12-year-old daughter's baby blanket on her every night ... as I've done nightly since she was a toddler. -- Jim Hafner, applied social scientist, Hadley, Mass.
Reading aloud to my 3-year-old boy and girl at night. I love to buy them new books -- picture books and chapter books -- and I adore watching the expressions on their faces when they get a new book. Every night we are whisked away on a new adventure from the comfort of our safe beds. I guess reading aloud to my kids is my way of trying to be a better dad, of being there for them. I am still learning. -- Read-Aloud Dad, freelance reporter, Belgrade, Maine
The moment I cherish each day is my last act of each day. There is nothing greater than the time each night when everything is done or abandoned for the day and I am ready to lie beside the woman I have fought for my entire life. After numerous relationships and one dissolved marriage, spooning my wife and silently breathing together until we are asleep is the most simple yet profound gesture of my day. It reminds me that after sabotaging, destroying, and running away from various relationships in my life, I have finally found peace in the strength of committing to one woman and breathing my last conscious breath with her each night as the truest act of vulnerability and acceptance. -- Jeffrey Sumber, psychotherapist, Chicago, Ill.
Every time my head hits a cold pillow I release a secret smile. It's weird. But something about the instant gratification of laying my head down after a hard day's work makes me happy. -- Mikey Rox, New York, N.Y.
My favorite moment comes at the end of the day, that moment when the last person has finally dozed off and I can be free to sit and think. Sometimes I sketch, sometimes I type, often I write ideas in a journal, sometimes I just lie on the floor and think. During this time I am alone with my thoughts, my ideas about what could happen, what is possible, and how great things could be. Sometimes the thoughts even last until morning, and on a rare occasion they come to fruition--but at that moment of the day, anything is possible. -- Tom Nardone, company president, Troy, Mich.