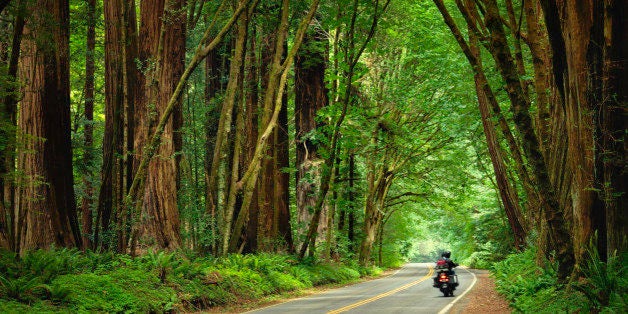 There's nothing quite like traveling this country on a motorcycle.
The sun warm on your back, the wind and the roar of your bike crowding your ears, the clear air spiked with salty ocean breezes or the heavy perfume of harvested maize. Birds dip in and out of sweet songs both foreign and familiar, as you realize you and your fellow riders -- the partner leaning into your back, the beloved bloodhound safely tucked in your sidecar -- aren't merely spectators in the scene unfolding before your eyes; you are living America, breathing in shocking red sunsets, crystalline blue lakes, mountaintops ringed with feathery white clouds, and exhaling -- what else? Freedom.
In partnership with Allstate®, we've asked riders from some of America's storied motorcycle clubs to find the best roads to take you from sea to shining sea on two (or three!) wheels. Even if you've never had the pleasure of hopping onto a motorcycle, these veteran riders paint a vivid picture of what it feels like to hit the pavement. So what are you waiting for? Put your leathers on, kickstands up and get ready to roll.
Look Out For Wild Boars In North Carolina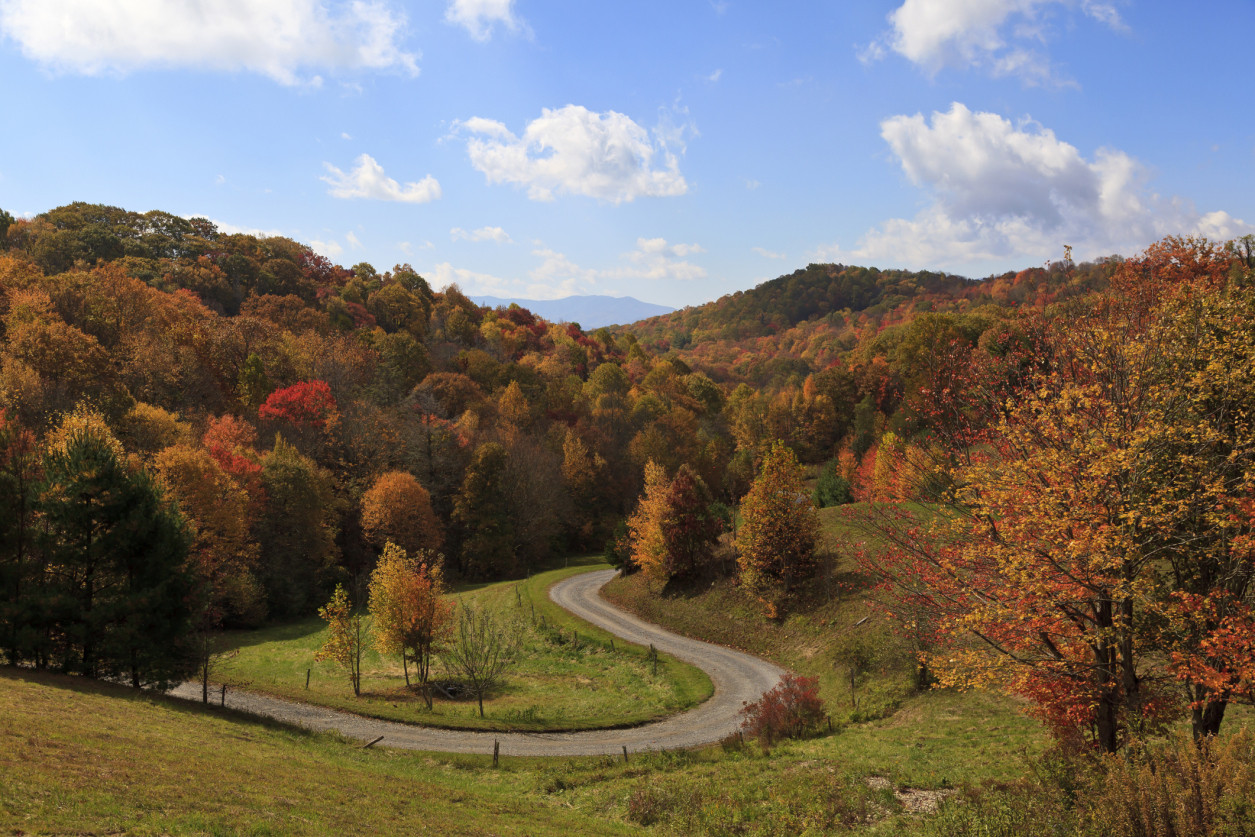 Not pictured: friendly neighborhood wild animals (via Getty Images)
As American Legion Rider Bill Sloan and others on this list will tell you, the most famous American must-ride for motorcycle enthusiasts is an easy pick: the Tail of the Dragon (US-129) at Deals Gap, an 11-mile stretch of asphalt near the border of North Carolina and Tennessee that compresses itself into 318 dizzying hairpin curves through the Great Smoky Mountains National Park. But Sloan -- an N.C. native who now resides in Indiana -- insists there are even better rides near Fontana Village, a resort close to his childhood home, such as the Cherohala Skyway, a picturesque throughway that snakes an ethereal path into mountain clouds.
Aim to squeeze both into your trip. And take it from Sloan, who once led a group of 15 veterans from his American Legion Riders club of Lebanon, Ind., to the Tail of the Dragon: You'll want to keep an eye out for the local fauna. "I saw a razorback boar … and all of a sudden I was 17 years old again and laughing to myself," Sloan says. "It immediately wiped away 25 years. You see things from a motorcycle you just don't see from a car."
Enjoy Autumn At Its Most Colorful In Michigan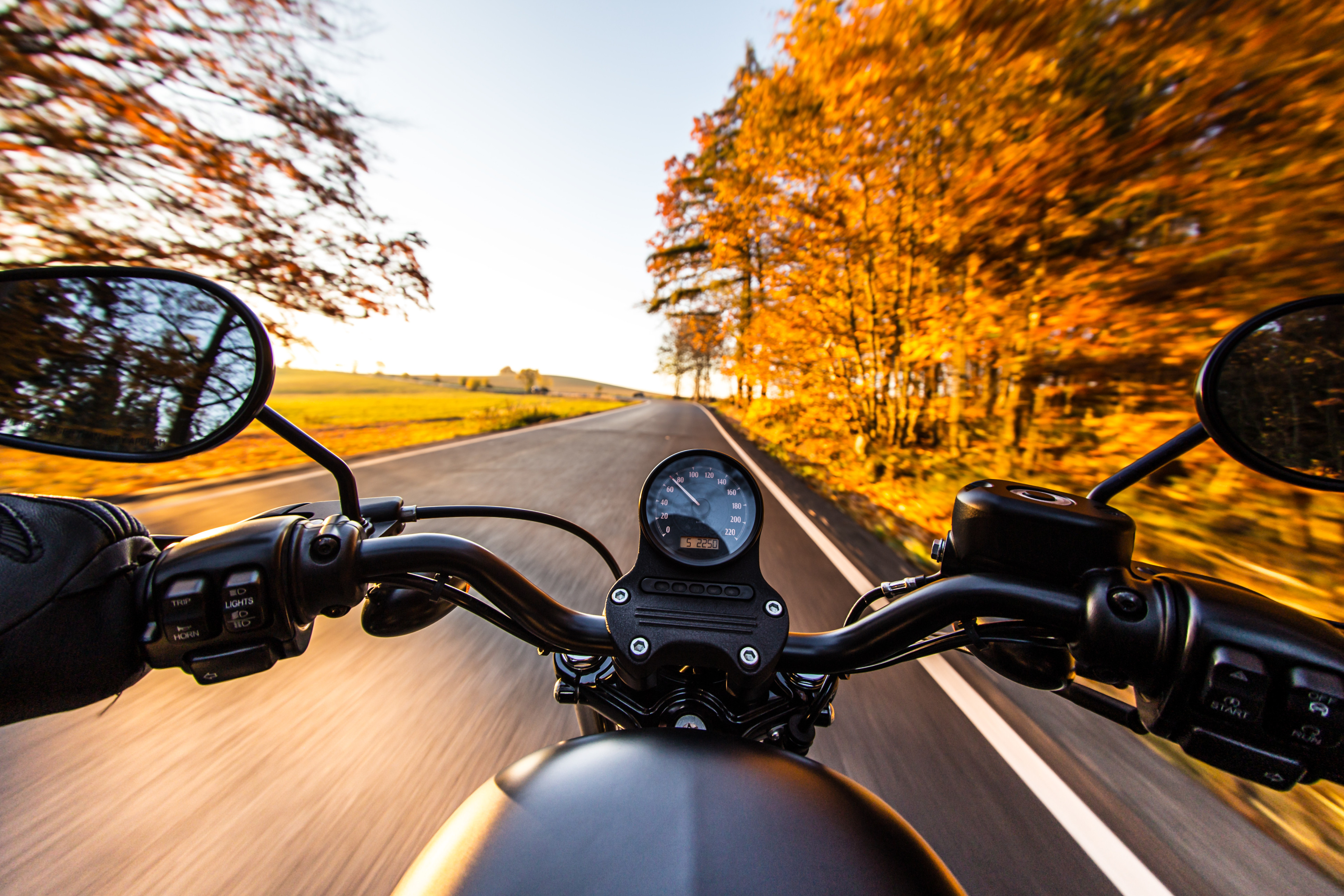 Find prime opportunities to appreciate fall foliage beyond the East Coast (via Getty Images)
Michigan knows scenic rides as well as it does the vivid palette of fall. The 7.4 mile Pierce Stocking Scenic Drive, running along the Sleeping Bear Dunes National Lakeshore, carves through the deep forests and windswept beaches of Lake Michigan's northeastern coast. A second road a little further south, known simply as Scenic Drive, will take you on a twisting tour through Muskegon State Park. For Rick Perreault, the road captain at the Muskegon Motorcycle Club, one of the oldest motorcycle clubs in the country, the second Scenic Drive has the hometown advantage and turns he can't get enough of. "You're leaning hard to the left, and then you suddenly pull back your 700-pound motorcycle to the right," he explains. "It's just such a rush. I kind of got goosebumps just thinking about it."
Once you zigzag your way past sand dunes and burrow through tunnels of trees, you'll find yourself at the precipice of some truly stunning vistas (especially during the fall), care of a historic outpost known as the blockhouse, says Perrault. "There are a lot of maples and ash; those are the ones that turn all the colors," he notes. "The view is spectacular."
Get Twisty In Oklahoma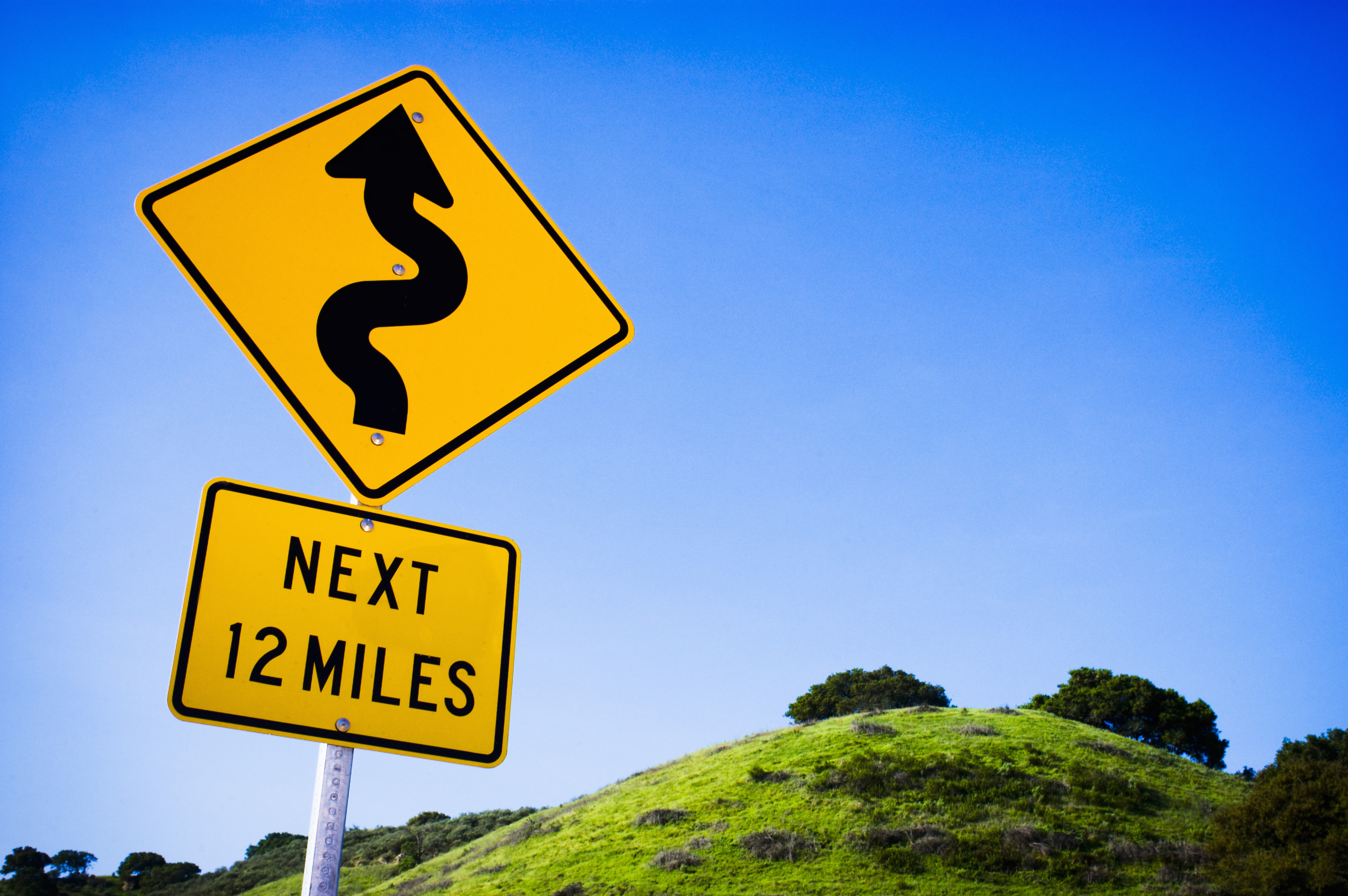 There's more to Oklahoma road adventuring than Route 66 (via Getty Images)
Oklahoma probably doesn't come to mind first when dreaming of winding roads and elevated passes. But don't be so quick to overlook the Sooner State, says Rex Brown, a member of the Northeastern Oklahoma BMW Motorcycle Club. "There are a lot of turns in northeastern Oklahoma because you're at the foothills of the Ozarks," he says, referring to the mountain range in neighboring Arkansas and Missouri.
Brown recommends making your way along Oklahoma State Highway 20 (SH-20), which runs for over 100 miles from Ralston, Okla. and climbs east to Three Corners -- the spot where Arkansas, Missouri and Oklahoma all meet. If you're looking for a nice and twisty ride, a section of OK-20 between the towns of Salina and Jay called Copperhead Trail won't disappoint, Brown says, nor will the Talimena National Scenic Byway, which runs a little farther south.
You're also likely to meet great people as you stop to refuel on food and gas. "Some of the most wonderful experiences I've had will be interacting with people getting gas or stopping for lunch," Brown recalls. "When you're driving a car no one comes up to you and says, 'You know, I used to have an Infiniti like that!' But it always happens to me on a motorcycle, no matter what motorcycle I'm on."
Bring The Whole Family -- Dogs And All -- To South Dakota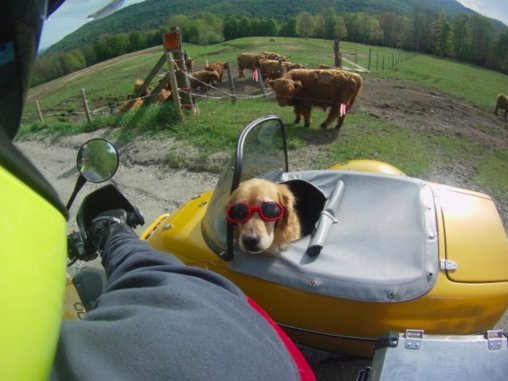 Barley has racked up over 55,000 miles as a trusty sidecar companion to his owner Peter (via Peter Burke)
The downside to riding on two wheels is that, with less space, someone probably has to stay home, whether it's Junior (the human) or Junior (the dog). But you can remedy this problem by upgrading to three wheels, suggests Will Short, the president of the United Sidecar Association. Short says the riders in his crew love to share their adventures with family and pets -- especially pets. "Last year there were more dogs that came to our rally than children," he says.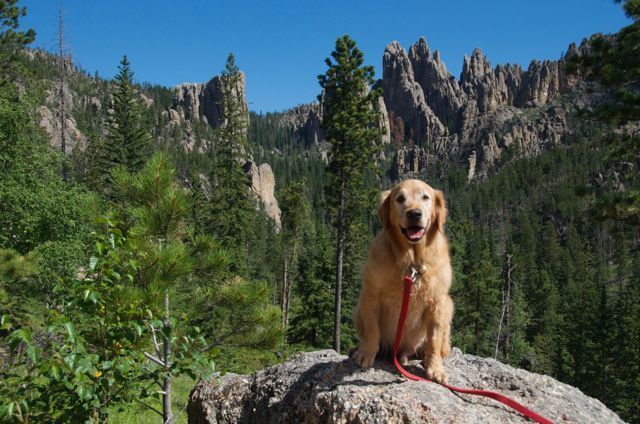 Barley visits the Black Hills in one of his final rides (via Peter Burke)
With the proper sidecar in place, Short suggests sharing the sun, the sky and the asphalt with your favorite people and animals in the Black Hills of South Dakota, especially Needles Highway (SD-87), a 14 mile pathway in Custer State Park with a "fabulous" backdrop.
Take In The Perfect Ocean View In California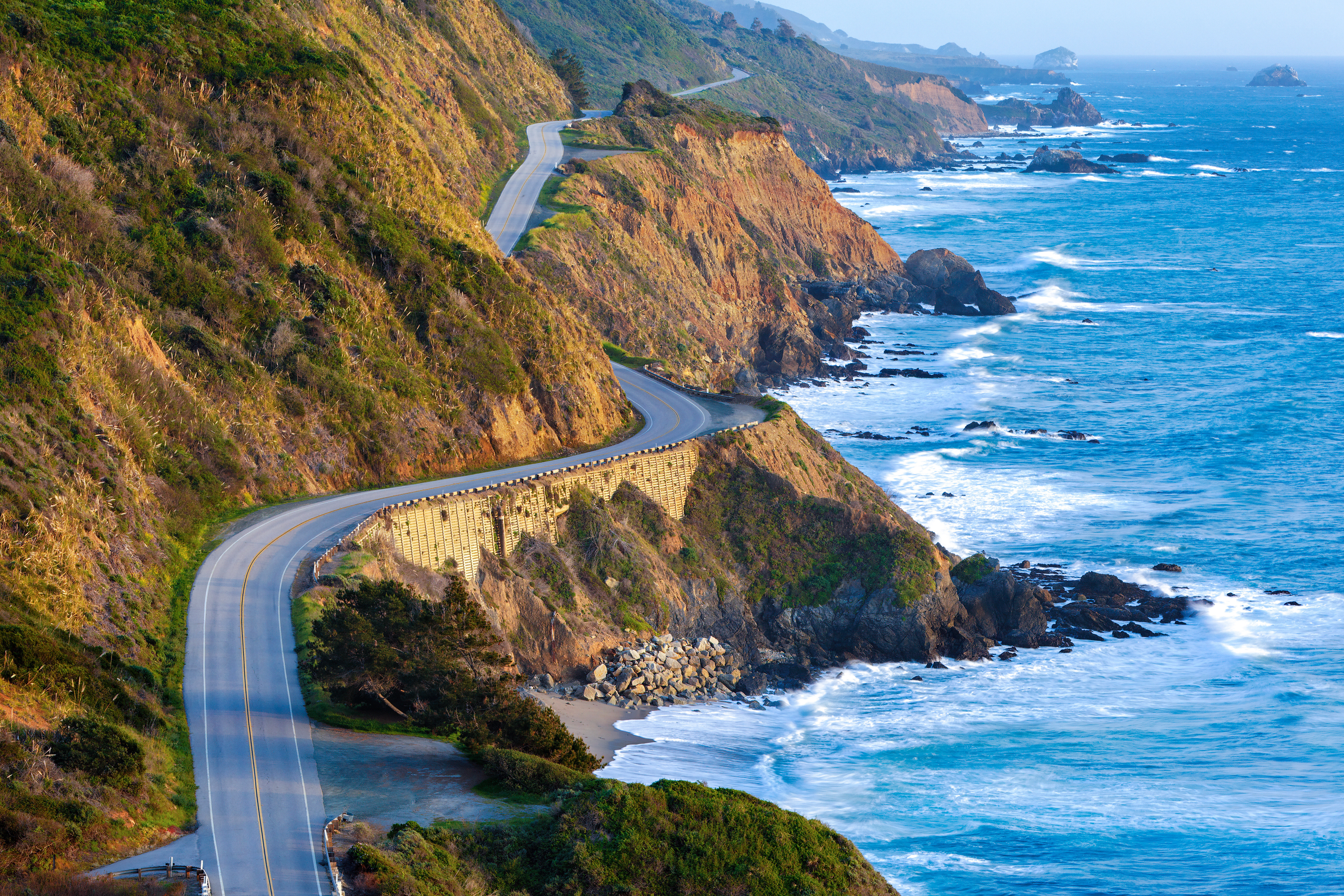 Get your twists with a side of sun and sea on this coastal highway (via Shutterstock)
One of the most awe-inspiring roads in America is also among its most famous: Say hello to Highway 1 (SR 1). It hugs the Pacific coastline so closely at times, you'll taste the salty sea foam on your lips. Vick Germany, co-president of the San Francisco Dykes on Bikes® WMC, advises beginning your Highway 1 cruise in Carmel-by-the-Sea and heading south to Cambria, a roughly 100-mile ride, where she says you'll find "awesome scenery and good twisty areas" as well as "small coastal towns and farming communities for variety."
As you close in on Big Sur, take a rest stop at the Nepenthe restaurant to discover one of Germany's favorite ocean views. "You've got the mountains on one side and the ocean on the other … you can look down the coast for miles," she says.
Find A Cosmic Peace In Washington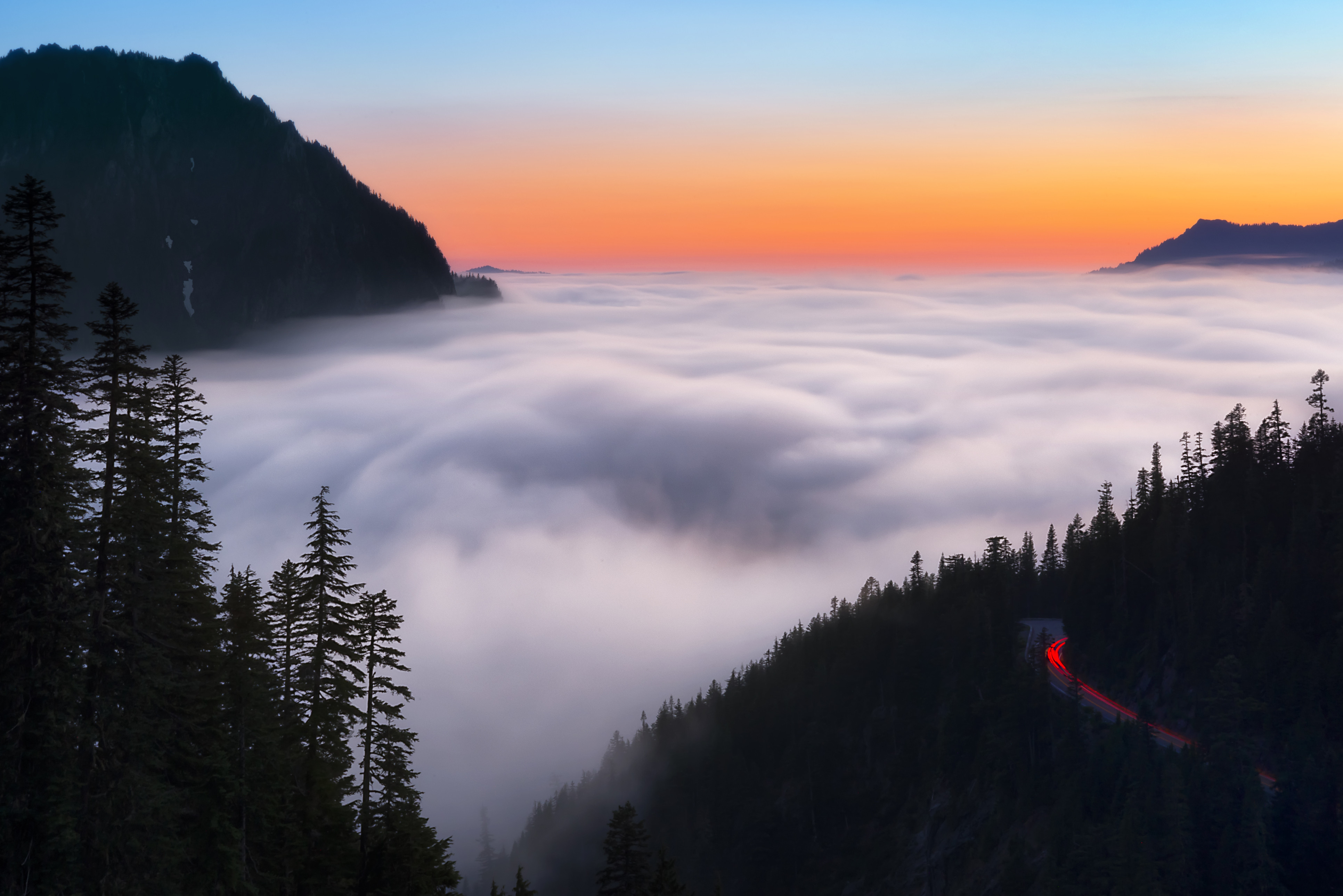 Washington boasts a number of rides with striking mountain views (via Getty Images)
City life for motorcyclists often requires gritted teeth and grappling with too many vehicles clogging the streets. That's what makes Washington's Cascade Loop (US-2), a winding highway, the perfect draw for riders like Gary Warden, president of the Desert Thunder Riding Club. "If I could tell someone what outer space is like, first I'd pick scuba diving, and then being on a motorcycle," says Warden. "It's as close to peace as you can get."
He recommends traveling the Loop from Everett to Wenatchee to experience a 120-mile sparkling panorama of thick forests, rushing creeks, and of course, the majestic Cascade Range -- scenery you'll be able to enjoy all the more without the torpor of traffic keeping you stuck on planet Earth.
Now that you're ready to ride your motorcycle through the best landscapes America has to offer, let Allstate® help you protect it.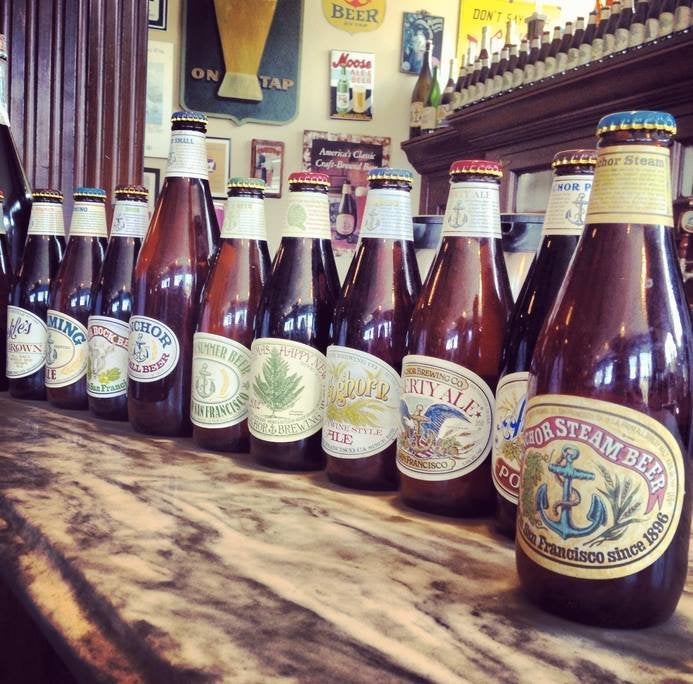 San Francisco Bucket List