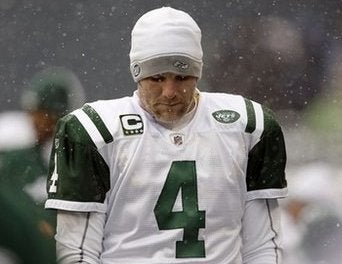 Hattiesburg, Mississippi -

Rumors have simmered for days regarding Brett Favre's repeated mixed messages in the breakfast nook. Today, speculation turned into confirmation when his wife Deanna boiled over at a 4-H board meeting.
"He is driving me crazy," the emotional Deanna admitted. "He's eaten pancakes every day for the past 17 years. Six pancakes. But Sunday, out of the blue, he says he wants another!" Witnesses reported audible gasping from the crowd.

"I told him, 'Brett, I already put everything away.' That seemed to sink in, cause he just nodded and said, 'You're right, sweetie. I've had enough.' I thought, Whew!" Relieved laughter filled the room.

"But then Monday he does the same thing. So I made him another batch." At this, a female board member fainted. Deanna paused as medical personnel checked on the woman. She was fine," The QB's better halfback continued. "I told him, 'You better sleep on this, mister, because I need to know what your plans are!' I mean, I draft my whole shopping list around #4. It's just not fair for him to keep changing his mind!"

Mrs. Favre cocked her hip. "Today, he wanted another helping. Again. I made it for him. But before I started cleaning up, I asked him 'Are you sure you're done?' He said, 'I know I can eat, but I don't think I want to. And that's what it really comes down to.' So I put everything away and was wiping down the counters when he says, 'Hmmm, baby, you got any of that batter left?'"
"I told him, 'Absolutely not! Brett, I made you seconds after you said you were done. Now you're asking for thirds? I don't think so. You made your decision; now be a man and stick to it.'"
The future Hall-of-Famer's spouse revealed that Favre then rummaged through the freezer, emerging with a box of frozen waffles. Local fans are not pleased. "Brett Favre is pancakes. I just can't imagine him as a waffler," said a shell-shocked Bobby Joe Akers.
But Favre remains unrepentant. "I talked to Elway and Marino and Gretzky. They all basically said the same thing: 'If you think there's any chance you still have that hunger, then keep going.' And they're right. I'll know when I'm finished and nobody's gonna tell me different. Sure, I already had seconds, but, dang it, what if in one or two hours, I get that empty feeling again? I'll regret it the rest of the day, knowing I was still hungry but had denied myself. I don't wanna look back with any regrets."
Officials at Betty Crocker, maker of Bisquick Pancake Mix, refused to comment on the QB's defection. But reports out of Battle Creek, Michigan say Kellogg's overnighted a case of Eggo Waffles to Favre's home. "We'd welcome Brett Favre with open arms," a company executive said on condition of anonymity.