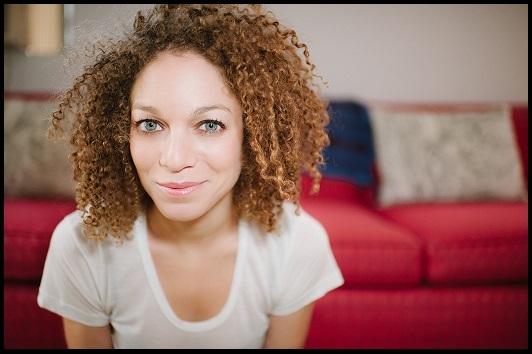 Fay Wolf's book NEW ORDER: A Decluttering Handbook for Creative Folks (And Everyone Else) is a read to be considered.
Fay's Twitter, Fay's Instagram , Fay's Website
Photo by Rebecca Sanabria.

My desk is a mess, my closet is a mess and I'm a mess. Seriously, Fay Wolf, is there a way to declutter my HAIR because I run my fingers through it constantly and then there are knots every night.
I've met three people in my life who, at the very first time of our meeting, did not have clutter. Those were my three hatchlings the day they were born. After that - my car became a disaster area.
Enter Fay Wolf - organizer, actress, musician and now book author.
If you feel the way I feel, then check out her book NEW ORDER: A Decluttering Handbook for Creative Folks (And Everyone Else). #NewOrderBook
Your book was just released. At what point did you decide to turn what you know INTO a book? How long was the process?
The book's seeds were planted after I created a workshop in 2012, which was the first public work I did connecting organizing and productivity with the idea of inner clutter and creativity. I then married the workshop with the idea of a handbook for everyone - one that covers all the clutter bases (including digital clutter). I had a few major stops and starts on my book proposal in 2012 and 2013. (Man, they're hard to write.) Finally in 2014, I re-committed to the process. From that point, it took almost two years of intense work until hitting bookshelves.
You're also a singer / songwriter. Your music has been featured on television's top shows including ABC's "Grey's Anatomy," ABC Family's "Pretty Little Liars," The CW's "The Vampire Diaries," and TNT's "Rizzoli & Isles. How did that happen?!
Great question. The short answer is: very magically and organically. As a sometimes-working actor for over a decade before that, I certainly wasn't used to things going my way. My music career was a bit of an accident. I didn't expect to start writing songs eight years ago and didn't even call myself a musician until long after the songs came out. Around the time I was playing my first show, I connected with my old friend Jon Granat - and the next thing I knew I was recording an EP and Jon became my manager. He and Scott Cresto were the first folks on the business side who believed in me, and I started licensing my songs pretty quickly after that.
How did you get involved in the business of organizing? How did you get your first A-list celebrity client?
I didn't even know organizing was a real profession until just before I started my business. And I certainly didn't consider it as a kid -- my room was usually a mess, as my mom will have you know. (I did, however, always have a deep love for office supplies.) I grew up as an artist, and there was never any question that I would pursue an artistic career. I went to school for acting, and even though I'd booked some jobs in my 20s, I certainly wasn't supporting myself with it. While deciding which business I would start for supplemental income, I spent time as a personal assistant and discovered that I had a knack for organizing. I had naturally become pretty organized over time, but I wasn't conscious of it until then. By the time I launched my business, many of my friends had become well-known actors. From there, word of mouth traveled pretty fast.
Tell us about your motto "a little better is a little better." How can readers of NEW ORDER avoid being overwhelmed?
Small steps are so key. We tend to move through life thinking that if we can't get it "right", then we shouldn't do it at all. Thinking our lives need to look like a magazine shoot or a beautiful Instagram feed is a recipe for disaster and un-fulfillment. (I think those examples should be thought of and appreciated as art and design, not as everyday real life.) I, too, held onto this perfectionist mentality for many years. When I started to let it go, life got better and way more fun. It must be okay to declutter the hall closet for 20 minutes and then allow ourselves a sense of accomplishment and bliss. We are busy people. If we wait until everything's done to feel satisfied, we'll never be happy. So I encourage people to embrace imperfection, "just start", and see what happens next.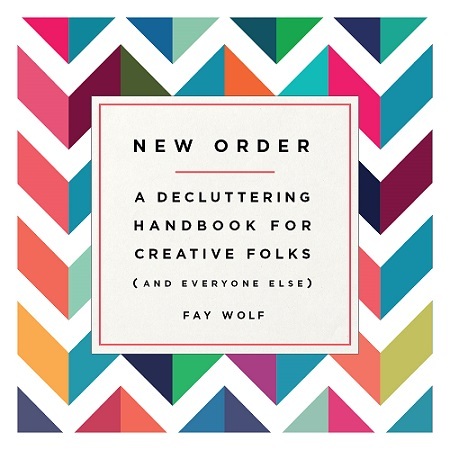 Fay Wolf's book NEW ORDER: A Decluttering Handbook for Creative Folks (And Everyone Else) is available now.
You help A-list celebrities and non-celebrities declutter and organize do you find that most clients stay decluttered?
I find that most clients continue to practice (or at least consider) the principles of decluttering that I've shared with them. That doesn't always mean their spaces look spic and span all the time, because decluttering is a practice that one needs to...practice. New things come in, old things go out. But there are a great many clients who have reached out years later to say "I'm still using the same filing system we created!" or "I just made some sorting piles for another big purge!" That always feels so nice.
What are your favorite movies and TV shows?
Ooooh, let's see. That's always been a tough question for me. My brain doesn't really catalog favorites. It's more of an in-the-moment "wow, this is really affecting me." There's just so much good art out there. But I'd say historically my favorite movie is Say Anything... I reflect often on that love story. As a kid, it gave me hope. Still does. I also think about the series finale of Six Feet Under on a regular basis.
You're an active member of the LGBTQ community. How did you get involved?
I represent the B in LGBTQ -- and upon coming out as a teen, I became actively involved in outreach and activism in the LGBTQ community. I would take the train into NYC and march in Pride parades, attend events around New England, and speak to other students about my story. I'm biracial and half-Jewish as well - I have my feet in oh-so-many worlds -- so it's always been an interesting challenge to find groundedness in identity.
How'd you know that I think about vegetarianism all the time?? I am currently a meat eater, though I am taking small steps to educate myself about vegetarianism and veganism and have considered that that might be a path I take in the future. My favorite food of all-time is an old-school package of two Reese's Peanut Butter Cups.
Tell us about your heritage.
In short, I'm Black and Jewish. My beautiful mother hails from the British island of Antigua. (Hey everyone, the "u" is silent.) And my incredible late father was born in Queens. Digging deeper into my heritage and ancestry has been on the life to-do list for a while. Perhaps some small steps this year...
Anything else you would like to say?
Just a few words: Thank You.
Calling all HuffPost superfans!
Sign up for membership to become a founding member and help shape HuffPost's next chapter