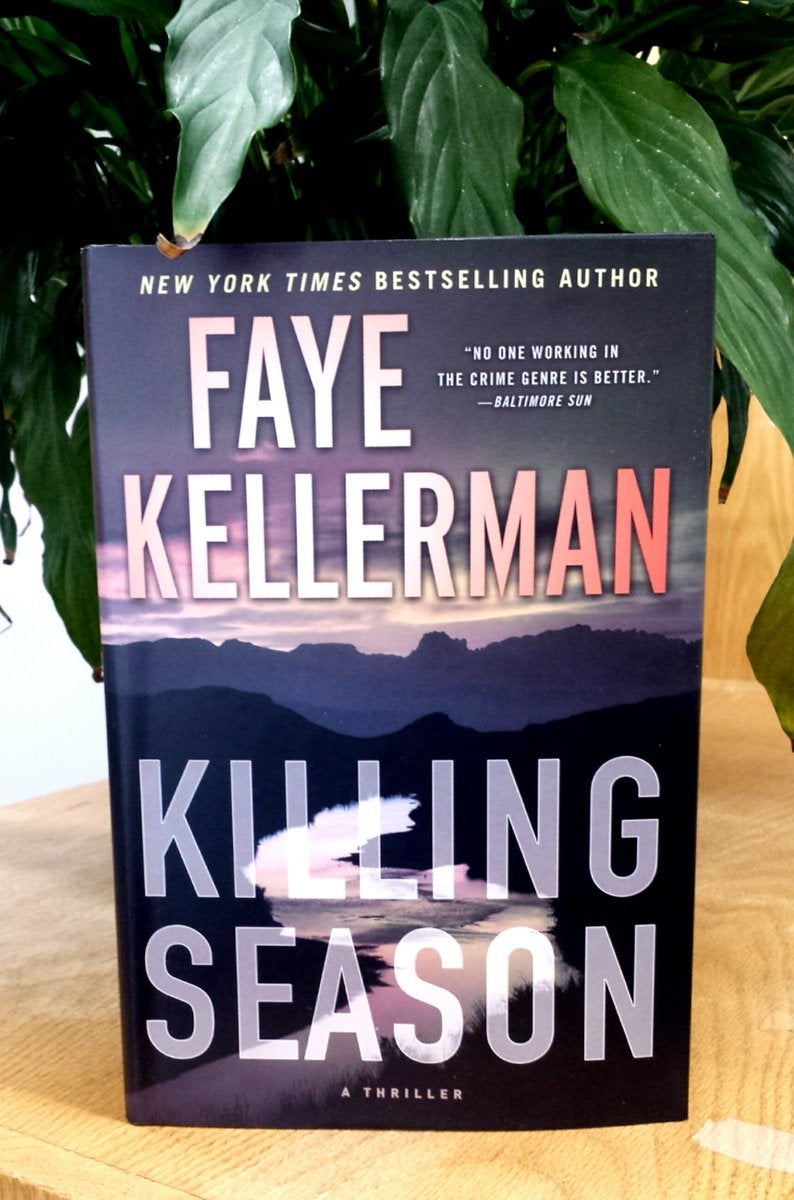 Book Review - Jackie K Cooper
KILLING SEASON by Faye Kellerman
Faye Kellerman's abilities as an author of merit have been proven over and over in the past, therefore it is no surprise her latest novel KILLING SEASON is one of her best. This book is a mystery about a serial killer. The twist is that the hunter of the killer is a teen age boy. If you are into David vs Goliath stories then you are going to greatly admire this one.
The Vicksburg family was happy and healthy as they lived their lives in River Remez, New Mexico. Then the oldest daughter, Ellen, disappeared. It was a wrenching experience for the family and the lives of the parents and the two remaining children were changed forever. Things were made even more extreme when the son, Ben, discovered his sister's body buried in a shallow grave in the woods. He made this finding on the first anniversary of his sister's disappearance.
By this time Ben had made finding his sister's killer the top priority in his life. He cut out all social activities, spent as little time as possible at school, and constantly searched the internet for any new information about other killings that seemed similar to his sister's abduction and death. He is told by the police to stay away from their investigation and stop investigating on his own, but he has found his life's mission.
A new girl transfers to his high school. Her name is Dorothy "Ro" Majors. She quickly becomes "the" girl of the social scene. She also becomes the high school quarterback's exclusive girl and together they rule the school. But then Ro meets Ben and there is something about him that fascinates her. When she learns of his obsessive quest she is determined to be part of it. Ben tells her no, but Ro is not the kind of girl who takes no for an answer.
This may sound like a YA novel but it isn't. The quest for a killer is serious business and some events in the story are truly horrific. Kellerman also delves into the psychological impact of losing a sister in such a gruesome way and how deeply it changes both Ben and his younger sister Haley. Ro has also lost a member of her family and she too carries some scars.
Faye Kellerman is one of the great plot creators writing today. She knows how to toss out some basic facts and then let further needed revelations occur at random. She always keeps some facts hidden until the very end and this makes for some very exciting reading.
BUT what Kellerman does best of all is create fascinating characters. In KILLING SEASON most of them are teens but the author seems to know how kids think and act. Ro, Ben, Haley and their friends all act the way we think teenagers do act, unless we are trying to pretend teenage life is not real. These high school students are not to be dismissed, but have to be taken seriously in order to have the full enjoyment of the book.
This story is Faye Kellerman at her most inventive and her most endearing. All of her characters are treated with respect and no one, adult or minor, is treated insensitively. You will like them all, you will fear for them all, and you will hold your breath waiting for the final revelations.
Do not let this book slip past you. If you are a fan of thrillers, this is one of the best that has come our way lately.
KILLING SEASON is published by William Morrow. It contains 704 pages and sells for $25.99.
Jackie K Cooper - www.jackiekcooper.com
Calling all HuffPost superfans!
Sign up for membership to become a founding member and help shape HuffPost's next chapter
This post was published on the now-closed HuffPost Contributor platform. Contributors control their own work and posted freely to our site. If you need to flag this entry as abusive,
send us an email
.