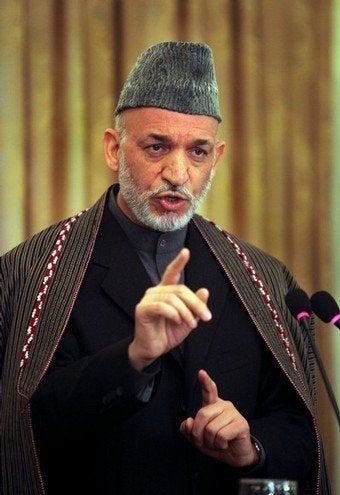 KABUL, Afghanistan -- A top Afghan prosecutor who has complained that the attorney general and others are blocking corruption cases against high-ranking government officials said Saturday that he was fired by Afghan President Hamid Karzai.
Deputy Attorney General Fazel Ahmed Faqiryar told the New York Times Saturday that he was fired for refusing to block corruption investigations in "the highest levels" of Karzai's government. Faqiryar told the Associated Press that he was forced to retire.
Faqiryar, 72, said he wanted to continue doing his work, which has involved pursuing corruption allegations against top officials in the Karzai administration -- a task which had put him in the middle of a political fire storm.
U.S. officials have been pressing Karzai to do more to root out corruption. Karzai has pushed back, saying that the international community needs to do more to eliminate corruption in its own contracting procedures and eliminate terrorist havens outside the borders of Afghanistan.
"Everybody knows how hard I was working as a deputy attorney general," Faqiryar said in a telephone interview. "It was my responsibility as a top government official to complete and investigate those cases, especially those where high-ranking officials were involved in corruption, and this is what I did."
He said that cases against three or four former Afghan Cabinet ministers had been completed, but had been put on hold and had not been sent to the courts. Five provincial governors have been accused of corruption, he said. Two of the cases involving governors have been sent to court and three remain under investigation, he said.
In addition, Faqiryar said that several Afghan ambassadors to other nations have been accused of corruption.
"We have worked on so many," he said, unable to recall the number of cases involving ambassadors.
Faqiryar said another deputy attorney general was being let go too, but he did not elaborate and the details of that deputy's departure were unclear.Faqiryar's departure comes at a time when Congress is running out of patience with Karzai over the corruption issue.
U.S. Sen. John Kerry traveled to Kabul last week to tell Karzai that his efforts to battle corruption were crucial if he wanted to retain the support of U.S. taxpayers at a time when more American troops were dying in the war. U.S. lawmakers have expressed doubt that the military effort can succeed without a serious campaign against bribery and graft that have eroded the Afghan people's trust in their government.
Kerry's visit came shortly after the arrest of one of Karzai's top advisers, Mohammad Zia Salehi, for allegedly accepting a car in exchange for his help in exerting pressure on Afghan officials to ease off in another corruption case involving a company that handles money transfers world wide. U.S. officials see Salehi's arrest as a test case of Karzai's willingness to fight corruption.
The presidential palace was angered by Salehi's arrest. He was released shortly thereafter.
Karzai said he strongly intervened in the Salehi case because Salehi's civil rights were violated during his arrest.
"This man was taken out of his house in the middle of the night by 30 Kalashnikov-toting masked men in the name of Afghan law enforcement." he said in a recent interview. "This is exactly reminiscent of the days of the Soviet Union where people were taken away from their homes by armed people in the name of the state and thrown into obscure prisons in some sort of Kangaroo courts."
Karzai said the case against Salehi would be allowed to proceed according to Afghan law, but he has not yet been formally charged.
Soon after Salehi's arrest, Karzai sought more oversight of the work done by the Major Crimes Task Force and the Sensitive Investigative Unit. The two units, which are mentored by U.S. and British law enforcement officials, conduct corruption probes of high-level Afghan government officials and then feed cases to Afghan prosecutors.After hearing from a panel he asked to review the work of the two units, Karzai released a statement early this month saying that all cases under investigation or completed should be reviewed by the panel and reported to the president. That sparked concern that Karzai was attempting to derail corruption probes of top officials in his government.
After talks with Kerry, Karzai said he would make sure that two anti-corruption units could pursue investigations free of outside interference or political meddling. U.S. officials have been anxiously waiting to see if Karzai will take steps to rein in the anti-corruption investigators, but the president has not yet announced any new guidelines.
Related
Popular in the Community