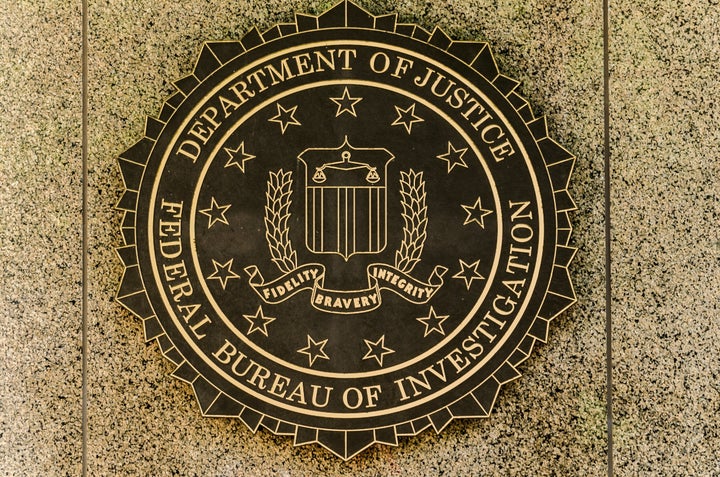 FBI agents aren't feeling the love these days.
Call it the war on G-men. As they've run interference for Trump by undermining the special counsel investigation being led by Robert Mueller, some Republicans on Capitol Hill have unleashed broad attacks that suggest the nation's premier law enforcement agency is tainted by corruption and malfeasance.
They've latched onto a text showing a FBI official joking about a "secret society," and suggested there was a "deep state" plot to "subvert the will of the American people." They've compared the actions of U.S. law enforcement officers to the KGB, and said they have a secret memo ― written by Republican staffers ― proving "shocking," "sickening," "jaw-dropping" law enforcement conduct that was "worse than Watergate."
When the Department of Justice said a tech issue meant that some text messages between two FBI employees who were lovers were missing, some Republicans smelled a coverup and saw a conspiracy afoot. "This is like the dog ate my homework, the excuse they give," Rep. Jim Jordan of Ohio said on Fox News. "This is something that just should not take place."
Trump called the the missing texts "one of the biggest stories in a long time." And then the texts were recovered.
In recent years, Republicans have typically rallied to the defense of members of law enforcement who come under criticism. They've cautioned against painting law enforcement with too broad a brush.
So the lack of caution from some Republicans in accusing the DOJ and the FBI of engaging in a massive conspiracy has been notable. And it has many of the bureau's supporters ― as well as other members of the GOP ― concerned.
"Unhelpful and unhealthy," Sen. Jeff Flake (R-Ariz.) said in response to a question from HuffPost about the attacks that members of his party have been launching.
"Obviously, not everyone who works for the FBI is always above board," Flake said. "But when you throw some blanket conspiracy over the organization, you make it more difficult to actually focus on causes where there might be an issue."
Flake sees the attacks as an effort to "confuse" the public about Mueller's probe into Russian interference in the 2016 election and says the assaults are being perpetrated by politicians who are "ingratiating [themselves] to the president."
He's disturbed by that. "I think all of us are ― well, not all of us, but most of us ― are very troubled," Flake said.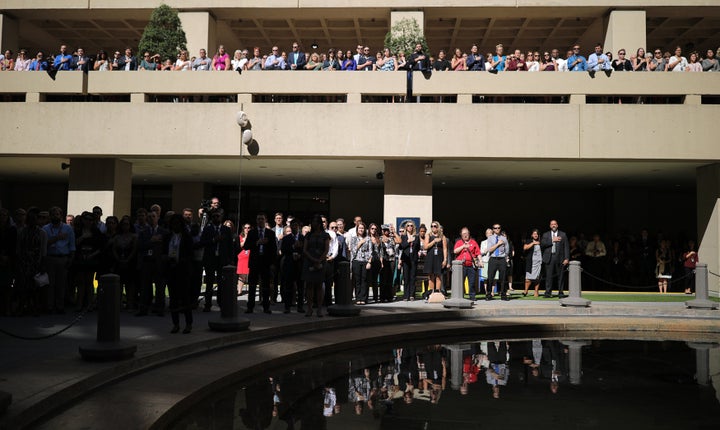 Ron Hosko, a former FBI official, has praised the approach that the Trump administration and Attorney General Jeff Sessions have taken to law enforcement. In a Fox News opinion piece last month, Hosko wrote that Trump's inauguration "signaled the welcome end of eight years of unwarranted criticism from the Obama administration."
He's also got concerns about some of the texts exchanged by the two lovers, as well as "legitimate questions" about the FBI's handling of the investigation into Hillary Clinton's emails. That probe, he said, looks like it was "conducted by amateurs who were on a mission to let her off the hook."
But Hosko laughed at the notion that the FBI is a hotbed of liberalism, as some Republicans seemingly would have it.
"Nothing could be further from the truth," he said. "At its core, the FBI is still a pretty conservative, right-leaning organization that tries to divorce itself of politics."
He views Mueller's investigation as serious and well-run, and he's concerned by some of the broader attacks on the bureau.
"There is certainly a group that sees damaging the FBI as the path to undoing Mueller and having Mueller go away," Hosko said. "The image of the FBI is being tarnished. I'm hurt by it, I'm offended by it, because it's my badge that's being tarnished as well."
The text messages exchanged by Lisa Page and Peter Stzok, the two FBI employees having an extramarital affair while playing roles in both the Clinton email investigation and Mueller's probe are, no doubt, fascinating. The pair were part of two of the most critical investigations in the FBI's history ― including the one that may have spelled Clinton's presidential defeat and changed the course of U.S. history. Reading contemporaneous texts from two key players in that investigation is engrossing, especially when they offer sharp criticisms of Trump, as well as Democratic politicians and DOJ officials.
It's all riveting palace intrigue. But as members of Congress and Trump attack Page and Strzok, it's still not clear whether any of the texts reveal any actual wrongdoing ― let along anything so egregious that it could justify shutting down the Mueller probe that neither have been involved with for six months.
What's been revealed so far might be useful for a defense attorney trying to illustrate bias and sow the seeds of reasonable doubt at a jury trial. Instead it's being used by members of Congress to give Trump political cover to shut down an investigation that has already resulted in criminal charges against four of his aides. And it's all happening before the DOJ's inspector general issues a report that could offer clarity on whether Page and Strzok crossed any lines.
'An attack on the integrity of these organizations'
FBI employees "put their lives on the line every day defending our country from a huge array of threats," Sen. Claire McCaskill (D-Mo.) said in a recent statement. She wrote a letter to Sen. Ron Johnson (R-Wis.), who has zeroed in on the "secret society" text and claimed to have an "informant" who talked about "secret meetings offsite." It was all quite conspiratorial, and McCaskill wasn't buying it.
"You have now made serious and damning allegations," McCaskill, the ranking member of the Senate Homeland Security and Governmental Affairs Committee, wrote. "I would assume that you would never make those kinds of allegations without serious and substantial hard evidence."
Sen. Ron Wyden (D-Ore.) has had plenty of disagreements with the FBI, most recently over encryption. But he said it was important to him that his policy disagreements with the bureau would never be seen as an attack on the "wonderful people" who work there. That's what he sees some Republicans doing.
"My own view is this is really an attack on the integrity of these organizations, and I think that is really regrettable," Wyden said. "It undermines the vast majority of the people in these organizations who are so dedicated to the well-being of our country."
"I've disagreed on policy with Bob Mueller, but Bob Mueller is a decorated war hero. People tell me he's a Republican; I don't know what party he belongs to, but he's served Republicans, he's served Democrats, he's been doing his inquiry by the book," Wyden said. "So disagree all you want on policy, but to me I think it's very regrettable that there is an attack on the integrity of these organizations that I think day in and day out do so much to ensure that Americans are safe."
A 'Trickle Down' Impact on Morale
Sessions, a former GOP senator from Alabama, has previously expressed serious concerns about law enforcement officials being smeared due to the actions of a few bad actors. He even backed troubled police departments with entrenched cultures of unconstitutional policing over his own Justice Department, calling reports by its Civil Rights Division on these matters "pretty anecdotal, and not so scientifically based."
Following weeks of attacks on his department from members of his own party, Sessions on Friday offered somewhat of a rebuttal, saying that the DOJ would "defend our investigators and prosecutors from criticism that is unfair" while cooperating with congressional investigations.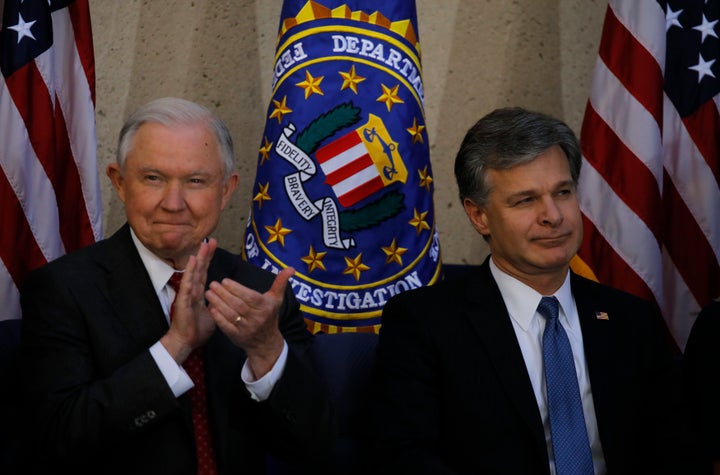 There hasn't been much indication of that defense so far.
Hosko, the former FBI official who is now president of the Law Enforcement Legal Defense Fund, has praised Sessions' support of the law enforcement community. But he'd like to see him be more vocal in the face of the attacks onMueller and the FBI, while, recognizing the attorney general is in a difficult spot.
"If you look at how Donald Trump sees the world ― that somehow the attorney general is supposed to be his protector and defender ― he doesn't have that attorney general," Hosko said. "He has an attorney general who I think has, in this regard, followed the law and done the right thing by recusing himself (from the Russian election-meddling probe). The president sees Jeff Sessions as having failed him, and so Sessions is at risk."
But even those Republicans who haven't taken the lead on criticizing the FBI are not necessarily willing to stick up for the bureau. In 2015, Sen. Ted Cruz of Texas chaired a Senate subcommittee hearing titled "The War on Police: How the Federal Government Undermines State and Local Law Enforcement." Cruz aired the notion that scrutiny of law enforcement, the type he thought was coming from Democrats, was causing jumps in crime and the murder of police officers. Law enforcement should not be treated as "the enemy," he said.
"In my view, it is deeply harmful, not only for the men and women of law enforcement, but for the safety of the American people," Cruz said at the time.
His colleagues' treatment of the FBI doesn't seem to have raised any similar alarms for Cruz. Here's HuffPost's exchange with Cruz on Thursday:
HuffPost: Senator, is there a secret society within the FBI trying to take down the president?
HuffPost: OK, what do you make of those texts?
Cruz: I haven't read the texts, so I don't know. I've read some of the coverage on the texts, but I haven't read the text themselves.
HuffPost: What do you make of the coverage of the texts?
Cruz: I ... I don't know.
HuffPost: You don't know. You're a DOJ alum, it seems like something that might pique your interest...
Cruz: It is ... concerning ... that lead investigators at the FBI and senior prosecutors at the Department of Justice have a demonstrated hard partisan bias against the president. I think it was a serious mistake to staff this investigation with Democratic partisans. If you look at the contribution history of...
HuffPost: But that's illegal to look at when you're hiring, isn't it?
Cruz: If you look at the ... no it's not.
HuffPost: You're saying that based on party, political donations, you can make decisions on who you're going to hire?
Cruz: I didn't say hire ...
Mueller is, in fact, barred from taking political contributions into account when making personnel decisions involving positions on his team. But Cruz said that Mueller, a Republican, had made a serious mistake by staffing his special counsel office with people who donated to Democrats.
Cruz went on to bring up his complaints about issues from the Obama era, saying that the prior administration "badly undermined" the nonpartisan tradition of the FBI and the DOJ. He offered no defense of the FBI writ large.
Several conservative commentators have urged Republicans to use caution, and some FBI critics have attempted to limit the scope of their complaints, insisting they were only complaining about high-ranking officials at the bureau.
Donald Trump Jr., a potential target of the Mueller probe, tweeted on Thursday that it was "fun watching main stream media defend law enforcement for the first time ever."
He also suggested that the media was only supporting "elitist" bureaucrats. "Try supporting the boots not the suits for a change," Trump Jr. tweeted. "That's where the real risks are taken and sacrifices are made."
In a statement on Monday, a White House spokesman said Trump has "enormous respect for the thousands of rank-and-file F.B.I. agents who make up the world's most professional and talented law enforcement agency." The president's concerns, the spokesman said, were about "misconduct at the highest levels of the FBI," from "politically motivated senior leaders" whose actions had "tainted the agency's reputation for unbiased pursuit of justice."
But those criticisms have an impact on the rank-and-file, said Thomas O'Connor, an FBI official speaking to HuffPost in his capacity as president of the FBI Agents Association.
"The attacks on the FBI from all different kinds of sources clearly trickle down to the person, the agent, the analyst, the FBI employee on the street, in the field offices," O'Connor said.
Still, he expressed confidence that FBI agents can soldier through as the integrity of the bureau comes under attack.
"Even when people are saying things that we know are untrue," he said, "we'll make it through this."
Ryan Reilly is HuffPost's senior justice reporter, covering criminal justice, federal law enforcement and legal affairs. Have a tip? Reach him at ryan.reilly@huffpost.com or on Signal at 202-527-9261.