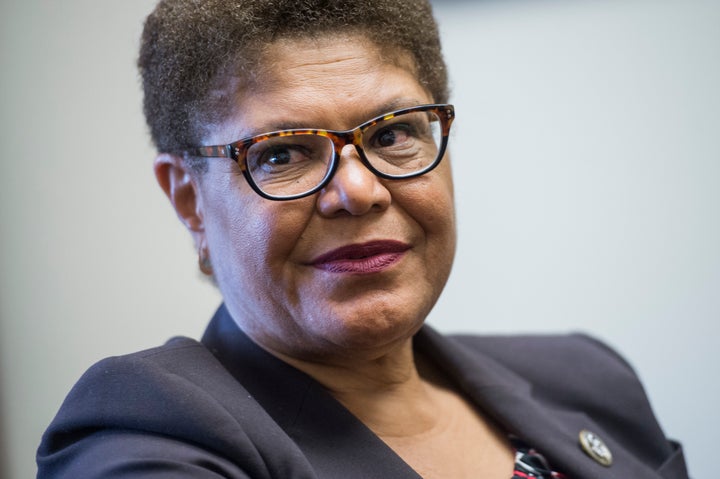 WASHINGTON ― Attorney General Jeff Sessions declined to say this week whether he believes the Black Lives Matter movement is a "black identity extremist" group, a term used in a recently disclosed FBI report that claims such organizations would use "perceptions" of police brutality against African-Americans to justify violent attacks on officers.
But the member of Congress who pressed the nation's top law enforcement official about the controversial FBI report, which was revealed by Foreign Policy last month, told HuffPost that the bureau needs to disown the report and "throw it in the trash can," saying it makes racist generalizations about police brutality protesters.
"It is extremely important that we make it very public so we can stop it," Rep. Karen Bass (D-Calif.) said in an interview.
Bass questioned Sessions about the FBI intelligence report titled "Black Identity Extremists Likely Motivated to Target Law Enforcement Officers" during a House Judiciary Committee hearing on Tuesday. The Aug. 3 report stated that it was "very likely" that "perceptions of unjust treatment of African Americans and the perceived unchallenged illegitimate actions of law enforcement will inspire premeditated attacks against law enforcement over the next year."
Under Bass's questioning, Sessions said that he knew of African-American groups that had "an extraordinary commitment to their racial identity," some of which had "transformed themselves... into violent activists." Sessions said he hadn't read the FBI report but would be interested in reading it. He said the FBI usually does an "excellent job" on the reports, which he said were typically "objective and fair." Sessions said the Justice Department "would not unlawfully target people."
The FBI's report never explicitly mentioned the Black Lives Matter movement. Asked if he'd consider the Black Lives Matter movement a "black identity extremist" group, Sessions demurred: "I'm not able to comment on that. I have not so declared it."
Bass told HuffPost she believed Sessions was "trying to be evasive" in his answers and found it revealing that he couldn't specifically name any modern black organization responsible for the deaths of police officers. She's said she's concerned that the actions of any African-American can be used to smear an entire movement.
"I think it's just the racism, frankly, not because they're loosely organized or anything like that. I think that what has happened in our country a lot is that if an African-American commits a crime, then the entire group is responsible," Bass said. "Black people's general response to a crime is 'Was it a black person who did it?' Because we know if there was a black person who did it, then everyone is responsible and accountable."
Sessions did reference a "certain group" that was responsible for the deaths of police officers. "I believe we had within the last year or so four police officers killed by a group that some have described as extremists," Sessions said.
Sessions was apparently referencing the murder of five Dallas police officers in July 2016 by Micah Xavier Johnson, who had been banned from becoming a member of several black power groups. Asked about the attorney general's comments, a Justice Department official pointed HuffPost to stories on the shooter's claims of affiliation with the Huey P. Newton Gun Club, including a story in which the co-founder of the group said the shooter's actions would be celebrated one day.
The FBI declined to comment on the intelligence report in particular. But in a statement, it said it would not initiate an investigation based only on a person's race, ethnicity, national origin, religion or the exercise of their First Amendment rights.
"Our focus is not on membership in particular groups but on individuals who commit violence and other criminal acts," the statement said. "Furthermore, the FBI does not and will not police ideology. When an individual takes violent action based on belief or ideology and breaks the law, the FBI will enforce the rule of law."
Black members of Congress have pressed the FBI for answers on the report in recent weeks and were working to set up a meeting with FBI Director Chris Wray.
The FBI intelligence report, as published by Foreign Policy, follows:
Ryan Reilly is HuffPost's senior justice reporter, covering criminal justice, federal law enforcement and legal affairs. Have a tip? Reach him at ryan.reilly@huffpost.com or on Signal at 202-527-9261.
Popular in the Community