WASHINGTON ― Three days have passed since FBI Director James Comey made the unprecedented decision to insert the bureau into the 2016 presidential campaign. There's just over a week left until Election Day. Yet voters trying to determine the potential impact of a newly uncovered trove of emails that may or may not implicate Democratic presidential nominee Hillary Clinton have virtually nothing to go on other than reports sourced to anonymous law enforcement officials with differing agendas.
Comey told bureau employees on Friday that he felt obligated to send his now-famous letter to Congress out of an "abundance of caution." Comey's three-paragraph missive stated the bureau had not yet determined "whether or not this material may be significant," meaning that the news that has tossed the presidential campaign into chaos may ultimately have no impact on the investigation whatsoever. (Senate Minority Leader Harry Reid wants Comey to release information on the investigation the FBI may or may not be pursuing into the Donald Trump campaign's potential connections to the Russian government, a request Comey is unlikely to fulfill.)
And so, with eight days until the election, the world waits on the word of James Comey. There's been no indication so far that he'll say much more before Election Day.
In the meantime, voters are left to decipher news stories mostly based on anonymous sources inside the FBI and the Department of Justice. The sources have widely varying agendas. There are the Clinton-supporting political appointees inside the DOJ who think Comey's decision was inappropriate and broke with tradition; there are the Comey defenders within the FBI who are seeking to protect his reputation as an independent-minded investigator; and there are the law enforcement officials inside the bureau who still believe Clinton should have been prosecuted or further investigated.
While initial polling has shown little impact on Clinton's substantial lead over Trump, that could change as Comey's letter continues to dominate the news cycle. Voters who are on the fence or still undecided in one of the longest and most divisive presidential campaigns in modern history seem unlikely to delve into the nuances of the FBI's investigative process, so the basic narrative that Clinton is under federal investigation will likely be the one that sticks in their mind.
That's left Clinton in the awkward position of condemning the actions of the man whose 10-year stint as FBI director could last until 2023, near the end of a theoretical second Clinton term. Comey's move left her with little choice but to portray the FBI director as simply a political actor seeking to bring down her campaign.
A selective reading of Comey's biography makes it pretty easy to paint him as a partisan trying to take down Clinton. He was a registered Republican for most of his adult life, he served as the No. 2 official in the Justice Department during the George W. Bush administration, and he donated to John McCain's presidential campaign in 2008 and Mitt Romney's campaign in 2012. While he disappointed conservatives when he announced in July that the FBI would not recommend charges against Clinton, he didn't leave Republicans totally empty-handed. He took the unusual step of publicly condemning Clinton's behavior as "extremely careless" and suggesting that a lower-ranking employee who engaged in similar conduct would have possibly been subject to disciplinary action.
Furthermore, Comey testified about the decision before Congress, and the bureau has dripped out troves of internal documents on the Clinton investigation over the course of the campaign.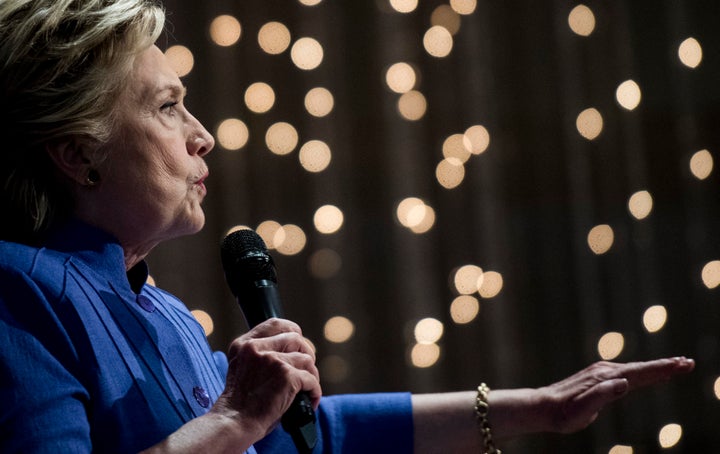 Comey's decision to disclose a detail of an investigation to Congress this close to the election is without precedent, and it seems more likely it was a move intended to protect the bureau's reputation (and his) rather than throw the election to Trump. But the disclosure has the potential to undermine the reputation of both the bureau and Comey as Democrats take aim at the FBI, painting their actions as political.
While much of the criticism of Comey has broken on partisan lines, some have crossed the aisle. Almost 100 former federal prosecutors and Justice Department officials of both parties signed onto an open letter on Comey's decision to release information about an ongoing inquiry just days before Election Day.
"Many of us have worked with Director Comey; all of us respect him," the letter stated. "But his unprecedented decision to publicly comment on evidence in what may be an ongoing inquiry just eleven days before a presidential election leaves us both astonished and perplexed."
Former Attorney General Eric Holder, a Clinton supporter, wrote a piece for The Washington Post saying he respected Comey and considered him a "man of integrity and honor." But he made a mistake, Holder said.
"In this instance, he has committed a serious error with potentially severe implications. It is incumbent upon him — or the leadership of the department — to dispel the uncertainty he has created before Election Day," Holder said. "It is up to the director to correct his mistake — not for the sake of a political candidate or campaign but in order to protect our system of justice and best serve the American people."
Comey undoubtedly would have faced criticism from Republicans had he not disclosed the fact that the FBI had potentially relevant information before Election Day. And despite the panic Comey's disclosure has caused now, some believe it was ultimately better for Clinton that the information was disclosed, assuming it doesn't severely damage her campaign.
"If Clinton wins, Comey's controversial pre-election step will have saved her from the charge that the election was tainted because the FBI did not reveal the Weiner letters before the election," Jack Goldsmith and Benjamin Wittes wrote in a post on Lawfare. "If she becomes president, and regardless of whether the Weiner emails prove embarrassing to her or worse, she should be grateful for the pain now, for it will have precluded a lot more pain later."
Ryan Grim contributed reporting.
CORRECTION: A quote from Holder's Washington Post op-ed was originally attributed to Comey. This attribution has been fixed.
Support HuffPost
The Stakes Have Never Been Higher
Popular in the Community