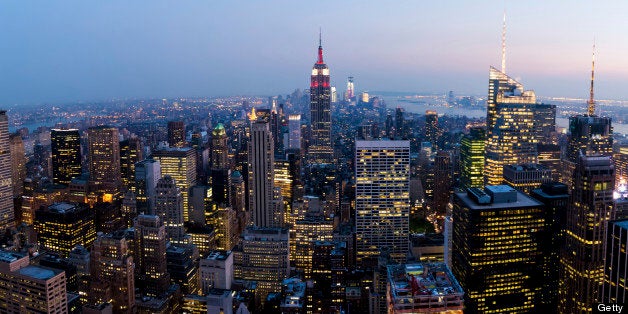 The latest FBI crime statistics for 2012 give New York City a mixed view, showing that it has the second lowest murder rate among major U.S. cities but is in the middle for all violent offenses.
For years, Mayor Michael Bloomberg and NYPD Commissioner Ray Kelly have used the relatively modest FBI crime statistics -- particularly the low murder rate -- as proof that New York has become the safest big city in the country. Bloomberg and Kelly have pointed to the statistics as justification for controversial police tactics and policies, notably the stop, question and frisk actions.
But a look inside the numbers, according to crime experts, creates a more realistic and not so rosy picture of violent offenses citywide. "Violent" crimes are defined by the FBI as not only murders but also rape, robbery and felonious assault.
The violent-crime rate in the city is likely worse because of the underreporting of rape and felony assault, said Eugene O'Donnell, a professor at John Jay College of Criminal Justice in Manhattan. "I would say for sure that you are not seeing" a complete reporting of crimes by victims, he said.
Some violent crimes, particularly rape, go unreported, NYPD spokesman Paul Browne said.
"There is still pressure on victims where they know the assailant, particularly a family member, not to report" rapes and their numbers "may be higher, we suspect it is," Browne said.
Among U.S. cities of 1 million population, New York City's homicide rate of 5.05 per 100,000 is bested by San Diego's rate of 3.51. However, when the FBI combines murder with other violent crime, the city's rating changes to 639.31 per 100,000, between Philadelphia's high rate of 1,160.79 per 100,000 and San Antonio's low of 503.11 per 100,000.
City robberies have "dropped like a stone" in recent decades, but the number is still high compared to other large cities, said Franklin Zimring, professor of law at UC Berkeley School of Law, who has written at length about crime prevention.
Robberies in the city rose almost 2 percent last year to 20,144, according to the FBI.
A Bloomberg spokesman Thursday said the city was the safest "big" city in the country.
FBI officials cautioned against drawing comparisons among cities because of "the unique conditions that affect each law enforcement jurisdiction."
Each crime is given the same statistical weight, be it a murder or a cellphone theft, which can make comparisons difficult, said Andrew Karmen, a professor at John Jay.
"It raises all sorts of problems because we could never rate all crimes vis-...-vis one another; we could never agree on a weighting system," Karmen said.
The FBI data did reveal some unqualified good news for the city. When all violent crimes are combined with property crimes, New York does have the lowest crime rate at 2,361.59 per 100,000 population. The next-best major city is Los Angeles, which had a rate of 2,750.32 per 100,000.
The big story is still the murder rate, Zimring said. "For a city of its size and diversity, New York City's homicide experience is very close to Guinness Book of World Records, certainly by American standards, and it just keeps going lower," he said. ___
Distributed by MCT Information Services
Calling all HuffPost superfans!
Sign up for membership to become a founding member and help shape HuffPost's next chapter
BEFORE YOU GO
PHOTO GALLERY
Stop And Frisk Goes On Trial In NYC