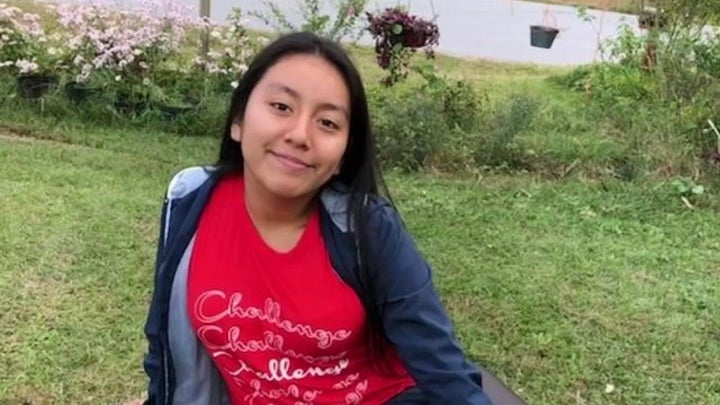 Investigators are appealing to the public for help in identifying the person responsible for the disappearance of 13-year-old Hania Aguilar, as the search for the missing North Carolina teen enters its second week. 
The FBI, working in conjunction with police in Lumberton, North Carolina, has released a list of changes that a person might exhibit after committing an abduction.
Chief among them are sudden alterations in behavior, missed appointments, being absent from work, or failing to answer calls or text messages.
"Think through the events of the past week, particularly the morning of Monday, Nov. 5, and consider whether you know anything that would help us," Lumberton Police Chief Michael McNeill said in a press release from the FBI.
"Drastic behavioral changes can help identify the suspect," the press release said.
FBI supervisor Andy de la Rocha announced on Tuesday that the bureau's reward for information in the case has increased to $25,000 (it was originally $15,000). The North Carolina governor's office is offering an additional reward of $5,000, bringing the total to $30,000.
Although investigators were notified about a possible sighting of the missing teen this week, the FBI said they have no reason to believe that report is accurate. Authorities also said Hania's family is fully cooperating and detectives have no reason to think the girl knows her abductor.
"I trust in God that my daughter will return," Elsa Hernández said in a statement shared by the FBI. "No one knows the pain I have in my heart."
"For people to pick apart how she looks and her reaction, it's heartbreaking," Lynch told reporters.
Hania, an eighth-grade student at Lumberton Junior High School, was last seen outside her home at the Rosewood Mobile Home Park in Lumberton just before 7 a.m. on Nov. 5. She was waiting for a ride to school, standing near a relative's SUV that was parked and idling, when a witness heard a scream and saw someone force the girl into the vehicle and drive off, police said.
The stolen green Ford Expedition was found abandoned on Nov. 8, less than 10 miles from the mobile home park. Evidence recovered from the vehicle was sent to the FBI Laboratory in Quantico, Virginia, but police won't discuss what was found.
According to de la Rocha, authorities have received hundreds of tips, conducted dozens of interviews, reviewed hours of surveillance video and "followed every conceivable lead." To date, investigators have found "no evidence" to indicate that Hania is no longer alive, he said.
The only real clue police have revealed in her disappearance is a surveillance video of an unidentified individual, believed to be a man, walking toward the girl's residence prior to her disappearance. Police said the person in the footage is not considered a suspect or a person of interest at this time but rather someone they "want to speak with."
"Someone knows this man, and we need you to call us," de la Rocha said. "Maybe you recognize the way he walks, his mannerisms, or maybe he will recognize himself on TV."
An Amber Alert, disseminated by the North Carolina Center for Missing Persons, describes the missing girl as Hispanic with black hair and brown eyes. She is about 5 feet tall and weighs 125 pounds. She was last seen wearing blue jeans and a blue shirt with flowers.
The Lumberton Police Department has set up a tip line and is asking anyone with information to call 910-272-5871. Individuals living in the area with surveillance cameras that may have recorded anything of interest are being asked to contact police. Authorities are also asking people living in the community to check their property for anything of evidentiary value.
REAL LIFE. REAL NEWS. REAL VOICES.
Help us tell more of the stories that matter from voices that too often remain unheard.
BEFORE YOU GO
PHOTO GALLERY
Missing People