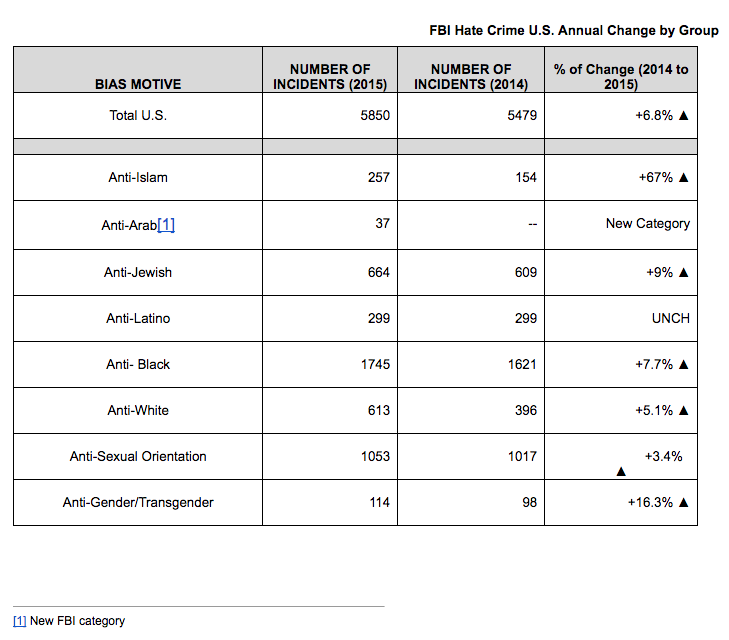 Numbers Rise, But State Compliance Varies
Criminal hate crime incidents reported to police increased 6.8 percent in the United States in 2015; according to official FBI data released Sunday. There were 5,850 incidents in 2015, compared to 5,479 reported in 2014, the widely anticipated report showed.
In contrast, in September the FBI figures for violent crime overall showed an increase of over 3.9 percent.
Bureau of Justice Statistics victimization phone survey data over the last decade has showed a wide disparity between their annual hate crime data, which has been averaging slightly below 300,000, and the FBI's data, which show under 6,000 nationwide.
Moreover, state reporting to the FBI is limited by a glaring lack of participation in the voluntary program by various states, including Florida, Pennsylvania, Mississippi, Alabama, Arkansas, and Hawaii among others. Maryland, the first state to collect data in the 1980s has an excellent program that reported 203 hate crimes, including 14 anti-Muslim crimes, in its official report released in September. However, only 41 made it into the FBI data.
Furthermore, while some groups like the Anti-Defamation League and our Center have served as models, some academic centers and advocacy groups that collect data have used poor vetting which fails to distinguish between criminal incidents and non-criminal, or they mislabel non-hate crimes as hate crimes. One university study inaccurately maintained that there were 12 anti-Muslim hate homicides, when some of those cited were robberies with no bias motivation.
Anti-Muslim Hate Crime Surges 67 Percent
In a period of heightened anti-Islamic prejudice, increased Salafist Jihadist terror attacks, and political vitriol, hate crimes against Muslims surged 67 percent from 154 in 2014 to 257 in 2015, the second highest number on record since national reporting commenced in 1992. In 2001, the year of the 9/11 attacks anti-Muslim hate crime peaked at 481, and had been in a range of 105 to 160, until 2015's breakout. Anti-Muslim hate crimes in 2015 showed a significant increase in the proportion of hate crimes from the previous year as well. Anti-Muslim hate crimes accounted for 4.4 precent of all hate crimes in 2015, up from 2.8 percent for 2014.
The FBI anti-Muslim hate crime numbers for 2015 were right in line with original estimates released in September by California State University San Bernardino's Center for the Study of Hate and Extremism and reported in the New York Times, "The new study from Mr. Levin's nonpartisan group, based on official police reports in 20 states, estimated that there were about 260 hate crimes against Muslims nationwide in 2015." In the September study 4.5 percent of all hate crimes were directed against Muslims, again very close to the FBI numbers for the whole nation.
Other Hate Crime
Over half of all hate crime, 3,310 or 56.6 percent, was committed on the basis of race, 52.7 percent of which was anti-black and 18.5 percent anti-white. African Americans, who comprise 13 percent of the U.S. population, were the largest single group targeted for hate crime last year with 29.8 percent of all hate crimes directed against them. Anti-Black hate crimes rose 7.7 percent to 1,745 in 2015.
There were 1,053 incidents due to sexual orientation in 2015, with all but 19 (anti-heterosexual hate crime), being anti-gay, bisexual or lesbian. Sexual orientation hate crime increased 3.4 percent and accounted for 18 percent of total hate crime. Anti-transgender hate crime increased 16.3 percent to 114.
Religiously motivated hate crime totaled 1,244 and comprised 21.3 percent of all hate crime, of which 53.3 percent was anti-Jewish, 20.7 percent anti-Muslim and 4.3 percent anti-Catholic. Anti-Jewish hate crimes rose 9 percent in 2015, accounting for 11.4 percent of all hate crime. Less than two percent of the population is Jewish and about one percent are Muslim. While hate crimes against Jews rose last year and they remain the most targeted religious community, the overall decade trend is still down. In 2006 there were 967 anti-Jewish hate crimes and they accounted for 12.5 percent of all hate crime that year.
Despite much political rhetoric about immigrants from Latin America, there were 299 anti-Latino hate crimes in 2015, unchanged from the previous year, and down significantly from 2006's 576 incidents. Anti-Latino hate crimes comprised 5.1 percent of all hate crime and Latinos comprise 17.6 percent of the U.S. population. Anti-Asian hate crime declined 21 percent in 2015 to 111 from 140 the previous year.
Most Agencies Report "Zero" Crimes
Since 2002, reported incidents have generally been in the 5,400-8,000 range. The number of agencies participating in the data collection effort (most of which reported zero) was 14,997 agencies, down from 15,494 agencies the year before. However, the number of agencies actually sending in incidents is a fraction of those listed as participating. An Associated Press survey found that about 16 states had 25 percent or more of their police agencies not submit any incidents at all for six years.
State Reporting Varies Widely
The states with the largest number of hate crimes were California, 837; New York 500; Ohio, 416; Massachusetts, 411, New Jersey 330; and Michigan 309. Maryland, whose separate 2015 state hate crime report released in September showed 203 hate crimes in the state, only showed 41 in the FBI figures.
Some states that have consistently demonstrated poor reporting continued to do so in 2015. Mississippi, the state with largest percentage of African-Americans, the most targeted group, reported no hate crimes at all in 2015, while Arkansas reported only 5, Alabama reported just 10, and Iowa only 6. Hawaii, once again stood out as the only state not participating at all.
Some larger states like Florida, 72 and Pennsylvania, 64 reported very low numbers. Florida, the third largest state has been hampered by minimal compliance with various large agencies. In 2014, for example, Miami, Tampa and Jacksonville, three of the states largest cities, interestingly, reported zero hate crimes. Similarly, Jackson, MS; Mobile, AL; and Little Rock, AR did not report any hate crimes in their cities in 2014, likely lowering overall statewide numbers.
Most Hate Crime Directed At People, Not Property
The most frequent hate crime offenses were property destruction at 1,698 or 24.7 percent; followed closely by intimidation, 1,495 or 21.7 percent; and simple assault with 1,436 or 20.9 percent. Aggravated assaults accounted for 12.8 percent of all offenses with 882. One third of hate crimes were simple or aggravated assaults. In contrast, only 15 percent of overall crimes in 2015 were violent, showing that hate crimes are far more violent proportionately. Our Center counted 14 hate homicides in 2015, the highest in well over a decade, the FBI figures show even more,18, nationally, including the nine people who were murdered in the racially motivated mass shooting at Charleston, South Carolina's Mother Emanuel church in June 2015.
Hate crimes are far more likely to be directed against people than are crimes overall, but many of those person-directed hate crimes are threats, not assaults. Person-directed hate crimes were 65 percent of all reported hate crime offenses in 2015, many times higher than with crime in general.
A hate crime is a criminal offense motivated in whole or in part by the actual or perceived group status of another, such as race and ethnicity, religion, disability, sexual orientation, gender and gender identity. The FBI tracks over 30 different types of bias motivations within the broad categories listed above. In 2015 the agency added new subgroups; anti-Sikh and anti-Hindu under religions, and anti-Arab in the race/ethnicity category. The Hate Crime Statistics Act was passed on April 23, 1990 and the first national study featured 1992 data.
Popular in the Community