The agency tweeted images of the man who marched through the Capitol carrying a Confederate battle flag:
At least five people died as a result of the violence, which began after Trump and a number of other right-wing figures spoke at a rally blocks from the Capitol as Congress gathered to certify the 2020 election results.
The image of someone carrying the flag of secession into the Capitol shocked lawmakers and the public alike. House Democratic Whip James Clyburn (D-S.C.) said on CNN that this specific flag was never formally adopted by the Confederacy, but has since been used by the KKK, neo-Nazis and various other white supremacist groups.
"That flag is the flag of white nationalism and the flag of white supremacy," Clyburn told the network.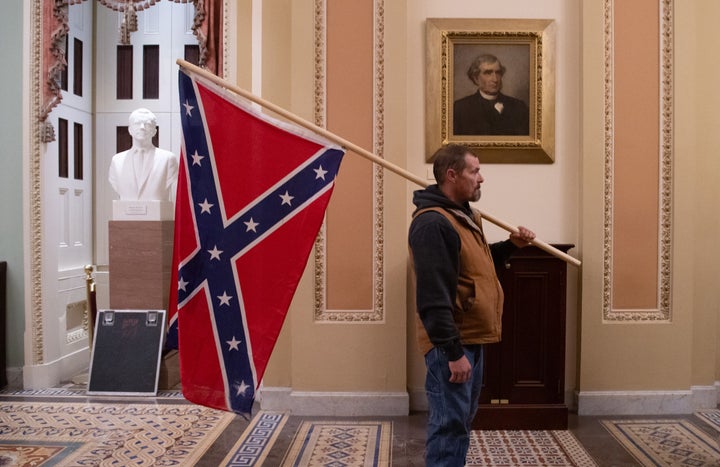 Rep. Colin Allred (D-Texas) told The New York Times that the flag's appearance during the insurrection showed how those who invaded the Capitol were "tied deeply" to white supremacism.
"That is something that will stay with me," Allred told the newspaper. "They set up a noose and scaffolding on the Capitol Hill. This event has to be a wake-up call."
While the man carrying the flag has yet to be publicly identified, several other figures from viral images of the riot have been apprehended. On Sunday, the FBI said it had arrested two men who were photographed in the Senate chamber with zip-tie restraints, a type of flexible cuff often used by law enforcement during arrests. They were identified as Eric Munchel of Nashville and Larry Brock of Texas.
Popular in the Community