WASHINGTON ― The FBI announced Friday that it is reviewing new emails to determine whether they are connected to Democratic presidential nominee Hillary Clinton's handling of sensitive government information.
In a Friday letter to members of Congress, FBI Director James Comey said the agency, "in connection to an unrelated case" had learned of email that "appear to be pertinent to the investigation." Comey said the FBI "cannot yet assess" whether the material "may be significant" and that he "cannot predict how long it will take us to complete this additional work."
John Podesta, Hillary Clinton's campaign chairman, said Comey's Friday announcement was "extraordinary" coming just 11 days from the election.
"Upon completing this investigation more than three months ago, FBI Director Comey declared no reasonable prosecutor would move forward with a case like this and added that it was not even a close call. In the months since, Donald Trump and his Republican allies have been baselessly second-guessing the FBI and, in both public and private, browbeating the career officials there to revisit their conclusion in a desperate attempt to harm Hillary Clinton's presidential campaign," Podesta said in the statement.
"FBI Director Comey should immediately provide the American public more information than is contained in the letter he sent to eight Republican committee chairmen. Already, we have seen characterizations that the FBI is 'reopening' an investigation but Comey's words do not match that characterization. Director Comey's letter refers to emails that have come to light in an unrelated case, but we have no idea what those emails are and the Director himself notes they may not even be significant."
Podesta added that the campaign is confident the FBI will not reach a different decision than it did in July.
White House spokesman Eric Schultz said the president learned of Comey's announcement from press reports and the "president's expectation is that all FBI efforts follow the facts wherever they lead."
Sen. Dianne Feinstein (D-Calif.) released a scathing statement attacking Comey for sending a letter with so many implications and yet so many unanswered questions less than two weeks before Nov. 8.
"Director Comey's announcement played right into the political campaign of Donald Trump, who is already using the letter for political purposes. ... The FBI has a history of extreme caution near Election Day so as not to influence the results. Today's break from that tradition is appalling," she wrote.
Brookings senior fellow Benjamin Wittes wrote a breakdown on Twitter of what Comey's letter means and a post on Lawfare urging the press not to read too much into the FBI's review.
Republican National Committee Chairman Reince Priebus released a statement shortly after the FBI's announcement saying the proximity of Comey's letter to the November election means the charges must be serious ― even though at that point it was unclear what the agency was investigating.
Clinton exclusively used a private email account that was hosted on a private server while she served as secretary of state. Her decision to communicate in that way has dogged her ever since The New York Times first reported on it in March of 2015.
Clinton has said she turned over 30,000 work-related emails to the State Department, but chose to delete emails that were unrelated to her work. She initially said that she used a private email out of convenience and that it was allowed by State Department rules. She eventually did admit that she made a mistake.
Detractors have accused Comey of declining to recommend charges to protect Clinton ― a claim that Comey has vehemently denied. Most prominent among those has been GOP presidential nominee Donald Trump, who has accused Clinton of corruption and quickly seized on Friday's announcement to argue she is untrustworthy and cannot serve as president.
Speaking at a rally in New Hampshire, Trump said he had learned about the letter just minutes before taking the stage.
"Hillary Clinton's corruption is on a scale we have never seen before. We must not let her take her criminal scheme into the Oval Office. I have great respect for the fact that the FBI and Department of Justice are now willing to have the courage to right the horrible mistake that they made," he said. "This was a grave miscarriage of justice that the American people fully understood and it is everybody's hope that it is about to be corrected."
Mike Pence, the Republican nominee for vice president, called on the FBI to release the emails related to their investigation.
Trump's campaign manager tweeted that she was pleased with the announcement.
House Speaker Paul Ryan (R-Wis.) also welcomed Comey's announcement on Friday.
"Yet again, Hillary Clinton has nobody but herself to blame. She was entrusted with some of our nation's most important secrets, and she betrayed that trust by carelessly mishandling highly classified information," he said in a statement. "This decision, long overdue, is the result of her reckless use of a private email server, and her refusal to be forthcoming with federal investigators. I renew my call for the Director of National Intelligence to suspend all classified briefings for Secretary Clinton until this matter is fully resolved."
Ryan J. Reilly contributed reporting.
This article has been updated throughout with additional details regarding the nature of the investigation and reaction from politicians.
Before You Go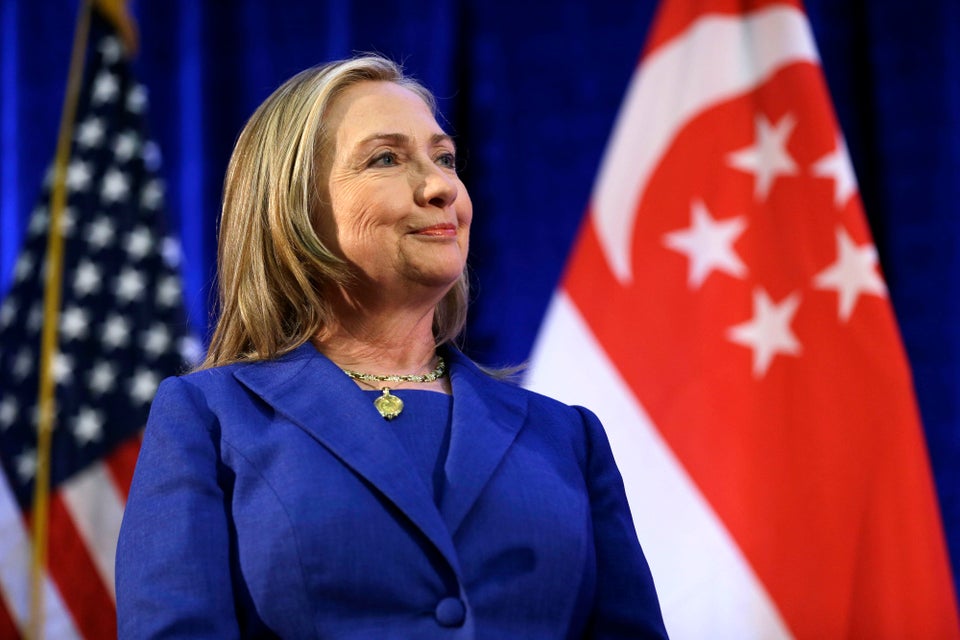 Hillary Clinton
Popular in the Community