WICHITA, Kan. — An FBI informant who infiltrated a Kansas militia group recounted in court Wednesday the horrifying moment he thought a militiaman was going to murder two Muslim women because of their faith.
The informant, Dan Day, testified that he was driving a truck with militia group member Patrick Stein in February 2016 during a mission to conduct "surveillance" of Somali Muslim immigrants in Garden City, Kansas, when they spotted two dark-skinned women in headscarves walking across a parking lot.
"I could knock 'em off, kill 'em right there," Stein said, according to Day. "Those fucking raghead bitches," Stein also said, loud enough for the women to hear, as he grabbed a black handgun in the truck.
"Did you do anything to possibly stop him?" the prosecutor asked Day in court Wednesday.
"As [Stein] was pulling out his weapon, I was actually pulling out my weapon also," Day recalled. The prosecutor asked why.
"Um," Day responded, choking back tears. "I was not going to let him kill these innocent women because they were who they were, because they were Somalis or Muslims."
"It was very scary," he added. "I thought I might have to kill somebody. I'm not a killer."
Day said he eventually calmed Stein down and they drove away. He still remembers the "fear" in the eyes of the two women.
Stein and two other men — Curtis Allen and Gavin Wright — are on trial this week at a federal courthouse in Wichita, accused of being part of a 2016 terrorism plot to massacre Muslims. Prosecutors say the three men, all members of a militia group called the Crusaders, had planned to bomb a Garden City apartment complex that housed Somali refugees, whom the men referred to as "cockroaches." Prosecutors say the trio scheduled the attack for the day after the 2016 presidential election, so as not to hurt President Donald Trump's chances of victory.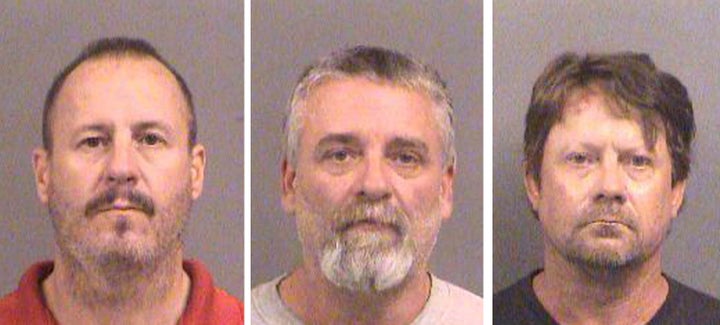 Their plot was foiled, however, in large part due to evidence collected by Day, whom the FBI recruited as an informant in 2016, the prosecution said.
Wednesday marked Day's first appearance in the trial, which started last week. Stein, Allen and Wright have pleaded not guilty to charges of conspiring to use a weapon of mass destruction and conspiracy against civil rights. The trial is expected to last through April, when a nearly all-white jury will determine the militiamen's fate. If convicted, they face life in prison.
As an informant, Day secretly recorded the men openly discussing killing Muslims. "The only good Muslim is a dead Muslim," Stein said in one taped conversation. "If you're a Muslim, I'm going to enjoy shooting you in the head."
But in court Wednesday, Day made it clear that he thought Stein, the ringleader of the group, really wanted to massacre Muslims.
"He could be a normal person," Day said of Stein. But when he talked about Somalis, Day said, Stein "did a total 180. It was like Dr. Jekyl and Mr. Hyde. He got angry, very angry."
Day recounted another incident when he and Stein monitored Somali Muslims in Garden City back in 2016. (Anti-government militia groups in America have become increasingly paranoid about, and hateful of, Muslims in recent years. It's common for such groups to surveil peaceful Muslim communities.)
Day says he and Stein were driving by the Somali apartment complex that Stein, Allen and Wright allegedly would go on to target in their bomb plot.
"He was irate that there were so many Somalis," Day recalled.
"Muslims are like cockroaches," Day said Stein told him. "You can't kill one of them. You have to kill all of them. They keep coming back. You have to exterminate them all."
Day is expected to take the stand again Thursday morning.
HuffPost is in Wichita, Kansas, to cover this terrorism trial. Check back for updates.

Popular in the Community