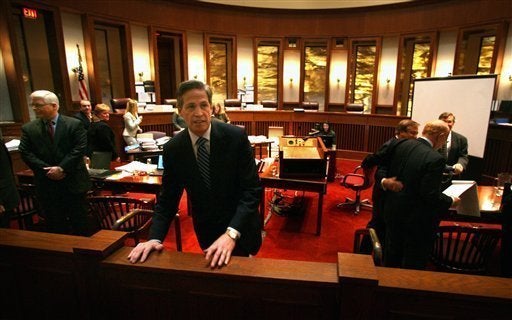 The FBI is investigating allegations that former Senator Norm Coleman had clothing and other items purchased on his behalf by a longtime friend and businessman Nasser Kazeminy, according to a source in Minnesota who was interviewed recently by federal agents.
E.K. Wilson, a spokesman for the Minneapolis FBI, would neither confirm nor deny the report. The source provided details of the interview to the Huffington Post, in addition to copies of business cards left by the agents.
The FBI has also been conducting interviews in Texas, according to media reports, in regards to different allegations that Kazeminy tried to steer $75,000 to Coleman through his wife's employer. Up to this point, there have not been reports of any FBI work taking place in Coleman's home state.
The Minnesota source said the FBI questioning focused on whether Kazeminy had purchased clothing on Coleman's behalf, reports of which surfaced in October. At the time, Coleman vehemently denied the allegations. "Nobody but me and my wife buy my suits," he said.

The source, who requested to speak anonymously to discuss the matter more frankly, said that payments made to the company that employed the former senator's wife, Laurie Coleman, were also addressed.
In April, Norm Coleman requested permission from the Federal Election Commission to use his remaining Senate campaign funds to pay legal fees resulting from the lawsuit filed against Kazeminy.
A request for comment from Coleman's office went unreturned. The receptionist, upon hearing the topic of inquiry, called the matter "old news." In the past, both Coleman, who is engaged in the final stages of a lengthy election recount battle, and Kazeminy, a longtime benefactor of the Minnesota Republican, have denied any wrongdoing.
The possibility exists that the sole target of the FBI's work is Kazeminy and not Coleman. The prominent businessman stands accused of fraud for his handling of the company Deep Marine Technology. As part of that suit, former Deep Marine CEO Paul McKim alleged that he was forced to overlook $75,000 in payments to Hays Company, the employer of Coleman's wife.
Separately, it has been reported that Kazeminy made purchases on behalf of Coleman himself. Ken Silverstein of Harper's magazine was the first to report that suits had been bought on the then-Senator's behalf. A the time, Coleman's chief of staff would only rebut the charge by saying that he "has reported every gift he has ever received."
Popular in the Community