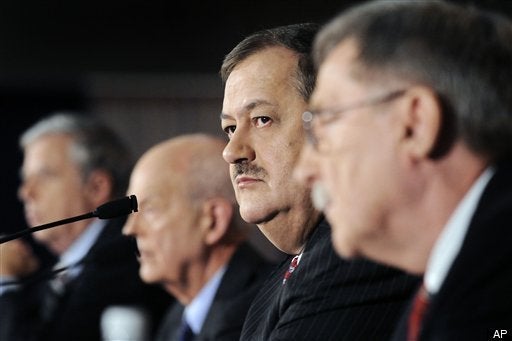 "The Mine Safety and Health Administration is the target of a federal criminal investigation," NPR notes, and "FBI agents are also exploring potential criminal negligence on the part of Massey Energy."
The nation's top mine safety official told lawmakers earlier this week that the government will start going directly to federal court to shut down mines that make a habit of ignoring safety.
Joe Main, director of the Mine Safety and Health Administration, said his agency has had the power to seek federal injunctions for years, but has never tried to use it.
"I can't speak for past administrations," Main said during the Senate's first hearing on the accident that killed 29 men. "We're going to use it."
Main also called for a slew of other legal and regulatory reforms to beef up safety enforcement in the wake of this month's deadly explosion at a mine in West Virginia.
The Senate Health, Education, Labor and Pensions Committee convened the hearing to look at weaknesses in current laws that encourage mine operators and companies in other industries to challenge safety violations to delay stiffer penalties.
Related
Popular in the Community