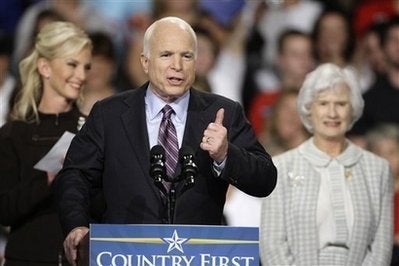 Late Thursday afternoon, McCain campaign manager Rick Davis sent out a statement seeking to piggy-back on the news that the FBI has opened a nationwide investigation into the voter registration fraud allegedly committed by the community organizing group ACORN.
"Given the fact the FBI has launched a nationwide investigation into the questionable voter registration practices of ACORN, it is imperative that Barack Obama's campaign cooperate fully with this important investigation," Davis wrote in the email, which was blasted out to reporters. Declaring that Obama should "fully disclose the true nature of his association" with the group, Davis went on to cite a familiar trope: the $832,000 paid by Obama's campaign to an ACORN affiliate for "get out the vote" operations during the primary season. Though the Obama campaign originally mis-reported some of its payments to Citizens Services, the ACORN affiliate in question, it already amended its Federal Elections Commission filings in August and September.
Davis's memo also appeared to go on a fishing expedition, as it demanded that Obama provide "total disclosure" of "any and all" information the Obama campaign may have related to ACORN's database of registered voters compiled during this election cycle -- something it's not clear the Obama campaign would have any working knowledge about.
So we wondered, how interested is the FBI in acquiring information about the Obama campaign's payments to an ACORN affiliate that no one has accused of being connected to the fraudulent voter registrations?
The Huffington Post reached FBI spokesman Richard Kalko by phone, who at first said he would have no comment about the ACORN investigation. (No surprise.)
But when told that the McCain campaign had sent out a memo alleging that Barack Obama had critical information to the case, Kalko asked for more details.
"When did they send that out?" he asked. When told it was a fresh release, Kalko asked the Huffington Post to forward him Davis's statement. "I'd like to take a look at that," Kalko said. "Though I don't want to get your hopes up that I'll comment."
Moments later, Kalko emailed back, writing: "We have no comment on this issue."
Reached again by phone and asked whether Davis's release would be taken seriously as an investigatory matter, Kalko merely said: "It's just too political for us to be involved. We're just going to hide under our desks over here. Sorry."
Popular in the Community