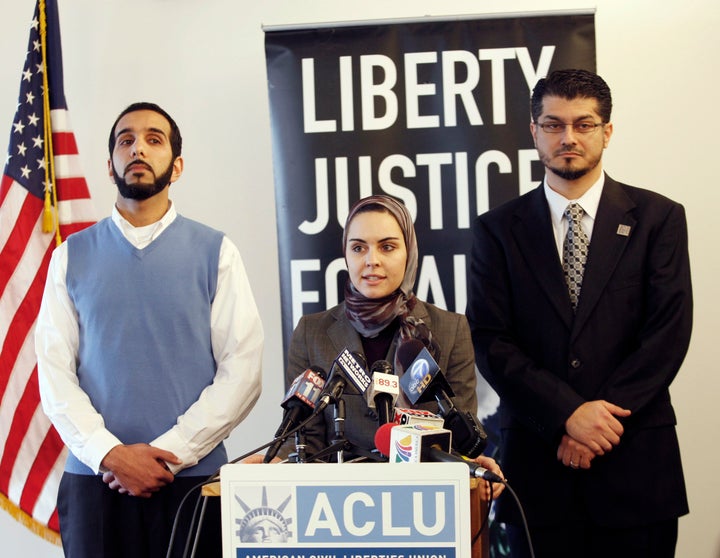 FBI agents in San Francisco used "community outreach" as a cover to collect intelligence on Muslim individuals and organizations, the American Civil Liberties Union claims, based on new documents it obtained through a Freedom of Information Act lawsuit.
The advocacy group says that between 2004 and 2008, federal agents documented complaints from mosque congregants about delays in air travel, took notes on the contents of a sermon and used a meeting participant's cellphone number to hunt for his Social Security information, date of birth, home address and more in government databases.
All of this was done, the ACLU contends, without clear evidence of criminal or terrorist activity. Files documenting the FBI's outreach allude to agents starting conversations with Muslims by asking whether they have suffered from possible hate crimes, but subsequent notes are instead classified as "secret" and marked as "positive intelligence," meaning the information may end up being kept among the FBI's national security records.
"Categorizing information about religious beliefs, practices and otherwise innocent activities as 'positive intelligence' could have very serious negative consequences for Muslim groups and their congregants," the ACLU said in a March 27 statement. "FBI agents accessing this information in intelligence files would assume it was relevant to the FBI's investigative and intelligence mission, casting a cloud of suspicion over the group or individual mentioned and potentially leading to more intensive scrutiny or investigation."
In a statement to the Los Angeles Times, FBI Assistant Director Michael Kortan said the documents "reflect that information was collected within the scope of an authorized law enforcement activity." But he added, "since that time, the FBI has formalized its community relations program to emphasize a greater distinction between outreach and operational activities."
County supervisors in San Francisco are weighing a proposed ordinance that would establish more local control over a terrorism task force made up of the FBI and local police. The proposal's sponsor, Supervisor Jane Kim, says it was prompted in part by complaints from Muslim and Arabic small-business owners in her district who complained about being questioned by investigators without justification.
More than 70 Joint Terrorism Task Forces were formed after the Sept. 11, 2001, hijackings to urge the FBI and local police to better share information and resources about possible threats. But Kim says police in San Francisco quietly signed an agreement with the FBI in 2007 agreeing to follow less-restrictive federal rules on intelligence gathering.
Among other things, her ordinance would bring intelligence collection in line with state and local privacy-protection rules that control what information police can stockpile. It would bar police from gathering intelligence on people unless there was reasonable suspicion the person had engaged in criminal conduct.
The documents most recently obtained by the ACLU show that agents visited a mosque in Seaside, Calif., five times and took notes on a number of what the civil liberties group called "innocuous" discussions about the purchase of property for a new mosque and where congregants would pray.
"(Redacted) gave the FBI a Koran and asked that the FBI bring any questions regarding the Muslim holy book to his attention," reads a 2005 memo [PDF] marked secret. "The FBI thanked him for the gift and again congratulated him on the success of the new mosque."
A 2008 memo [PDF] described the layout of a building used by Bay Area Cultural Connections in Sunnyvale and conversations between representatives of the group and the FBI. The document lists a schedule of weekly prayers and the number of men at the center during a visit from agents, and it says the group sponsors communal celebrations of Turkish and Islamic holidays.
The San Francisco Bay Guardian and the Asian Law Caucus are part of the ACLU's Freedom of Information Act lawsuit against the FBI seeking documents about the bureau's national security and intelligence activities.
G.W. Schulz is an investigative reporter for California Watch, a project of the nonprofit Center for Investigative Reporting. Find more California Watch stories here.
Popular in the Community