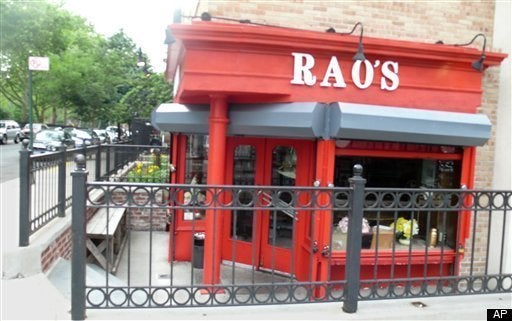 It made the front page of the New York Times, and it put much of Gang Land in a high state of anxiety. Which is why we raced to find out just why the feds are so very interested in a couple of arm-around photos on the wall of Rao's, the legendary East Harlem eatery where governors, celebrities, writers, and wiseguys often rub elbows. Here's the scoop:
Authorities are closing in on a Colombo family capo for a 1990 murder, Gang Land has learned. The FBI and prosecutors in Brooklyn have Theodore (Skinny Teddy) Persico Jr. in their sights for the slaying of a small time drug dealer who was killed in a drive-by shooting in front of his Bensonhurst, Brooklyn home on March 26, 1990.
Persico, a violence-prone gangster who has spent 20 of his 47 years in one prison or another, has long been suspected of having a role in the murder of Vincent (Scoobie) Lafaro, 27, even though Skinny Teddy was behind bars when the victim was shot to death.
No one has ever been charged with the slaying, but the motive was quickly apparent to police and federal authorities. Sources say Lafaro, who testified in 1988 at the federal racketeering trial of several members of a Colombo family crew headed by soldier Greg Scarpa Jr., also gave police information that ended with Persico being convicted of state drug dealing charges and sentenced to 20 years-to-life.
In recent months, the feds have obtained evidence about the murder from numerous sources. They include a cooperating witness who dined at Rao's with Skinny Teddy before he was arrested for racketeering last year, and an old jailhouse picture of Persico that the FBI removed from the wall of the legendary eatery.
Sources say the photo - of Persico and mob associate Joseph (Joey Cupcake) Urgitano - had been hung on the right side of the bar below a drawing of the late Vincent Rao, a former proprietor of the 11-table restaurant.
On October 26, the same day that FBI agents removed the photo from the wall at Rao's, sources say they also searched Urgitano's Bronx home and seized a cryptic letter that Skinny Teddy had sent to Joey Cupcake following the murder of Lafaro.
At the time the letter was written, according to state prison records, Persico was in one state prison doing time for his 1988 drug rap and Urgitano was in another, serving time for the slaying of a drug dealer in a park across the street from Rao's.
Sources say the handwritten missive was a "coded message" from Skinny Teddy to Joey Cupcake reporting that Scoobie had been whacked.
Onetime Gambino associate Anthony DiDonato, whose new book Surviving The Mob we told you about last week, is another source of information that the feds have tapped in their efforts to crack the 21-year-old cold case.
DiDonato wrote about the close bond that the three wannabe gangsters had during their years in state prison and how they continued to write to each other after they were transferred to other prisons. But he clammed up when asked about his role in the investigation into the Lafaro killing, citing the possibility that he may be a witness in the case.
But sources say DiDonato was instrumental in convincing authorities that Urgitano, just like many ex-cons, probably saved the letters that he exchanged with his old jailhouse buddies - an assertion that turned out to be correct.
The feds have also obtained information about the slaying from a longtime Persico family crony who began cooperating only last year, Frank (Frankie Blue Eyes) Sparaco, and from a onetime Colombo consigliere who flipped back in 1994, Carmine Sessa.
Additional info about the Lafaro murder was obtained from Steven Marcus, a mob associate who tape recorded some 850 conversations with scores of wiseguys and others during a three-year-sting operation that resulted in the labor racketeering indictment last year of Teddy Persico, his cousin, Michael Persico, and seven others.
Seems that one evening, while Marcus was dining at Rao's with Persico, Skinny Teddy's old jailhouse buddy, Joey Cupcake, who was released from state prison in 2007 and claims to be a relative of the owners, Frank Pellegrino and Ronald Straci, stopped by to say hello.
Marcus, whose undercover work is also expected to lead to labor racketeering charges against members and associates of the Genovese and Gambino crime families, told the feds about that encounter, and also gave them other information they hope to use to crack the 21-year-old cold case, according to sources.
Persico's lawyer, Joseph Corozzo, slammed the new allegations against his client, who has been detained without bail since his arrest last March, as nonsense.
"For the government to suggest that their evidence is based on a letter that contains a confession made by my client to a person that he knew for a couple of months in prison is unbelievable," said Corozzo. "And there is nothing on the Marcus tapes that implicates my client in a murder, and to this day, none of the dozens of Colombo cooperators have implicated my client in the Lafaro murder."
Contacted by Gang Land, Pellegrino, an actor who played an FBI agent in The Sopranos, declined to talk about Urgitano, Persico, or anything else for that matter. "No comment," said the usually agreeable Pellegrino. "I am sick and tired of this nonsense."
As for Urgitano, who is not a suspect in the Lafaro slaying, sources say several other photos of him and family members still adorn the walls of Rao's.
The big Times story on the FBI's picture takedown at Rao's was written by the very knowledgeable William Rashbaum, who reported that Joey Cupcake was offended when a state prison official, Ileana Rodrigeuz, implied there was something nefarious about Rao's when she asked him how she might get a table.
In a reply, Urgitano, who earned a college degree behind bars, wrote: "Request: Please tell Ms. Rodriguez I said if she really wants (to) know how to get a reservation @ Rao's, ask your boss, Governor Pataki. He's eaten there a few times. Perhaps he can tell her."
REAL LIFE. REAL NEWS. REAL VOICES.
Help us tell more of the stories that matter from voices that too often remain unheard.