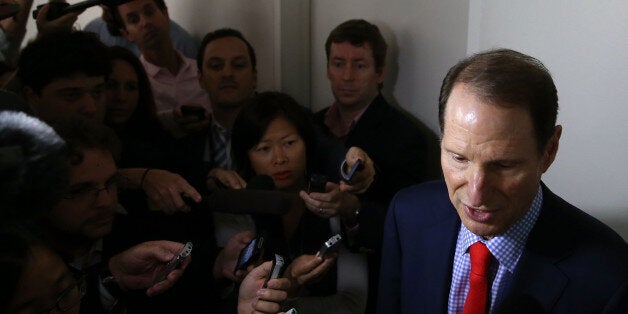 WASHINGTON -- Sen. Ron Wyden (D-Ore.) doesn't think the National Security Agency should be allowed to page through your call data without a warrant. He doesn't think the FBI should be allowed to snoop through your email. And now, in keeping with those principles, he doesn't think the White House's spies should be able to keep tabs on you from planes, either.
In a bill announced Wednesday, Wyden joins Nevada Republican Sen. Dean Heller on the Protecting Individuals From Mass Aerial Surveillance Act, which if passed would require warrants for the government to analyze and collect data gathered en masse via domestic airplane or surveillance drone.
"Technology has made it possible to conduct round-the-clock aerial surveillance. The law needs to keep up," Wyden said in a statement. "Clear rules for when and how the federal government can watch Americans from the sky will provide critical certainty for the government, and help the unmanned aircraft industry reach its potential as an economic powerhouse in Oregon and the United States."
The bill comes just weeks after news broke that the FBI has used small, low-flying aircraft in several U.S. cities to sweep up the telecommunications data of U.S. citizens on the ground. Those airplanes operate under the guise of fake companies, and use advanced technology to collect information off of the cellphones of people on the ground.
Wyden's statement announcing the legislation included praise from both the drone (or unmanned aerial vehicle) industry and from privacy advocates, who have long said the use of domestic surveillance drones requires a second look at antiquated privacy protections.
Calling all HuffPost superfans!
Sign up for membership to become a founding member and help shape HuffPost's next chapter
BEFORE YOU GO
PHOTO GALLERY
Scenes From 114th Congress And Capitol Hill