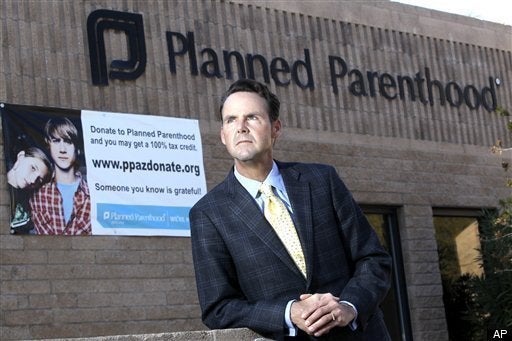 In a statement, Planned Parenthood said Live Action visited two Central New Jersey clinics on Jan. 13, including the one in the video. A spokesman for Planned Parenthood said that, immediately after the visits, clinic employees told their managers and called local law enforcement. It was not immediately clear, however, whether the woman in the video notified management or police.

The statement says "appropriate action is being taken" into the woman's actions.

"Planned Parenthood insists on the highest standards of care, and safeguards the trusted relationship we have with patients, families and communities. What appears on edited tapes made public today is not consistent with Planned Parenthood's practices, and is under review. Phyllis Kinsler, CEO of Planned Parenthood of Central New Jersey (PPCNJ), has stated that, 'the behavior of our employee, as portrayed on the video, if accurate, violates PPCNJ policies, as well as our core values of protecting the welfare of minors and complying with the law, and appropriate action is being taken.'"

[...]

After eight clinics reported the same strange visit within five days, Planned Parenthood reached out to the FBI, via a letter to Attorney General Eric Holder, calling for an investigation into a potential sex trafficking ring. In the letter, Planned Parenthood notes that the visits had all the earmarks of a hoax.
So there you have it. Planned Parenthood may have a single staffer whose actions need to be called into question. And so, that staffer is being called to accounts. Other than that, Planned Parenthood is an organization that, if it catches a whiff of some illegal activity, gets the FBI involved as quickly as possible, even when they suspect that they are being subjected to a hoax.
One thing that conservative agitprop activists have taught me about the world of prostitution rings and human trafficking is that the actual ringleaders of actual prostitution rings never walk into places like Planned Parenthood and willingly offer, "Hey, I run this prostitution ring of minors and undocumented immigrants, and I was wondering what services are available to me!" That is only something that people who are pretending to be the ringleaders of a pretend prostitution ring do. It's too bad that the opposite isn't true, because it would be much easier to run actual prostitution rings to ground.
But running an actual prostitution ring to ground isn't something these activists genuinely want to do. And, insofar as the FBI and the Department of Justice actually had to expend resources investigating a hoax, their efforts actually make the running-to-ground of actual prostitution rings much harder. But whatever! Like I said before, if you're visited by someone claiming to be the ringleader of a prostitution ring, call the authorities!
UPDATE: Here's a further statement from Phyllis Kinsler, CEO of Planned Parenthood of Central New Jersey, on the matter of the single employee being called to accounts:
"We were profoundly shocked when we viewed the videotape released this morning, which depicted an employee of one of our health centers behaving in a repugnant manner that is inconsistent with our standards of care and is completely unacceptable. We have a zero tolerance policy for this kind of behavior, and the employee in the video was immediately suspended from her duties this morning and was terminated this evening. We are fully committed to delivering high-quality reproductive health care to the women of our communities, complying with all laws, and upholding the highest ethical standards."
Calling all HuffPost superfans!
Sign up for membership to become a founding member and help shape HuffPost's next chapter