WASHINGTON -- FBI Director James Comey said Thursday that he doesn't have the power to force law enforcement agencies across the country to report information on police shootings and that he could only "talk about it and talk about it and talk about it," using his position as a bully pulpit.
"I don't have the power to require people to supply us with data," Comey said in response to The Huffington Post's question at a roundtable with reporters at FBI headquarters. "So my plan is, I'm just talking about it constantly to state and local law enforcement, saying this is in everyone's interest who cares about sound policing, sound public policy, and to use the bully pulpit of this office to say 'You've got to give it to us, you've got to give it to us.' Those are the tools I have."
The FBI plans to "collect more data about shootings (fatal and nonfatal) between law enforcement and civilians" and increase overall reporting, Comey said this week. Incomplete FBI data suggested there were only 444 justifiable police homicides in 2014, a number known to be inaccurate because a large number of law enforcement agencies fail to voluntarily turn over that information.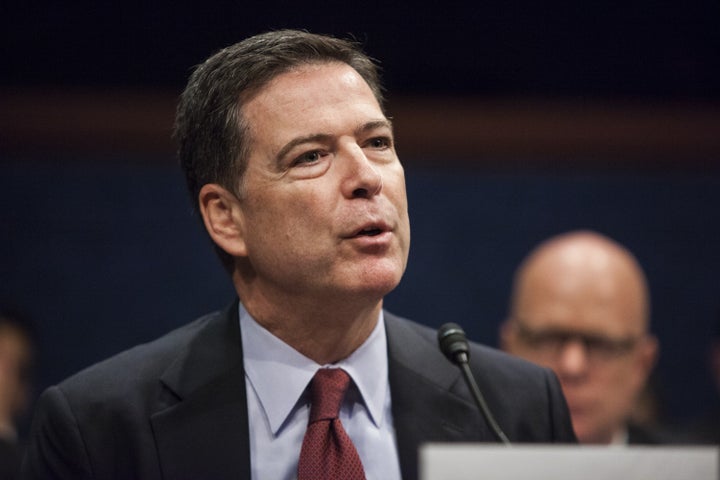 Earlier this year, in a speech about race and policing, the FBI director said it was "ridiculous" that we didn't know how many citizens were killed by the police each year. But he was hesitant to say whether he believed he should be able to force law enforcement agencies to provide that data.
"I don't know how that would work," Comey said on Thursday. It would be "possible" to tie federal funds to the reporting requirements, so that law enforcement agencies that failed to report their data wouldn't have access to federal grants, he said.
"That wouldn't be a Bureau thing; that might be a Congress enacts something that gives the attorney general that authority," he added. "I don't know; I know what I have the ability to do, and that is talk about it and talk about it and talk about it."
The fatal August 2014 shooting of 18-year-old Michael Brown in Ferguson, Missouri, drew public attention to the lack of accurate data on police killings. Both The Guardian and The Washington Post have tracked deadly encounters with police officers so far in 2015. As of Thursday, The Guardian had counted 875 people killed by the police, while The Washington Post had counted 741 individuals who had been shot and killed by an officer.
Comey also said he was "very concerned" about increased murder and violent crime rates in many U.S. cities, but said he wasn't sure if we could say what was causing them.
"I think all of us need to figure out what is going on here," he said, adding that police chiefs across the country had told him they are seeing "huge spikes" in violent crime. "Something very, very worrisome is going on," he added.
Yet Comey placed rising violent crime rates in important historical context. He said the U.S. is "in a place where I never imagined we would be as a country," back when he was a federal prosecutor in the 1980s and early 1990s and believed that New York City would "never get below 2,000 murders" per year. (The city had over 2,000 murders per year in 1991. In 2014, the number had dropped to 328 -- the lowest number of murders since the New York City Police Department began collecting statistics in 1963.)
Comey said he didn't know whether protests against police violence have made it harder for police to do their jobs, a theory that has been dubbed the "Ferguson effect." "I'm not discounting it, but I just don't know," he said, adding that he was "focused on it, trying to figure it out."
"Some have said police officers aren't getting out of their cars and talking to gang-bangers on street corners anymore, but I don't know," he said. "What I do know is that a whole lot of people are dying. They are, according to the chiefs, overwhelmingly people of color, and we've got to care about that."
The spike in crime made him want to be "thoughtful" on criminal justice reform, Comey added.
"My strong sense is that a significant portion of the change in our world since I was a prosecutor in New York in 1987 is due to law enforcement, but I'm sure there are lots of other things [going on]," he said.
"I just want to make sure that as we reform -- first of all, we're grateful that we actually have the space and time to think and talk about sentencing better, rehabilitating better, and [that] is a product of hard work over the past 25 years -- but as we do it, are very, very thoughtful about where we used to be and how we got from that point to here," Comey said.
Popular in the Community