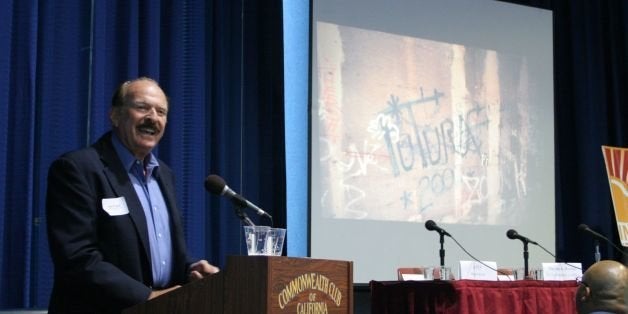 WASHINGTON -- An 86-year-old photographer and four other Americans who were entered into a massive "suspicious activity" database for innocent activities filed suit against the federal government on Thursday to challenge the legality of a practice that has never been found to have identified a single terrorist threat.
James Prigoff, a retired Levi Strauss and Sara Lee executive whose artwork has been exhibited by the Smithsonian Institution, was visited at his home in Sacramento by the FBI after he was stopped by private security guards in 2004 while taking pictures of a piece of public art called the Rainbow Swash, located on a natural gas storage tank in Boston.
"Given my age, I lived through the McCarthy era, so I know how false accusations, surveillance and keeping files on innocent people can destroy their careers and lives," Prigoff said Thursday at a press conference in San Francisco. "I am deeply troubled that the SAR program may be recreating that same climate of false accusation and fear today."
Prigoff said he was worried that he was "apparently in a government terrorism database for decades" and said the government "isn't supposed to be tracking you if you're not doing anything wrong."
Another plaintiff in the lawsuit filed by the American Civil Liberties Union and Asian Americans Advancing Justice-Asian Law Caucus was the subject of a 2012 suspicious activity report because he was looking into flight simulators and because he was a convert to Islam.
Under the FBI's eGuardian program, reports of suspicious activity collected by local police are vetted by so-called fusion centers. But the program has been hampered by the concerns of many local law enforcement organizations that don't believe the program offers sufficient privacy protections. A 2013 government report found that the FBI does not track how many reports of suspicious activity led to arrests or helped ongoing investigations, and a 2012 Senate subcommittee probe found the country's 78 fusion centers have not identified any terrorist threats.
Calling all HuffPost superfans!
Sign up for membership to become a founding member and help shape HuffPost's next chapter
BEFORE YOU GO
PHOTO GALLERY
FBI Directors Through The Years