WASHINGTON ― An immigrant from Honduras who federal investigators say supports ISIS faces charges he attempted to blow up a fake FBI-supplied bomb at a Miami shopping mall.
Vicente Adolfo Solano, 53, whose alleged terror plot was brought to the feds' attention by a confidential federal informant, also recorded videos in which he stands in front of an ISIS flag and calls President Donald Trump a white supremacist, authorities said.
The FBI investigation into Solano began in late September, when a confidential informant working with the Drug Enforcement Administration told authorities that Solano had "become increasingly upset with the policies of the United States Government and its activities throughout the world" and wanted to conduct a terrorist attack, according to an FBI agent's affidavit.
Solano "took issue with foreign and domestic policies and described his feeling of exclusion that stems from his temporary immigration status," the FBI agent wrote. A Justice Department statement says Solano had traveled to the U.S. on a tourist visa and was "granted temporary legal status for humanitarian reasons in 2002."
Solano recorded videos in which he wore a black mask and stood in front of a black flag "identical to the one used by ISIS," according to the FBI. Speaking in Spanish, Solano calls the U.S. "the most terrorist country of them all" and says he wants to join ISIS because it was "growing in social media" and was confronting the United States.
"This racist president, white supremacist who does not like Hispanics, who does not like Muslims, Chinese, Blacks, just his race," Solano says in one of three similar videos that authorities allege he sent to the informant.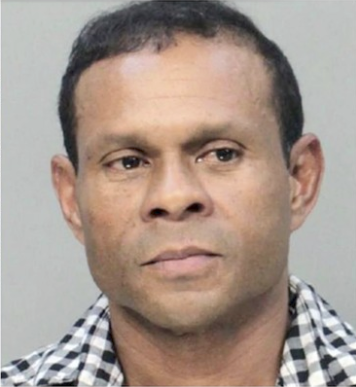 The informant introduced Solano to an undercover agent, who Solano was told could help with an attack. A second undercover agent served as a translator, authorities said. Solano believed both of the agents had traveled to meet with him and were "united in the same cause," according to the affidavit. Solano later said he believed the two agents were members of ISIS, authorities said.
As the plan developed, the undercover agents asked Solano to give them sketches of the area where he planned to set off the bomb, the disguise he would wear, and shopping bags that would hide the device. Solano allegedly chose the mall food court and sent along photos of luggage he planned to use to hide the bomb.
Solano was arrested on Friday after he "took steps that he believed would arm the device" and walked toward the mall entrance as the timer counted down, authorities said.
The Justice Department, in a Monday news release about the arrest, emphasized Solano's Honduran citizenship.
A federal public defender representing Solano wrote in a court filing on Tuesday that Solano had invoked his right to remain silent.
During the investigation, Solano allegedly referenced the Boston Marathon bombing, and the case of Harlem Suarez, who came to America from Cuba with his parents when he was 12. Suarez, arrested in 2015 on terrorism-related charges in an FBI sting that came under criticism, was sentenced to life in prison in April.
Read the FBI affidavit in the Solano case:
Ryan Reilly is HuffPost's senior justice reporter, covering criminal justice, federal law enforcement and legal affairs. Have a tip? Reach him at ryan.reilly@huffingtonpost.com or on Signal at 202-527-9261.
Popular in the Community