The FBI is "Trumplandia," The Guardian's Spencer Ackerman reported this week following a series of leaks from the law enforcement agency regarding alleged investigations into Hillary Clinton and her family's foundation. "Deep antipathy to Hillary Clinton exists within the FBI," he added.
That makes sense. White men are overwhelmingly likely to support Donald Trump, and the FBI is a culturally conservative law enforcement agency that is overwhelmingly white and male.
The FBI has actually gotten whiter in recent years. As of Aug. 1, 83.2 percent of FBI special agents were white, according to internal statistics. That's a higher percentage than in 2008. More than 80 percent of FBI special agents are men. Last year, FBI director James Comey joked that the fictional FBI depicted on the television show "Quantico" made FBI agents look more "attractive and diverse" than they did real life.
Trump leads Clinton by 26 points among white men, according to YouGov's polling model. Of course, the white men in the agency aren't a perfect mirror of the white male vote nationally. FBI special agents need a bachelor's degree from a four-year college (Trump also leads Clinton by 14 points among college-educated white men, according to YouGov), and their security clearances and desire to work in public service also make them different from the general population.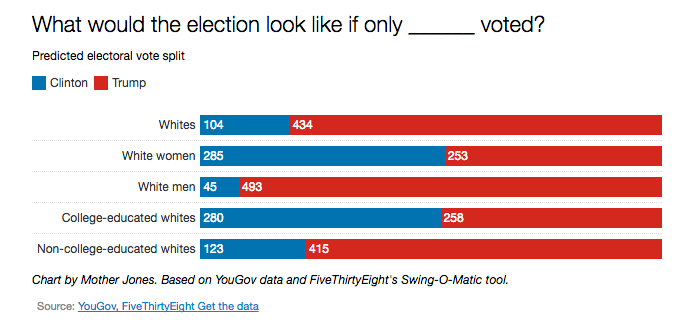 "If you think it's breaking news that the culture of the agents of the FBI is a political conservative culture, that is not news," says Tim Weiner, who wrote Enemies, the definitive history of the bureau. "The culture of the rank and file of the FBI has been a conservative culture since J. Edgar Hoover was a baby. The FBI was founded in 1908 and it is both a law enforcement agency and now after 9/11 primarily an intelligence agency. It attracts people who served as cops and spies."
The federal government counts anyone whose family origins were in "the original peoples of Europe, the Middle East, or North Africa" as white, so it's not clear how many people the FBI has hired who have family backgrounds in the Middle East or North Africa. On Sept. 11, 2001, there were only eight FBI agents in the U.S. who spoke Arabic. Five years later, in 2006, the FBI faced criticism when a lawsuit revealed that, despite the agency's central role in fighting terrorist groups composed largely of Arabic speakers, only a handful of its special agents were fluent in Arabic. There's no up-to-date, public data on how many special agents are of Arab or Muslim backgrounds or speak Arabic.
Comey has called the increasing whiteness of the bureau a "crisis," adding that he "will have failed if I don't change this."
Ryan J. Reilly and Ryan Grim contributed reporting.