WASHINGTON ― FBI Director James Comey on Thursday defended his decision to forgo a criminal case against Hillary Clinton, and in the process managed to dismiss a series of the most damaging claims against the former secretary of state.
Comey announced Tuesday that he'd cleared Clinton from potential prosecution over her use of a private email server, saying her actions were "extremely careless" but that no "reasonable" prosecutor would pursue the case. Attorney General Loretta Lynch agreed with him on Wednesday. Comey's most damning finding was that Clinton had more than 100 classified messages on her system, including eight that were deemed "top secret."
"We're here because we're mystified and confused by the fact pattern you laid out," Chaffetz said. He added that based on Comey's facts, if an "average Joe" had done what Clinton did, "they'd be in handcuffs."
But Comey repeatedly stood by his estimation that there was no case against Clinton under the Espionage Act, which has only been used once in similar circumstances ― ineffectively ― in 99 years.
He said it boiled down to intent, even though the letter of the law says the standard for guilt is "gross negligence."
"Why is it that the Department of Justice since 1917 has not used that gross negligence statute but charging it once in an espionage case?" Comey asked Chaffetz and Rep. Trey Gowdy (R-S.C.), who both repeatedly pressed the FBI director on the point.
The answer, Comey said, was to avoid the very double standard that Chaffetz mentioned and which many Republicans allege is benefitting Clinton.
"That is the record of fairness," Comey said. "You have to decide, do I treat this person against that record, and if I do, is that a fair thing to do ― even if you are not worried about the constitutionality of it. And in my judgment, no reasonable prosecutor would do that."
"That would be celebrity hunting," he added. "That would be treating this person differently than John Doe."
Comey also said repeatedly that there was no sign that Clinton meant to break the law.
"We did not find evidence sufficient to establish that she knew she was sending classified information, beyond a reasonable doubt, to meet the intent standard," he said.
Several mitigating factors for Clinton also emerged in the hearing. Chief among them was that although she sent or received a significant amount of classified information, none of it was properly marked.
According to Comey, just three emails out of more than 30,000 had a (C) marking on them, and none of them had the required headings at the top of the page to make it obvious the material was classified.
Comey also shot down the lingering myth that a hacker known as "Guccifer" had somehow gotten into Clinton's system. Comey said Guccifer admitted to the FBI that he never did.
The FBI director also vigorously rejected suggestions that the White House, the Department of Justice and the FBI had somehow coordinated last week's events, which included former President Bill Clinton's meeting with Lynch last Monday, the FBI's interview of Hillary Clinton on Saturday, and Comey and Lynch's subsequent announcements.
Several Republicans pointed to those events, but only Rep. John Mica (R-Fla.) managed to spark a hint of anger from Comey by bringing up the Tony-winning dance moves in the Broadway show "Hamilton" to insinuate that the FBI and Department of Justice had coordinated the decision.
"It almost looks like a choreography," Mica said, after asking Comey if he'd seen the Broadway musical. Mica also asked the FBI director to turn over any relevant communications he'd had with the attorney general or Department of Justice for the last 30 days, saying he didn't know how to explain the chain of events to people in his local cafe who saw them as evidence of collusion to clear Clinton.
"Look me in the eye, and listen to what I'm about to say," Comey retorted. "I did not coordinate that with anyone ― the White House, the Department of Justice. Nobody outside the FBI family had any idea what I was about to say. I'd say that under oath, I'd stand by that."
"I did not coordinate that with anyone ― the White House, the Department of Justice. Nobody outside the FBI family had any idea what I was about to say."
Republicans did hammer home several of the points that Comey himself had revealed on Tuesday, emphasizing that Clinton had claimed outright that she had sent no classified emails. They also got Comey to repeat that Clinton had not turned over all her work-related emails, that thousands had been deleted, and that she did not have approval to use a private email system.
Yet Comey was never flustered over the course of nearly five hours, so Republicans broadened their focus, seeking fresh crimes.
Chaffetz asked Comey if Clinton had lied to Congress and might have committed perjury. Comey replied that the FBI didn't look into that question because Congress hadn't asked. That prompted Chaffetz to say a request for such an investigation would be forthcoming.
Comey said unequivocally that there was no evidence Clinton lied to the FBI.
Rep. Tom Massie (R-Ky.) suggested that if the FBI couldn't pin intent on Clinton, maybe it could nail a lower-level staffer who would have had to affirmatively add classified information to an email.
"There's not an open criminal investigation of that person way down the chain," Comey said.
"Shouldn't there be?" Massie asked. "I would suggest that you might want to do that."
While the hearing produced little new information, it is only the first that Republicans are planning. There are at least four more on the horizon, with the most prominent being testimony from Lynch next week.
Republicans are also still wrapping up their Benghazi probe, with a vote on a final report due Friday.
This story was updated with additional comments from the hearing.
Before You Go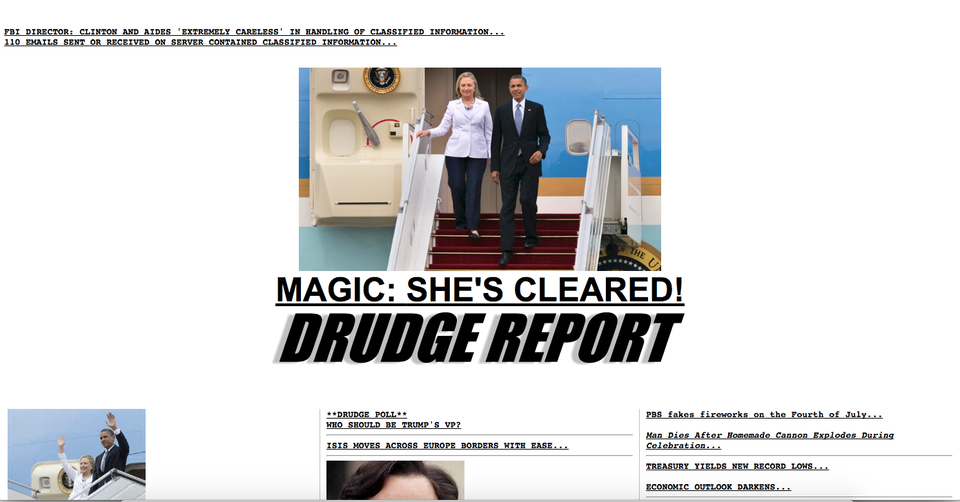 Media Roundup: FBI Recommends No Charges For Clinton
Popular in the Community