Poor Meghan McCain. Daddy's little girl knows that the portrait of her and her family coming out in HBO's adaptation of John Heilemann and Mark Halperin's 2008 campaign chronicle Game Change isn't going to be pretty, given what's in the book.
In a posting for The Daily Beast this week, McCain expressed her concerns that her family and Sarah Palin will be "nothing short of crucified."
Ya think so? Maybe it's the passage on page 279 where her father, U.S. Senator and then-Republican presidential nominee John McCain, screams out angrily at her mother, Cindy Lou Hensley McCain--and I quote precisely from the text:
Fuck you! Fuck, fuck, fuck, fuck, fuck, fuck, fuck, fuck, fuck, fuck!!!
By my count that was eleven F-bombs. Daddy's got a way with words. His little girl also has a potty mouth. She likes to drop F-bombs, too, and worse. Two weeks earlier, Meghan McCain had offered on her Twitter account a more direct personal assessment of Heilemann and Halperin's journalistic output:
Nice. According to a source in the McCain campaign whom I interviewed for my forthcoming book, The Lies of Sarah Palin, it was often noted that young Meghan was richly possessed of the worst qualities of both her parents.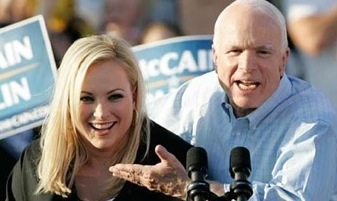 Perhaps Meghan McCain is concerned that quite a bit more than what appeared about her in Game Change, where she was largely ignored, will find its way into the HBO film. Where might they find such dirt? Ironically, in McCain's own book Dirty Sexy Politics, which paints a far more dysfunctional portrait of the McCain campaign--and of her own behavior--than Game Change ever could.
By McCain fille's own account, she was "fired" from the campaign, because (she writes on page 119) she was perceived by those in charge to be "a curse, a brat, a diva, a monstrous daughter-of." She pouted, she demanded makeup and hair-styling attention, she had crying fits and tantrums, some lasting hours. When the decision came down to banish her from the Straight Talk Express, her parents did not intercede on her behalf.
Throughout the book, she reminds people that she is the "daughter-of"--including the Secret Service details assigned to protect her family and whose diligent checking of proper campaign credentials antagonized Meghan to no end. Indeed, it was her treatment of the Secret Service that ultimately led to her being fired, and which rankled her arch nemesis, senior advisor Steve Schmidt, whose sole crime, it would appear, was being the only adult in the campaign willing to establish boundaries for McCain and the entourage of "Blogettes" that accompanied her. She describes Schmidt as her "least favorite person on the campaign," even after he repeatedly protected her various antics from being exposed by the campaign press corps.
And what were those antics? In Dirty Sexy Politics she acknowledges being frequently late and disrespectful of the campaign's schedule. She concedes to being rude to reporters and campaign volunteers, and even high echelon advisers. She got busted for stealing Mitt Romney campaign signs in New Hampshire. She took pictures of her father's speechwriter Mark Salter while he was sleeping, after she and her pals had placed cockroaches on his arms and shoulders; she posted the image on her web site, then chides him in her book for "how seriously he can take himself." She also rebuked him in her Daily Beast column for giving Heilemann and Halperin an interview for their book.
Chapter 17 of Dirty Sexy Politics is devoted to her getting blottoed on beer and whiskey in Nashville and, by her own account, she "was too drunk to remember" what happened and was "crazy hungover" the following day.
Then there was the overdose on Xanax, vividly described in the chapter entitled "My Lohan Moment." McCain admits to overdosing on the prescription drug on Election Eve, leaving her zombie-like with a blanket over her head on the final leg of the campaign--while everyone else was feverishly focused on getting her father elected President of the United States. She describes her behavior as a bit like "an animal" and admits to not thinking "about anybody but myself." Her sense of entitlement is astounding. "When would that stop," she ponders on page 175. "When I grew up?"
McCain also admits to being piqued by not being recognized by those in the press corps or by various campaign volunteers at pit stops on the trail. Her response was often richly phrased, as in "I'm fucking Meghan McCain...I am the candidate's fucking daughter." She's a real piece of work.
Meghan McCain's only cameo in Game Change comes on page 283, on which her father was quoted as being irate about having to attend a series of his daughter's graduation events at Columbia University in the spring of 2007. "How many fucking times do I have to go to fucking New York this week?" McCain pere exploded. "How many fucking times can you fucking graduate from fucking Columbia?"
Ah, like father, like daughter. According to Dirty Sexy Politics, Cindy McCain has been known to describe Meghan as "John McCain in a dress."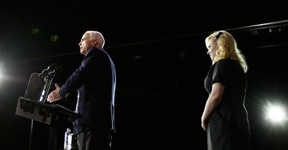 Meghan McCain certainly paid no attention to political detail. For instance, in Dirty Sexy Politics she twice describes the announcement of Palin's selection by her father being launched at "an Ohio high school," when in fact it was at Wright State University. Her failure to identify the site correctly--in the heart of working-class Ohio, a must-win state for her father--says truckloads about McCain's political acumen and her upper-crust sensibilities. What she does note in some detail about that day, however, is that her zipper stuck on her bra as she "tried to change dresses and get [her] hair in a tighter pony tail" and that she eventually allowed "everyone on the bus to see the back of my bra."
So far, HBO has announced that a quartet of fine actors--Julianne Moore, Ed Harris, Woody Harrelson, and Alex Hyde-White--will play Palin, Senator McCain, Schmidt and Lindsay Graham respectively. Meghan McCain has expressed concern over who would be cast as her mother. "Let me guess," she cringed, "an ice princess?" Let me suggest Helen Hunt, a talented actress capable of grasping the look and varied nuances of Cindy McCain. As for Meghan herself, we need go no further than Jersey Shore's Nicole "Snooki" Polizzi. All she'd need to do is dye her hair blonde.
McCain also ruminated about the depiction of the John Edwards family in the film. I've got some news for her. According to my sources in the film industry, the first screenplay (written by Charles Leavitt) focused on the Demo side of the contest--the contentious battle between Barrack Obama, Hillary Clinton and Edwards. But for political reasons, that version got tossed on the Hollywood scrap heap. The second script (written by Danny Strong)--the one currently in pre-production under the direction of Jay Roach--is focusing primarily on the McCain campaign and the internecine battles that took place largely away from the mainstream media.
It was a nasty little civil war--the kind that seems to follow Sarah Palin wherever she shows up.
Meghan McCain has never had much nice to say about her father's running mate, but in her Daily Beast posting this week she suddenly waxed empathetic. Her book, however, includes a fascinating observation about her father's selection of Palin.
As much as I was excited by the news of the announcement, and that she was a woman, I felt shaken and troubled. A wave of worry swept over me. And I remember thinking, I don't know anything about this woman and neither does the rest of the country.
She refers to Palin as "the Time Bomb" and says that Palin brought "drama, stress, complications, panic and loads of uncertainty" to the campaign. She describes the Palin family as "not ready for prime time" and blames Palin herself for "splitting" the campaign. She says that efforts by her mother to reach out to the family went unreciprocated. She charges that Palin tried to steal the spotlight away from her father on the closing night of the election. More recently, she compared Palin to Charlie Sheen. It's hardly a pattern of affection.
Shortly after posting her attack on Game Change, McCain tweeted a comment that apparently provided a small sampling of her crass behavior on the campaign trail:
To the gentleman attempting to take a covert pic of me with your iPhone. Please get a good shot of my ass. Love, Meghan
How sweet. Game change? More like game, set and match.

Calling all HuffPost superfans!
Sign up for membership to become a founding member and help shape HuffPost's next chapter