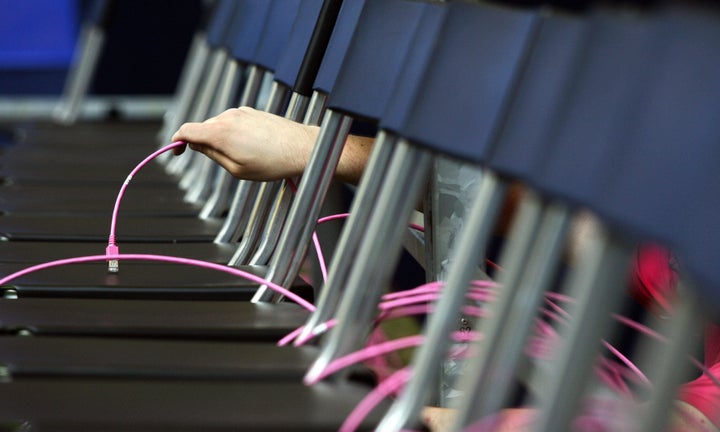 The head of the Federal Communications Commission on Monday announced a new plan to expand broadband Internet access by modernizing a program that provides discounted telephone service to low-income Americans.
In remarks made in Washington, F.C.C. Chairman Julius Genachowski said he planned to overhaul the agency's Lifeline program, which has helped defray the cost of basic telephone service. Genachowski said he also plans to launch a pilot program that will transition Lifeline to focus on reducing the monthly cost of broadband service and digital devices and improving digital literacy.
Genachowski noted that high-speed Internet has become an essential tool for Americans, particularly those who are unemployed, as job postings and applications have moved online and more companies now require computer skills.
"Broadband has gone from being a luxury to a necessity in the 21st century," he said.
Yet one-third of American households still do not subscribe to broadband Internet at home -- a disparity that experts refer to as the "digital divide."
In some rural areas, broadband access is still unavailable. But Genachowski attributed a lack of Internet adoption to three factors: high costs for service, lack of digital literacy and a perception that the Internet is irrelevant.
His announcement Monday marks the latest government initiative to make high-speed Internet available to underserved communities.
In addition, the FCC announced last year its "Connect to Compete" program, in which cable providers will provide broadband Internet access for $9.99 a month for two years to low-income households.
The program, which also supplies refurbished computers for $150, requires that eligible households have a child enrolled in the national school lunch program, not be a current or recent broadband subscriber or have an overdue bill or unreturned equipment from a participating cable provider.
In Philadelphia, an advocacy group called Action United has criticized "Connect to Compete," claiming its guidelines are too restrictive and many of the city's low-income residents had not heard of the $9.95-per-month service. Comcast, the major Internet provider in Philadelphia, has said it promoted its discounted Internet service by partnering with nonprofits and advertising in minority media outlets.
On Monday, Genachowski said the Lifeline program would expand the growing effort to bring high-speed Internet to low-income communities. He said Lifeline had ensured phone service to millions of low-income Americans, but was laden with waste and inefficiency. For example, he said phone carriers had provided the service to residents who already signed up with another carrier or enrolled customers who were not actually eligible.
Genachowski said the cost savings from such reforms could be used to increase digital literacy training at libraries and schools. This, he said, "could eventually arm more Americans with the digital skills they need to fully participate in our 21st century economy and society."
Wade Henderson, president of the Leadership Conference on Civil and Human Rights, called Genachowski's plan to modernize the Lifeline program "an important first step" to narrowing the digital divide. But he noted the program only serves about 10 million Americans, or about 32 percent of eligible households, according to F.C.C. figures, while about 100 million people do not subscribe to broadband at home, often due to cost.
"We see this as an important step to narrowing the digital divide -- but not yet the quantum leap necessary to include all Americans in the new economy," he told HuffPost in a statement.
Amalia Deloney, media policy field director at the Center for Media Justice, also expressed concerns that a modernized Lifeline program would still not address "the immediate needs" of thousands of people across the country.

"Though the pilot program and private partnerships are important components of modernization, they will not be enough to ensure that all communities are able to experience the full benefits of this 21st century communications infrastructure," Deloney said.
Popular in the Community