In the recent FCC 'shut off the copper' decision of November 16th, 2017, FCC Chairman Pai added a statement claiming that a fax machine, that ancient technology, played a "critical" role in a movie called Back to the Future II. And in reading this, I started laughing.
But what is really funny? In Back to the Future II, the villain, Biff Tannen, was literally based on Donald Trump. This means that one of Chairman Pai's favorite movies has a villain based on the president that made him FCC chairman, which he then keeps quoting.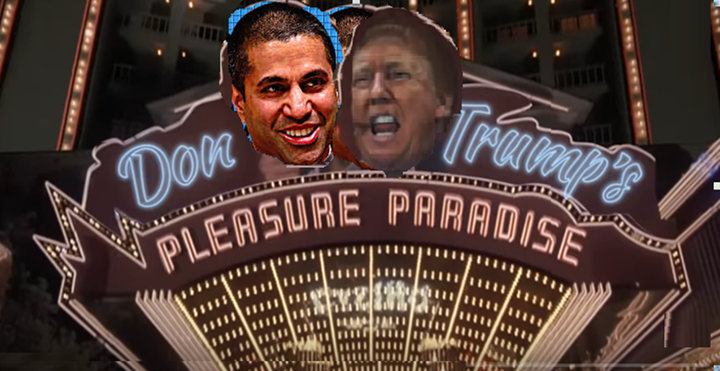 (Please note that in June 2017, Pai referenced the first Back to the Future movie and he even tweeted on Oct 21, 2015, "Welcome to the future, Marty McFly! We've been waiting for you.")
The idea that Pai's interpretations of events in one of his favorite movies can be seriously skewed shows us that he sees what he wants to see – regardless of the facts.
In fact, the FCC's decision and Pai's statement are not based in reality. Pai claims that America stopped relying on the 'legacy', old copper wires since the late 1980's, and that customers are migrating to fiber optics. In fact, we are also moving towards advanced IP-based services. (Re: Accelerating Wireline Broadband Deployment by Removing Barriers to Infrastructure Investment, WC Docket No. 17-84)
"Technology, and consumers' expectations about it, had simply outpaced the bulky device that played a critical role in movies like The Firm and Back to the Future II. …Same too with legacy copper networks that we all relied upon in the late 1980s. They are ever more outdated as consumers lead the migration to fiber and other advanced IP-based technologies."
Unfortunately, the copper networks are still the majority of wireline services. AT&T's U-Verse is a 'copper to the home' service, and the majority of 'business data service' revenues (as told by the FCC's own data in 2016) are still based on the 'legacy', utility copper networks. Moreover, Verizon stopped rolling out its FiOS FTTH (fiber to the home) which they announced in the 2010-2012 time frame. Worse, we're not rushing to "IP" as delivered by AT&T et al. AT&T's IP Transition trials over the last few years were a bomb and just a con to force customers onto inferior wireless services. In fact, the FCC's plan is not about fiber to the home but fiber to the wireless antenna, which was not focused on in the decision.
And, to add insult to levity, the 'fax' machine was not critical in the Back to the Future II movie. I'll discuss these details in a moment.
Back to the Future's Bully, Biff Tannen, Is Based on Donald Trump
Let's go back to the Back to the Future movie series and compare it to Pai's statement.
The film series started in 1985 and it is about time travel in convoluted and funny ways. Marty McFly (played by Michael J. Fox) has a wild scientist friend, Dr. Emmett Brown, (Christopher Lloyd) who converts a Delorean sports car into a time machine that takes McFly first from 1985 to 1955. Then, in the second of three movies, Back to the Future II, the bully, Biff Tannen, finds a book of future sports scores in 1955 and is able to make a gazillion dollars, but it leads to an 'evil' future, portrayed as an evil vision of the year 1985.
Ironically, at the beginning of the rise of our current president I couldn't help but notice that he reminded me of someone – the character "Biff Tannen" in Back to the Future II. And in writing this article I was surprised to find that this was intentional.
'Back to the Future' Writer: Biff Tannen Is Based on Donald Trump
"There's a very specific analog between Biff Tannen, the bully and bad guy in almost every timeline in Back to the Future Part II, and a certain political figure who is rather popular in the United States right now. He's been handed the keys to fortune, he's unrepentantly used that fortune exclusively for himself, and he's even become a public advocate for plastic surgery for women in his family.
"It is not hard to put two and two together. So, Bob Gale—writer of Back to the Future Part II …were you thinking what we're all thinking?"
'We thought about it when we made the movie! Are you kidding?' he says. 'You watch Part II again and there's a scene where Marty confronts Biff in his office and there's a huge portrait of Biff on the wall behind Biff, and there's one moment where Biff kind of stands up and he takes exactly the same pose as the portrait? Yeah.'"
And others noticed. There are even Youtubes about it.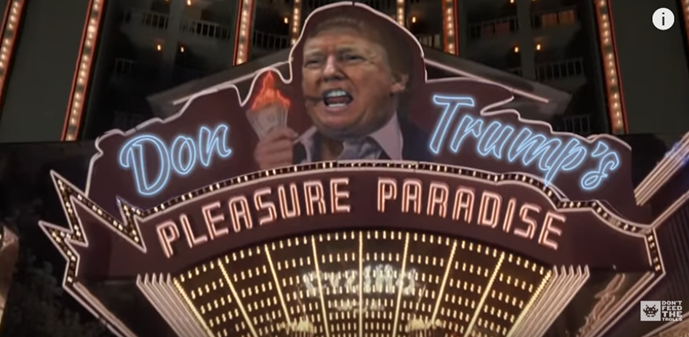 Worth repeating – Thus, one of FCC Chairman Pai's favorite movies has a villain based on the president that made him FCC chairman, which he then keeps quoting.
But, it's every other part of Pai's statement that needs to be sliced and diced—and related to the Back to the Future series.
Fabulous Technology, including Fiber to the Home.
The Back to the Future II has different visions of future. The first bad future is that 1985 was turned into a hell hole by the Biff-Trump-Tannen character.
The second, but almost good future (which also has a 'bully', Griff Tannen), is a vision of the year 2015, and the tech has flourished; there are anti-gravity cars as well as skateboards, deemed "hoverboards". And there are also massive, wall-covering video screens which can play lots of channels simultaneously, as well as be used for high-def video conferencing, with a hard copy from a printer.
Made in 1989, the Back to the Future II vision of the future tech was based, in part, on what Al Gore popularized/dubbed the "Information Superhighway". This was a plan to replace the existing copper networks with fiber optics networks to the home and office that could handle other services like video or cable TV. And, as a Senator, Gore chaired a meeting in 1989 about the future networks, the same year the movie was released.
The Fax Machine Is Really a Hard Copy-Print for the Video Services, etc.
In Back to the Future II, Marty McFly's boss covers the entire wall-sized screen and is telling Marty he is fired – with a 'printed confirmation'. And while the Boss says "You're fired; Read my fax", it was a joke off of the 1988 George W. Bush line "Read my lips". Watch a clip yourself.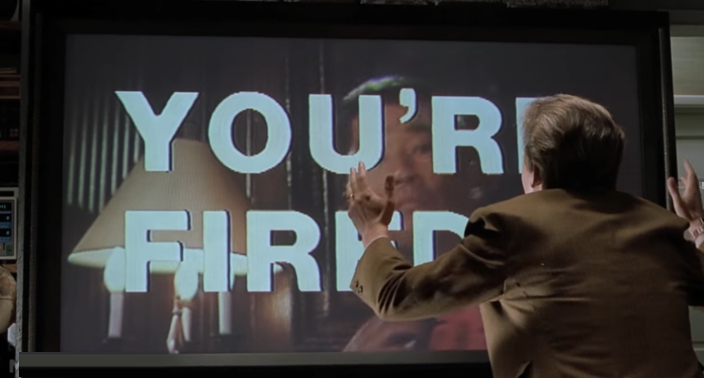 And, for comedic emphasis, there are three printers/fax machines all spewing out "You're fired" and they are tied to the what his boss is saying.
And to add to the humor -- the vid-call and 'fax' are handled by AT&T. (Top left of the printer.)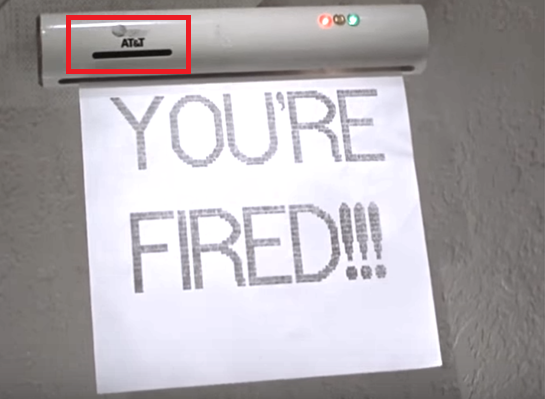 But the real comedic kicker is that "You're fired" is one of Trump's most famous lines in his show "The Apprentice", which started in 2004. (Did Trump steal this line from the movie, which aired five years earlier, or was it just a coincidence and the movie about time travel telescoped the future a bit too accurately?)
Thus, the 'fax' machine is a printer that is tied to a fiber optic wired-based network as the legacy copper couldn't handle the high definition, massive, wall-based, bi-directional video conferencing with the boss.
The Rest of Pai's Statement Is Filled with Gibberish, Continued
"That's why a key to closing the digital divide is maximizing providers' ability to invest in building the modern networks that fuel the Internet economy."
Let's slice and dice this:
10Mbps down and 1Mbps up is the FCC's new broadband standard. It can't close the Digital Divide or do large screen video conferencing.
What is also funny (or tragic) is that the FCC has decided that America's standard for broadband should now be a smartphone with 10Mbps down and 1Mbps up. It can't do large screen video conferencing, much less in both directions. It can't even be 'tethered' to a large screen under some plans. It is price-capped so even the unlimited plan would last a few HD movies at best.
Slowing down America's broadband speed standard and using a wireless replacement is really just 'backwards into the future'.
Shutting Off the Copper vs Investigations.
Pai has made no effort to examine why there are still areas with copper that were not replaced by 2017. The companies received about $½ trillion dollars to do upgrades to fiber of most of the areas in their franchised, Title II, state-based utilities.
The IP Transition Is a Con.
In the AT&T-IP Transition trials that petered out into disappointment we find that AT&T's plan was always to just shut off the copper and replace it with inferior wireless services – and it was a bomb.
This is AT&T's chart about what the 'trial' was going to accomplish; it would make the majority of wired customers 'transition', but to wireless, not IP. Doesn't the FCC bother to actually read the actual AT&T filings? Carbon Hill, Alabama is a small rural community and one of the test areas. There was never a plan to shut off the copper and upgrade these communities to fiber; the "wired" of "today" was all copper.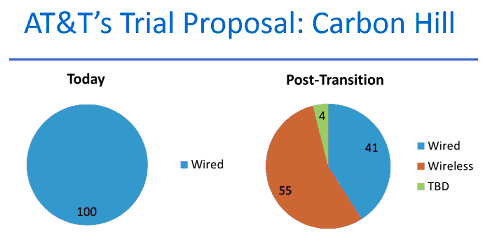 Using the quarterly reports supplied by AT&T from 5/31/2014 through 1st quarter 2016, while the company and FCC put on a 'happy face':
The numbers are terrible— AT&T lost 32% of the 'legacy telephone customers' and even with new "IP" customers, it lost approximately 15% of the entire original client base.
AT&T's wireless replacement for a landline is called "Wireless Home Phone" — and it can't do IP and it can't handle basic data applications, like alarm services.
AT&T spent millions on these trials for just two towns. How much did it cost per acquisition of each new customer and what were the losses from losing 32% of its active telephone customers?
We are on record since the 1990's that the state copper-based utilities should have been replaced with fiber optics – and the US should have been completed by the year 2010 as customers paid multiple times for these upgrades. This FCC, the phone companies, their consultants, et al., have made us more like the Evil Future—the Biff Tannen-Trump-Pai future, without the tech.
We are not able to go back in time to fix this mess. Instead, we need a new movie called – Cut them off at the knees.
Popular in the Community